Manufacturer Expands Production of RIP Bushings
Advertisement

The trend seems unmistakable. After decades of development and refinement, dry bushing technology is now clearly in ascendancy in relation to the oil-impregnated paper style that has dominated this business for many decades. Whether the main driver is safer failure mode, less environmental impact or reduced fire risk, resin-impregnated paper (RIP) bushings and now also resin-impregnated synthetic (RIS) types are fast becoming the preferred choice for a wide range of applications. This market shift is also driving expansion of production volumes for RIP bushings. Indeed, one of the market leaders has been making significant investments to increase plant capacity, especially for higher voltage units. INMR recently visited ABB's Ludvika production facility to meet management and to discuss the drivers behind this development as well as how these are impacting what is happening in the factory.
---
According to Hans Linder, the past few years have been marked by a surge in production capacity for RIP bushings. Says Linder, Sr. Vice President of Transformer Components at ABB in Sweden: "we have seen an important trend in the energy field towards more HVDC as well as UHV projects. This in turn has been driving sharply increased demand for dry bushings. We have begun preparing for this."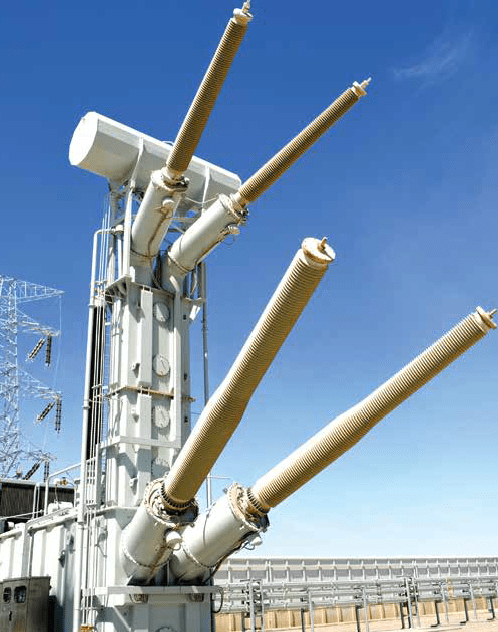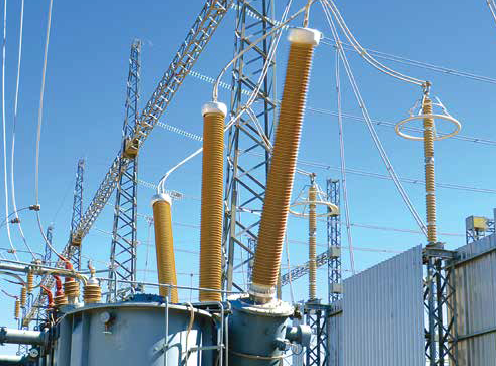 Linder and General Manager, Daniel Halvarsson, present a chart that depicts growth of UHV AC and DC projects across the globe. The steepness of the curve is increasing through 2019, spearheaded largely by China and India where such projects usually demand only dry bushings. China, for example, a major market for dry bushings, already has 9 UHV lines including three 1000 kV AC lines and six ±800 kV lines. Another seven projects are now in various stages of construction.
R&D Director, Roger Hedlund explains that the move toward higher voltages with increased power transfer also sees increased current flow through bushings. This means that typical tube diameters are also increasing. "There are a lot of challenges when scaling a bushing up to UHV," he explains. "Design as well as processing issues do not scale up linearly but rather grow exponentially. This requires a lot of experience at such voltage levels."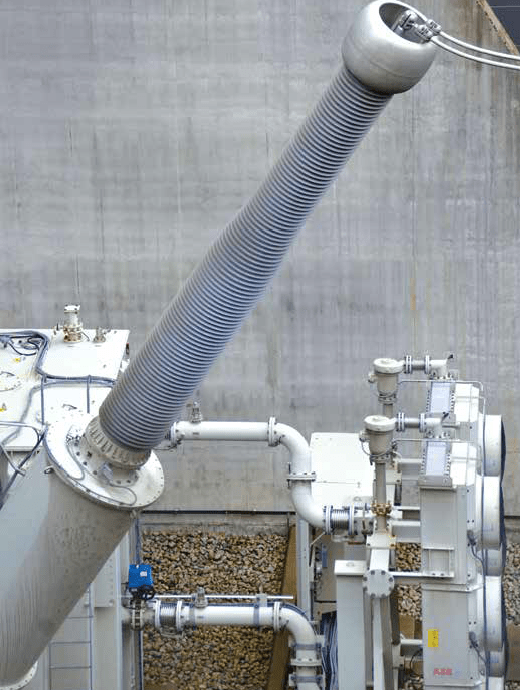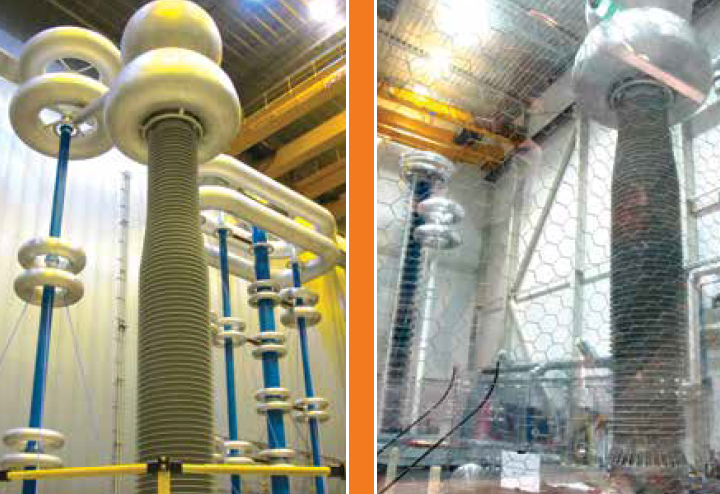 Apart from managing all the requirements when dealing with ramped up production of larger bushings, Halvarsson reports that ABB has at the same time been studying changes seen necessary in a factory that is already several decades old. For example, various incoming goods stations are sometimes located too close to clean processing areas. There is now a plan to shift these to only one central area for all receiving. Another change will be reducing unnecessary movement of products while at the same time eliminating forklifts from the production area and limiting these to the warehouse. Says Halvarsson, "knowing all that's needed to process bushings for demanding applications such as UHV makes it especially tricky to simultaneously carry out these types of changes in the factory. But we see that accomplishing them will be key to our remaining market leader – not only for RIP but for OIP bushings as well."
Another aspect that impacts production flow for bushings is testing. Sr. Specialist, Lars Jonsson points out that new IEC requirements will make it mandatory to conduct routine impulse testing on all bushings rated 100 kV or higher, something that used to be required only at 245 kV and above. This was done to bring their test needs more in line with existing transformer standards. "Transformer OEMs want to be able to discover any weaknesses before a bushing is fitted to their equipment," says Jonsson, "and this additional testing has become an added production requirement and also an incremental cost for bushing manufacturers."
Moreover, Jonsson reports that there is now a tendency toward more testing than in the past, including applied voltage to measure partial discharge, losses and capacitance. This, he feels, is due to more manufacturers competing in this business and also cost pressures resulting from present industry overcapacity. Hedlund adds that testing is also the best way to verify the limits of increased stresses on materials. It is therefore now being done continuously as part of product development work to optimize designs and reduce costs.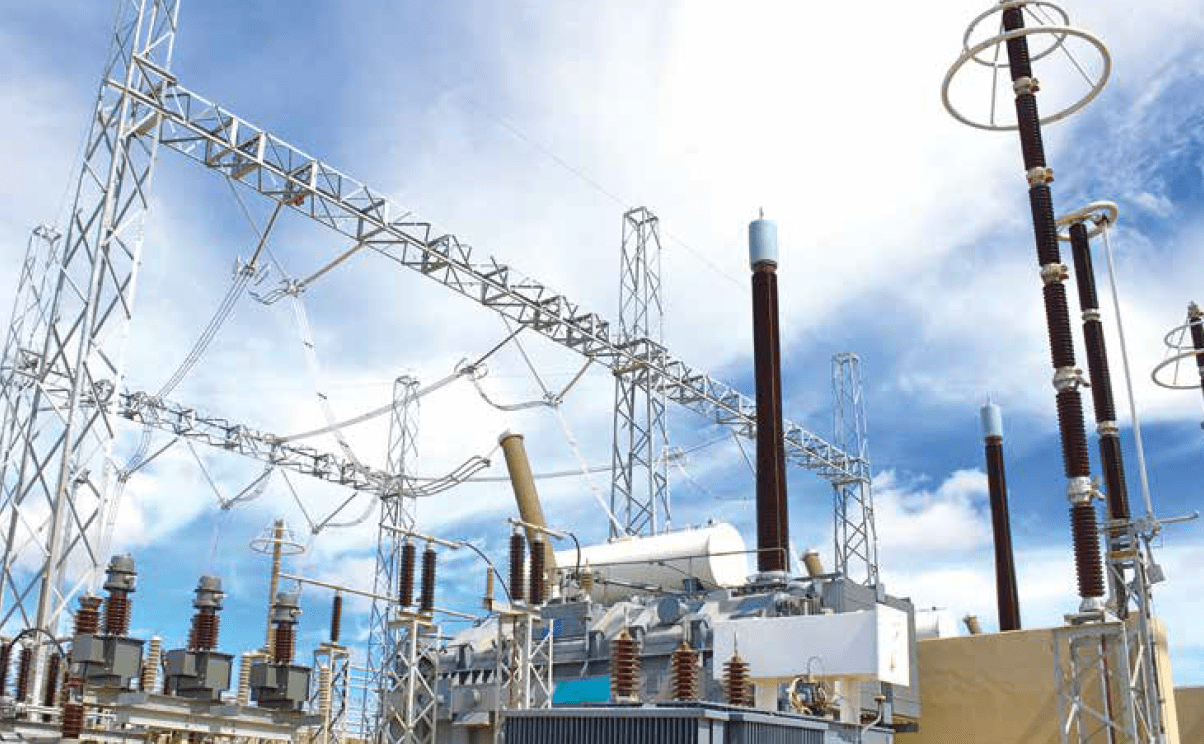 Jonsson explains that, up to now, the 800 kV AC market for bushings has been dominated by oil-impregnated paper styles (OIP) but that already one of the world's largest power utilities has begun to specify RIP types. This Canadian utility is among less than a dozen worldwide who operate at voltages above 500 kV, the others being in China, the U.S., Brazil, Venezuela, India, South Africa, Korea, Ukraine and Russia. "If all these utilities were to suddenly switch over to RIP technology, bushing suppliers probably could not keep up", admits Linder. "Still, it is a clear trend and, even though we are the largest manufacturer of OIP types, we follow this trend."
Advertisement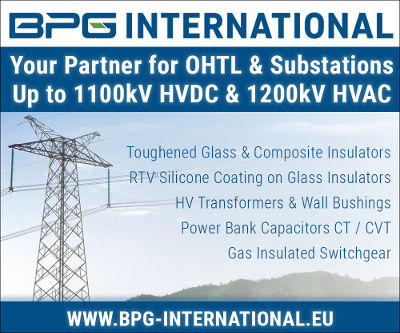 As a supplier of both major bushing technologies, ABB has taken the position that its role is to advise customers about the relative pros and cons of each, allowing them to make their own choice. Says Jonsson, "whenever I meet customers, I explain the features and benefits of dry technology. But in the end asset managers have to balance these with their specific needs. The key is that they are provided with all the information needed to understand exactly what they will get. "
For example, Jonsson points out that not all RIP designs are completely dry since bushings with resin-impregnated cores can still contain oil. "The Standard says that the space between core and outer envelope can be filled with a liquid or any other insulating medium," he remarks. "Some customers do not realize that RIP does not itself guarantee a completely dry bushing solution. There can still be oil or gas filling the gap between core and outer insulator to allow for expansion under heating. So, if there is still oil, the customer is sometimes disappointed. We offer a totally dry solution that relies on gel in place of oil or gas." Jonsson goes on to remark that the presence of oil in a bushing is always a fire hazard should flashover cause rapid build up of internal pressure that shatters the housing. "The whole purpose when going to RIP technology is to eliminate any risk of fire," he says. "So why not go completely dry?"

A visit through the bushings factory in Ludvika reveals some of the areas where ABB has recently begun investing to streamline the production process and increase capacity, especially for RIP designs. Winding of cores up to 12 m long is accomplished using a state-of-the-art machine installed two years ago. According to Production Engineer, Hanna Ekstrand, great efforts have been made to eliminate moisture from the paper during the winding process itself in order to reduce subsequent drying time for wound cores in ovens. Moreover, cameras have been installed on the machine to continually monitor the process and ensure that capacitive foil inserts are always properly aligned with the paper and contain no kinks.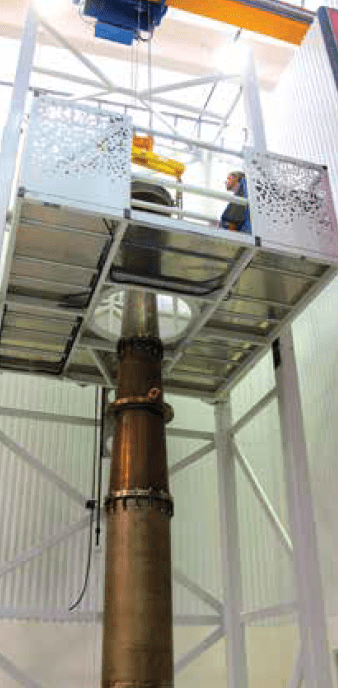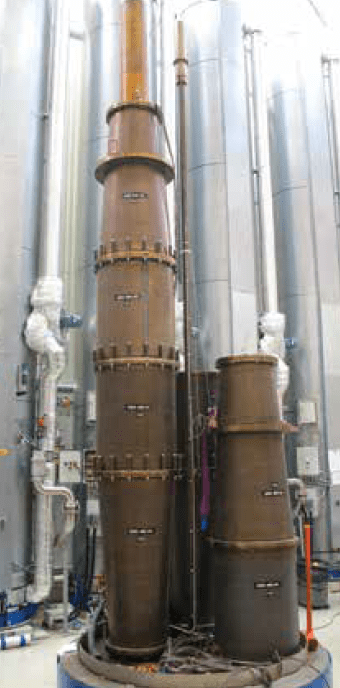 After winding and drying, cores are transported using overhead cranes to the area where they are to be impregnated with epoxy. The wound cores are positioned vertically into molds that determine their shape and dimension and which are then inserted into vessels for impregnation.
One of the recent improvements here is use of a new type of vessels. "The previous ones were square in shape," says Ekstrand, "and therefore not ideal from the viewpoint of radiation striking the core. With a rounded shape, radiant heat more effectively targets the object." The impact of this changeover, she states, is that a process that used to take three days will likely now be accomplished in only two. This will help alleviate one of the main production bottlenecks for RIP type bushings.
Curing the epoxy-impregnated core under vacuum is one of the most critical steps in manufacture of an RIP type bushing not only because it usually requires the longest time but also because temperature cycle of the process must be carefully controlled. Otherwise, notes Hedlund, there is risk that internal stresses will develop that can result in cracks, delamination or other defects in the body. Any of these will result in scrapping of expensive materials apart from all the costs incurred in processing up to that point. Says Hedlund, "it took a lot of time to develop all the various steps in production of RIP bushings and one of the results is that scrap rates today are low – a far better yield than in the past." Still, RIP cores coming out of this process are subjected to pre-test inspection to ensure that all units fitted downstream with external insulation will pass future test requirements.
At the same time, Hedlund notes that the length and diameter of epoxy-impregnated cores is growing constantly. This means even taller vessels are needed for curing and drying bodies with much greater volumes, which places even greater demands on careful supervision of the process. Computers and thermal elements help in this regard by verifying the correct heating cycle while all sensors are themselves monitored to ensure they are always within allowed tolerances. "We want our cores to cure from the bottom up and from the inside out," explains Ekstrand.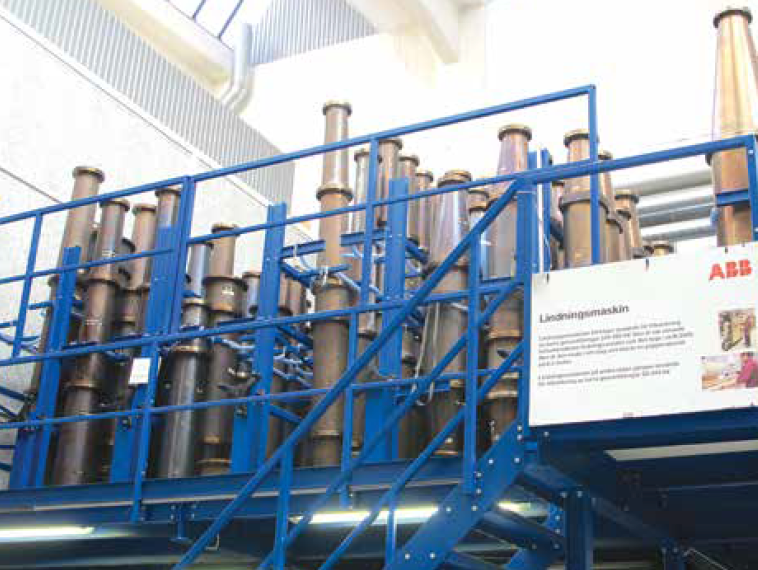 Another element of the production of the internal cores, says Jonsson, is how closely a body is molded to its desired shape. "Our philosophy is to mold as close as possible to the final shape while other manufacturers sometimes mold concentric cores that are machined to their required shapes. There are advantages and disadvantages to both approaches. But for high volume production, as here, we feel our approach is preferable since it reduces subsequent time needed for machining."
Advertisement

Indeed, a great deal has been invested in machining that is intended to be as automated and efficient as possible. The molded core, which can weigh up to 2000 kg, rotates inside the mill turning machine as a tool cuts its precise final shape as well as grooves for O rings. Also, as a time saving measure, machining is performed simultaneously on metal connectors. While at this time there is overcapacity in machining, Jonsson reports that it is planned to add even more new curing vessels as well as a type of multi-vessel and this ramped up production upstream will increase throughput needs in machining. The new mill turning machine has also been fitted with safety door covers and special exhaust for all chips coming off the cut body.

Once resin cores have been machined, they becomes more vulnerable to moisture penetration and therefore the final steps to insert them into their housings are done in a monitored environment. Jonsson explains that the external insulation is in fact an important part of the total bushing system, especially from the mechanical point of view. "If anything", he notes, "the average size of bushings being manufactured in Ludvika is only growing. This is placing greater demands on insulator sub-suppliers who will themselves have to gear up to meet our expanding size requirements as well as volumes." At the moment, all RIP bushings for UHV applications are being housed only in silicone composite insulators while the majority of other RIP type units also feature these insulators.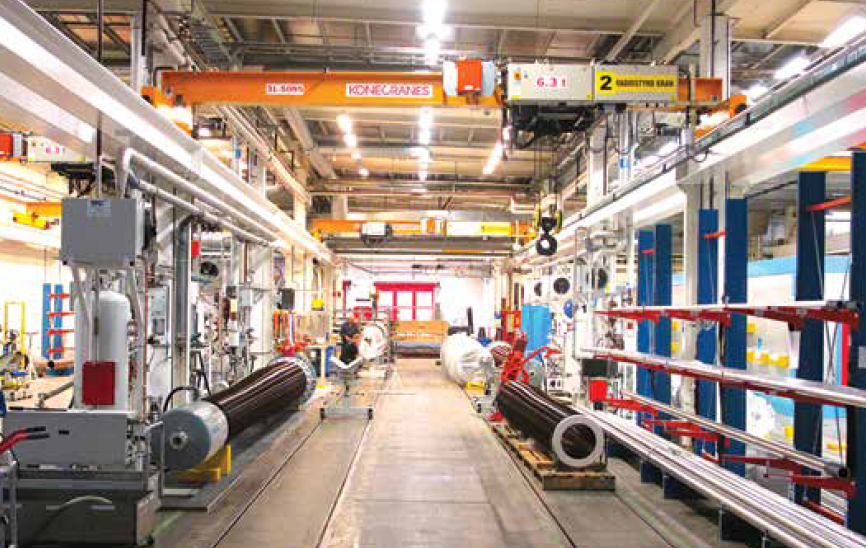 Reviewing all that has been accomplished in RIP bushings in recent years, Jonsson notes that 10 years ago this technology was available only up to 550 kV but that it has since advanced to the point where it can be applied with confidence at ±800 kV. At the same time, he explains that the stresses placed on RIP bushings are much different under DC than under AC, especially in the way they are designed to handle higher current. For example, external insulation is also thermal insulation so a bushing must be able to effectively dissipate heat through lower thermal conductivity. Says Hedlund, "a lot of 'backbone' knowledge is needed to be able to deliver an RIP bushing for UHV."