A Look to the Future of Composite Insulator Technology
Advertisement

Since the first INMR WORLD CONGRESS held in 1995, by far the most significant development in the field of electrical insulators has been the rapid acceptance of composite insulator technology. Over less than two decades – not that long in the world of power engineering – these insulators experienced a tremendous increase in popularity, growing from only a few trial applications to where they now dominate even critical UHV and HVDC lines. All this has come about due largely to significant advances in manufacturing and testing.
Given this rate of market penetration, a key question is what more can be expected from composite insulator technology over coming years? For example, do they still have problems that need to be resolved? Will their market share continue to increase or instead taper off and perhaps even decline? And what will be the direction of their future product development, given the latest material and manufacturing technologies as well as the changing needs of power grids that must incorporate much higher levels of renewables?
These are all important yet challenging questions. This article, based on the keynote presentation of international expert Professor Liang Xidong at the 2015 INMR WORLD CONGRESS, attempts to provide insights to help answer them. Under Prof. Liang, Tsinghua's High Voltage Engineering Group has performed extensive research covering all aspects related to design and manufacturing of silicone rubber insulators, including elaborating optimal material formulations, studying hydrophobicity recovery and transfer properties, developing artificial methods for testing pollution performance (especially tracking and erosion under DC) and elucidating the mechanism of brittle fracture as well as its prevention. In this regard, according to Prof. Stanislaw Gubanski, his team has made a significant contribution to the basic knowledge that allows for today's successful application of these insulators in China as well as worldwide. 
---
The electric power industry in China has progressed at an unprecedented pace since 1980 and this is best illustrated by two graphs that show the growth in annual generation as well as in total length of overhead transmission lines.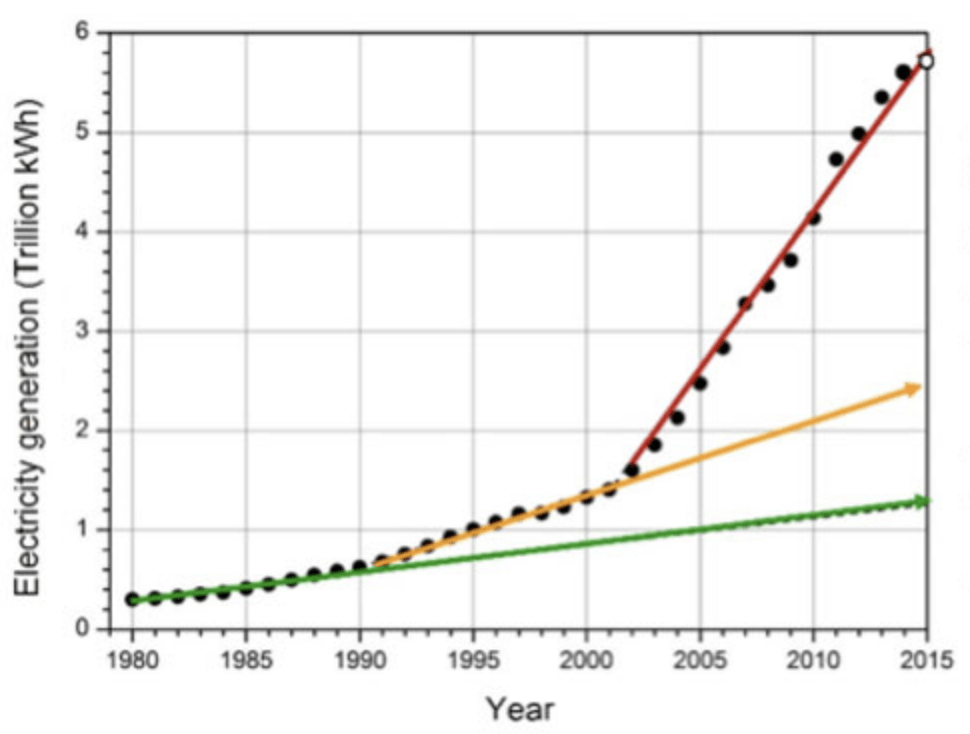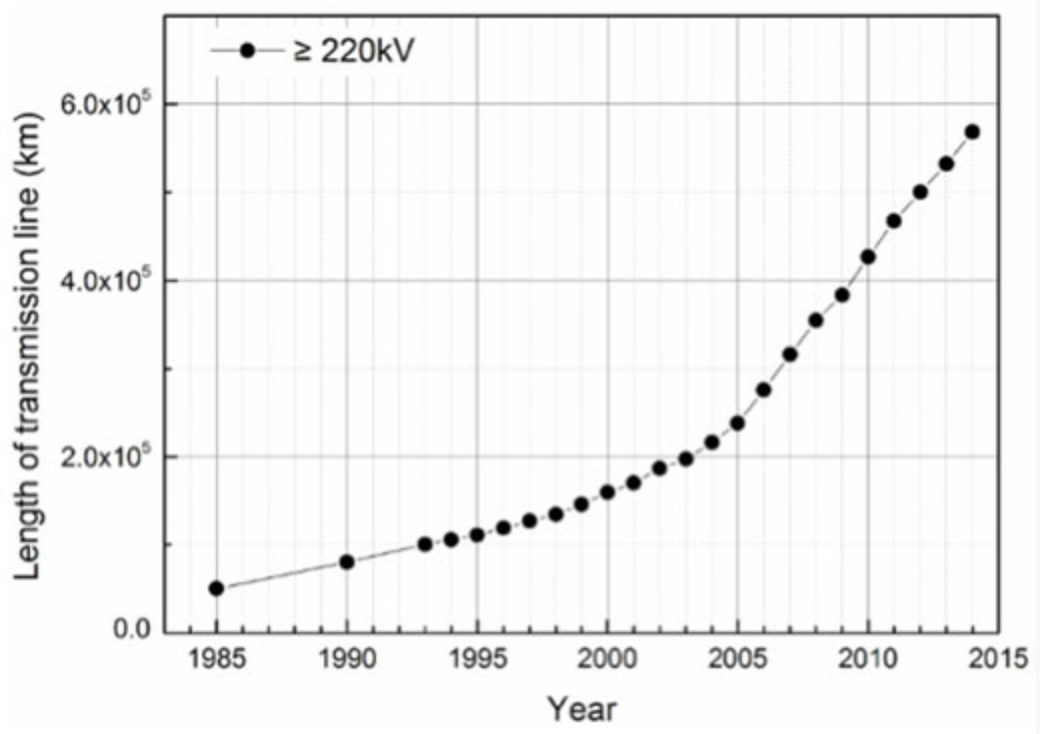 The recent rapid expansion of China's overhead network, combined with everincreasing voltage levels, led to a huge local demand for insulators. At the same time, it placed upon them more stringent electrical and mechanical requirements.
Silicone rubber (SR) composite insulators quickly came to be viewed as offering several unique advantages, including superior wet and pollution flashover performance, light weight, high strength to weight ratio, easier transport and installation and resistance to vandalism.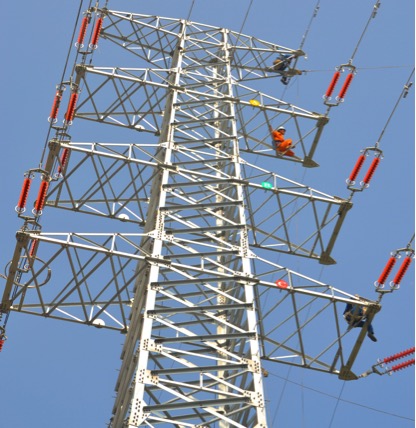 Their rate of application in China therefore experienced tremendous growth to the point where, by 2014, an estimated 7.1 million units were operating on transmission lines of 110 kV or higher. Moreover, by mid 2015 about 153,000 such insulators were in service on 9 key UHVAC and UHVDC lines. Indeed, China became the first country where SR composite insulators dominate all EHV and UHV lines.
Research into design and application of these insulators by experts at Tsinghua University and also at China EPRI yielded great benefits, particularly when it came to preventing the widespread pollution flashover outages of the past. These insulators also facilitated the design, construction and safe operation of new UHV lines. Indeed, IEEE Fellow and long time INMR Columnist Professor Stanislaw Gubanski of Chalmers University of Technology in Sweden remarks, "research and industrial development of silicone rubber insulators for EHV AC and DC networks as well as for UHV projects across China deservedly ranks among that country's highest achievements in power engineering. It has also helped greatly advance technical progress in power transmission at increased voltage levels."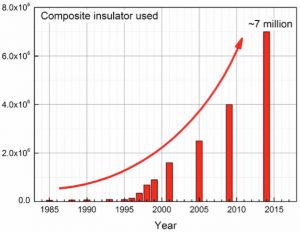 Urgent Requirements for Improved Performance
Notwithstanding all the progress achieved in composite insulator technology, there are still a number of performance problems that need to be resolved. Some of these are important and urgent while others are important but not so urgent. Clearly, the main issue that will dictate the future of composite insulators is whether power utilities can remain confident in their expected performance. If not, the rate of their application can only decrease.
China has been a huge market for composite insulators for many years now and their range of applications has also been broad. Given this volume of experience, a variety of problems have surfaced that have forced researchers to look into the various causes and mechanisms in order to best identify what must be done to improve performance. These problems include:
1. Brittle Fracture
Although the incidence of brittle facture is very low in relation to the population of composite insulators now in service, such failures can cause a sudden drop of conductor with serious consequences. Typically, insulators experiencing this problem have failed at very low mechanical loads, after service for only months or years, and the fracture surface is characteristically flat and smooth.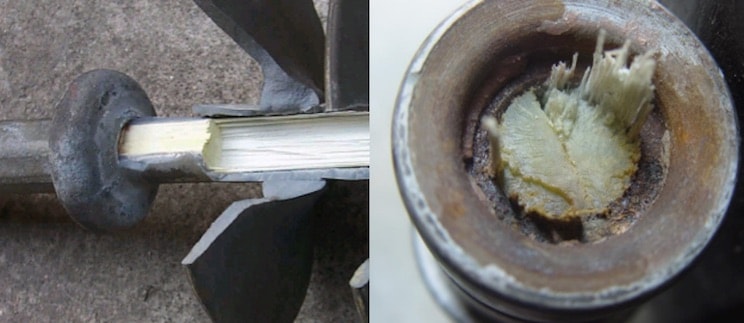 The basic mechanism behind brittle fracture has been clearly identified as stress corrosion and therefore a stress corrosion test was developed and adopted in China's electric power industrial standard DL/T 810-2002 (revised 2012). Specifically, this standard requires that the FRP rod must be acid proof, i.e. based on boron-free glass. Since publication of DL/T 810, there have been no reported brittle fractures for 10 years now among newly installed composite insulators having such acid-proof rods. As such, experience in China has demonstrated conclusively that acid-proof rods should be used more widely. Otherwise the risk of brittle fracture will remain an area of concern for utility engineers whenever applying composite insulators.
2. Decay-Like Fracture
The relative incidence of decay-like fracture is even less than for brittle fracture but the consequences can be equally severe. Insulators experiencing this problem have typically failed at low mechanical load, after years of service. However the fracture surface in this case is not planar but rather 'crisp', much like dead wood. Also, chalking has been found on the surfaces of nearby sheds and the glass fibers in the rod separate from the resin matrix. In China, this mode of failure has occurred mainly at 500 kV and it is important to note that the rate seems to have increased over the past decade.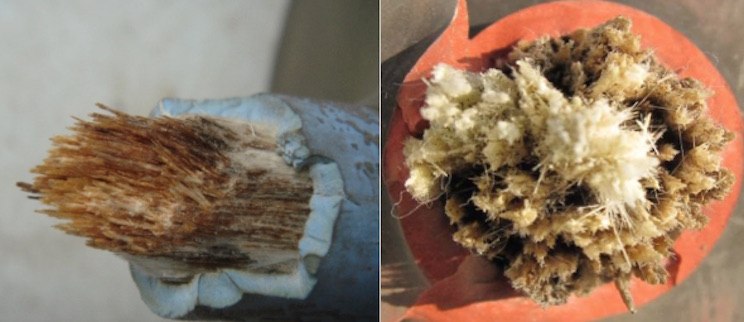 The mechanisms behind decay-like fracture are still not clear. For example, such decay-like fractures are often preceded by localized temperature rises and as such detectable by IR imaging. But this only helps in detection and offers no solution on how to prevent the problem.
3. Localized Temperature Rise
Localized temperature rises, or hotspots, on composite insulators are sometimes detected when overhead lines are inspected using IR cameras. Such local heating is usually caused by surface leakage currents, internal defects or degradation of the rod-housing interface.
At present, local temperature rise is considered as related mainly to degradation of the interface and regarded as the early stage of decay-like fracture. Given this, SR insulators on Chinese networks are replaced at different intervals if some critical level of temperature rise is identified during IR inspection. Clearly, localized temperature rises must be avoided and ideally detected as soon as possible since this is one of the key potential problem areas with all composite insulators.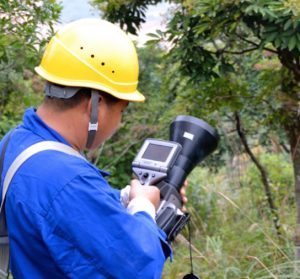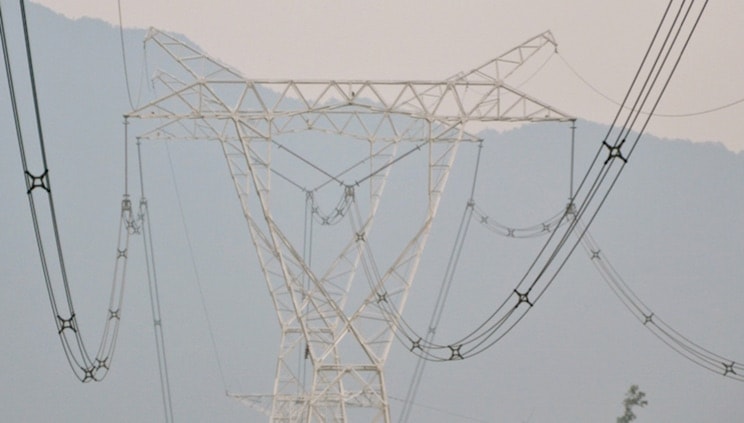 4. Quality of Interface
The quality of interface between core rod and polymeric sheath represents a possible threat to the safe operation of any composite insulator. For example, poor adhesion or failure of 'interface coupling' can lead to problems such as interfacial puncture, temperature rises caused by internal leakage currents and finally decay-like fracture. Moreover, there may also be some relationship between poor interface adhesion and brittle fracture.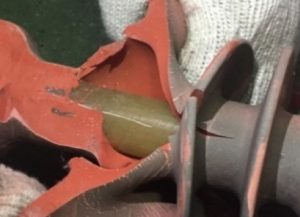 Insulators in service that suffer from poor internal adhesion show no obvious evidence of this problem since at this time it cannot yet be detected using any inspection instrument or testing methodology. However it can progress to the point where a fault occurs. Since the steep front impulse voltage test in IEC 61109 cannot guarantee interface quality, insulator manufacturers will have to focus more attention to this topic in the future.
Advertisement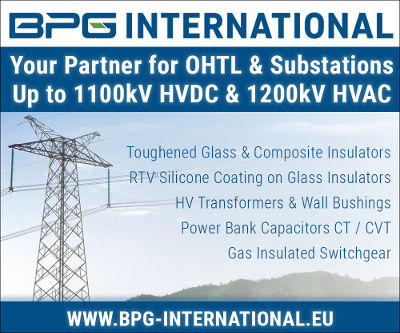 Important But Not Urgent Problems to Resolve
1. Natural Ageing
Some level of natural ageing is common with all composite insulators but different chemical compositions of silicone rubber age at different rates. The main signs of ageing when it comes to insulators made from high temperature vulcanized (HTV) silicone insulators include hardening and chalking. Room temperature vulcanized (RTV) silicone insulators have been removed from service long ago in China due to serious ageing while there are still debates about the relative extent of ageing of insulators made with with liquid silicone rubber (LSR).
Ageing is a permanent problem for organic materials and will reduce the effective service life of a composite insulator but resolving it is not urgent.

2. Decrease in Hydrophobicity
SR composite insulators all have excellent hydrophobicity initially. However this property can change in service and indeed decreased hydrophobicity is common for these types of insulators. Surveys conducted in China have found that only a small proportion of composite insulators in service are HC1 to HC2 and that most have decreased to HC3 to HC4 and in some cases even HC5 to HC6.
Dimensioning of outdoor insulation in China is based on HC5 or even HC6 since it has been found that the pollution performance is sufficient even at such reduced levels of hydrophobicity. But in this case resistance to tracking becomes important.
Looking to the future, manufacturers as well as research institutions should continue to work toward reducing natural ageing by developing formulations that provide excellent hydrophobicity over longer periods.
3. Bird Pecking & Shed Tearing
Bird pecking damage to composite insulators by species such as magpies and vultures has affected only a few new lines in China and occurred mainly before energization. Such damage has mostly impacted V strings and was independent of insulator colour. Utilities have not been sure how to best to deal with this problem but experience has shown that, fortunately, birds prefer not to remain long in areas with high electric field. Tearing of polymeric sheds due to extremely strong winds is another sporadic problem that has been reported but is limited to only a few geographic areas.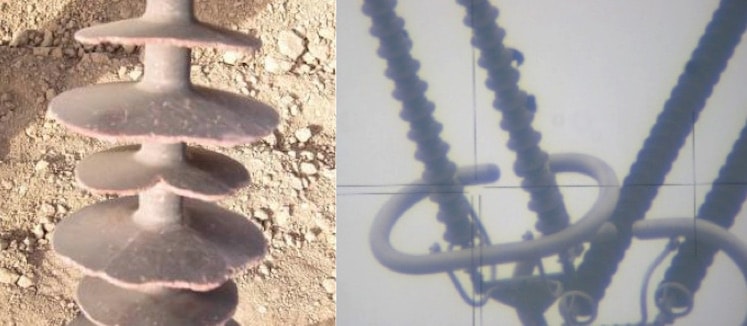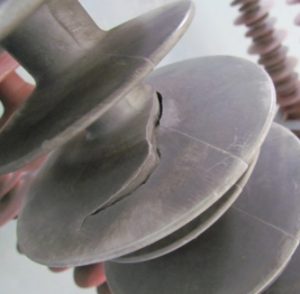 The simplest way to limit bird pecking damage may be to build and energize lines in affected areas before periods such as autumn when there are not enough nearby food sources for birds. Also, more attention should be placed on insulator configuration to limit opportunities for bird to land and start to peck. Some manufacturers have already developed rigid shed materials to deal with the problem of pecking and tearing and these are another viable solution.
Modification of Test Method & Technical Standards
Several technical standards have been published with the goal of ensuring the performance of composite insulators, e.g. IEC 61109, IEC 62217. However, present test methods and standards still cannot guarantee good performance over the entire service life of an insulator. In fact, composite insulators that have all passed standardized tests may actually differ greatly in long-term performance, even in similar service environments. One specific problem, for example, is the insufficiency of tests to guarantee interface performance while tests on core rods and shed/housings are also felt not yet sufficient.
Much work has therefore been devoted in China to identify more suitable test methods for composite insulators and to make these standardized. Since present tests and technical standards are far from satisfactory, it will be important to achieve progress in this area.
Improving Performance Through Materials Science & New Technologies
The field of materials science has been developing rapidly in recent years and such progress can only accelerate. Indeed, certain manufacturers and institutes are already working actively to apply this to composite insulators. One example of such research relates to selfcleaning and super hydrophobic properties. Comparison of a normal SR surface (i.e. static contact angle of 108°) with a super hydrophobic SR surface (i.e. static contact angle of 151°) has been made at Tsinghua University. In the former case, a water droplet remains steady on the tilted SR surface, while in the latter case the water droplet falls away immediately – even at a sliding angle of only 5°. This would be a very attractive property for composite insulators. Therefore the direction of future product development may be production of large-area, longlasting super hydrophobic surfaces.

There will also be other ways to improve performance in the future by applying nano-fillers or by modifying existing fillers. These may provide solutions in areas such as: improving sheds and sheaths of composite insulators; improving FRP rods by replacing existing fibers and matrix materials; improving the interface between sheath and rod by using new coupling agents or new treatment methods; and even self-diagnostic or self-healing materials.
Future of Market Demand for Insulators
The global energy revolution is now a 'hot' topic and this relates mainly to the expected increase in the proportion of electricity derived from clean sources. At the same time, demand for electric power will increase significantly. With these issues in mind, it can reasonably be expected that future power grids will involve more and more DC transmission such that multi-terminal DC systems and power grids may soon become realities. In addition, existing popular concepts such as smart grids, intelligent substations, energy internet, etc. will also be more fully exploited. Given this, the power grid of the future will change in many respects from what it is today and this will inevitably influence insulator requirements and technologies, such that:
1. HVDC insulators will develop faster than in the case of AC;
2. Composite insulators with high mechanical rating and high voltage levels will be required for overhead lines with large transmission capacities at the highest high voltages, e.g. UHV DC lines in China;
3. New composite insulators will be developed that are more suitable for new designs of towers;
4. There will be a huge increase in demand for composite substation insulators. Moreover, compared to the limited types of line insulators, more different types will be necessary to meet diverse substation applications.
Data on volumes of line insulators purchased by the State Grid Corporation of China (SGCC) between June 2012 and September 2015 are shown in Fig. 4 and cover the range 110 kV to 1000 kV AC, ±800 kV DC, and also 70 kN to 550 kN in terms of SML. Over this time period SGCC ordered 21.37 million units of porcelain cap & pin insulators, 15.12 million glass cap & pin insulators and 3.23 million SR composite insulator strings. If converting cap & pin discs to the equivalent numbers of strings, porcelain would amount to 1.52 million strings and glass approx. 1.11 million strings.

The relative proportions of porcelain, glass and SR composite insulator strings installed since mid-2012 are therefore about 26%, 19% and 55%, respectively. In other words, among newly installed insulators, the total volume of SR composite insulator strings being put into service in China is more than the sum of both other technologies. This confirms that China has now become the first country in the world where silicone rubber insulators dominate EHV and UHV lines.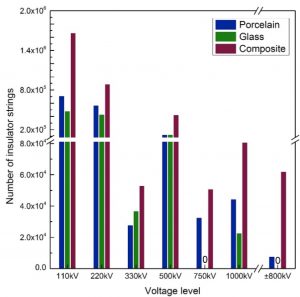 Line Insulators
Higher Mechanical Rating & Higher Voltage
There are currently 9 UHV lines (total length of 13,813 km) already operating in China. Three are 1000 kV AC lines equipped with some 35,000 SR composite insulators, representing about 60% of all insulator strings. Six UHV lines are DC ± 800 kV and equipped with 118,000 SR composite insulators (over 85 % of all the insulator strings). Another 7 UHV lines are now under construction of which 4 are 1000 kV AC having a total length of 6,334 km, while 3 are ± 800 kV DC lines with a total length of 5,222 km. More UHV lines are in the planning stage and it is believed that SR composite insulators with high SML and a high voltage level will continue to account for the major share of all insulator requirements.
At the same time, development of composite insulators with higher and higher SML and voltage levels continues. For example, crimping technology developed by Tsinghua University in 1998-99 made a valuable contribution to this upgrade in technology by allowing for improved long-term mechanical as well as electrical reliability. In fact, composite insulators with crimped end fittings only began large-scale application in China starting 2000.
Based on accumulating production and operating experience over 10 years, it has now become possible to manufacture composite insulators with SMLs of 550 kN and higher. For example, in 2014 and 2015, 840 kN to 1000 kN SR composite insulators passed all tests requirements for design of a Chinese ±1100kV UHV DC line.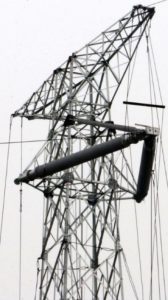 Composite Insulating Cross-Arms
Composite insulating cross-arms allow for a completely different design of overhead lines and there are already successful examples in China of this type of line.
New lines equipped with composite insulating cross-arms offer several advantages, including reduced corridors as well as smaller structures and foundations. Erosion performance would also be expected to improve resulting in reduced maintenance costs. In the case of upgrading existing lines, a design based on composite insulating cross-arms helps increase ground and tower clearances while also allowing more transmission capacity by increasing voltage yet keeping original tower dimensions.
However, an insulating cross-arm solution is neither a traditional insulator nor a traditional cross-arm. Although there have been some successes, the actual number of such lines remains small and that means utilities may still lack confidence in the long-term performance of this design. Also suitable testing and evaluation will have to be studied further. In China, this design concept has not yet generated much interest or competition.
Station SR Composite Insulators
Over the past 20 years, the volumes and market penetration of composite insulators at substations has been far smaller than for line insulators. Now, that seems to be changing in a big way.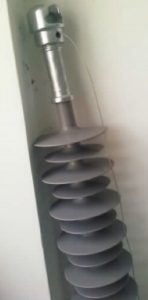 Advertisement
Different types of substation insulators perform differently. Table 1 summarizes the typical problems experienced by substation apparatus insulators as well as the main solutions. Moving to SR composite outdoor insulation at substations is the one common solution to most of these different problems.
Table 1: Typical Problems for Substation Apparatus Insulators & Principal Solutions
Type of Station Apparatus Insulator
Problem
Solution
Porcelain post insulator
Pollution flashover
SR composite insulators,

or RTV coatings

Porcelain wall bushing
Uneven rain flashover
SR composite insulators,

or RTV coatings

Porcelain vertical bushing
Heavy rain flashover
Large diameter booster sheds
Different kinds of large-diameter porcelain hollow insulators
Earthquake, explosion, icing, difficult to manufacture, high cost of transport & installation
SR composite hollow insulators
In fact, many types of SR composite substation insulators have now been developed and which cover almost all types of apparatus and other applications (see Table 2). Apart from these insulators, another innovative product is the measurement insulator or instrument insulator with sensors and signal lines such as optical cables incorporated in its body. Through these, a new functionality is added to the composite insulator, namely information gathering and transmission. This product meets some needs of future smart grids, e.g. large-scale, real-time on-line condition monitoring, both for substations and overhead lines. Some prototypes and samples have been developed but these are still far from seeing large-scale application.

The 750 kV Shazhou Substation, located in Gansu Province in northwest China, started operation in June 2014. There, all substation insulators are SR composite type and this will allow it to serve as a 'demonstration project' for the SGCC when it comes to widespread application of SR composite insulators at substations

Comparison with Porcelain & Glass Insulators
In order to better predict the future of composite insulators one of the factors that has to be taken into consideration is alternative technologies, i.e. porcelain and glass insulators. Over the past two decades, composite insulators have captured a large market share away from these insulators yet they still manage to retain considerable market shares of their own. Intense competition between composite insulators and porcelain/glass insulators will clearly continue over coming years go so it is useful to examine how this may evolve as a predictor of the future of composite insulator technology. Comparison of these alternative insulator technologies should ideally be considered from three different perspectives: price, performance and maintenance.
Relative prices in China for these different types of insulators in the range 110 kV to 1000 kV AC and ±500 kV to ±800 kV DC are shown in Figs. 5a and 5b, respectively. Price per string is calculated based on typical service environments and it can be seen that SR composite insulators are always less costly than porcelain or glass insulators. Moreover, this price advantage grows with higher voltage or mechanical level and is also much greater in DC.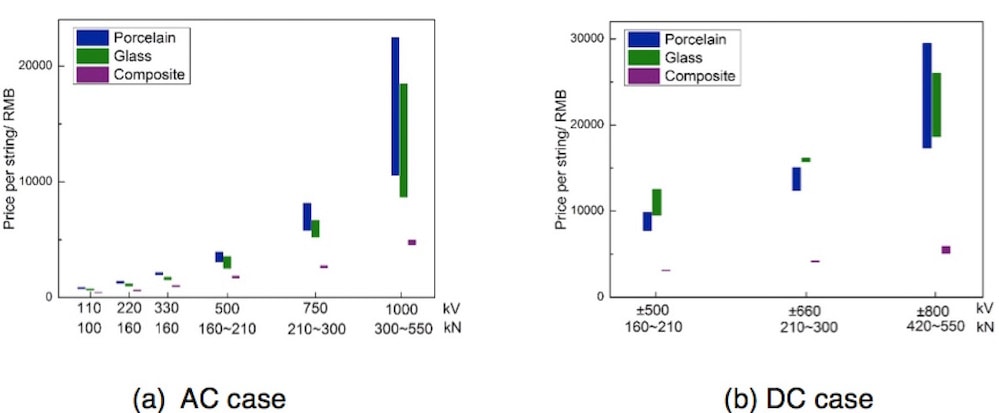 In regard to performance, there are four main categories that should be taken into account when selecting insulators: pollution, electrical, mechanical and long-term service. The current situation is that when it comes to resisting pollution, composite insulators are much better than either porcelain or glass. Insofar as electrical performance, composite insulators are considered about equal to porcelain or glass, while for mechanical performance, composite insulators are seen as equal or somewhat worse. When it comes to long-term performance, porcelain and glass insulators are both ranked better than composite types. For maintenance, it is well accepted in China that composite insulators are far superior to porcelain or glass since.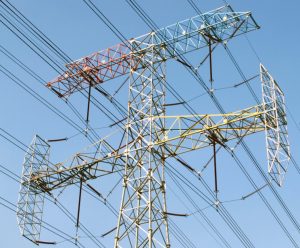 Of course, when utilities decide on insulator technology, the relative importance of each of these performance aspects will differ, usually based on the service environment where they are to be applied. All these factors are therefore taken into consideration before a final decision is made.
Composite insulators remain the preferred choice in China due to lower price, superior pollution performance and less need for maintenance.
In the case of China, the most important of these different variables is price with the relative weights given for price, performance and maintenance being about 45%, 30% and 25% respectively. Given this, composite insulators emerge as the preferred choice due to lower price, superior pollution performance and less need for periodic maintenance.
Summary & Conclusions
The use of composite insulators increased significantly over the past 20 years and in China alone there were about 7.1 million such insulators operating on lines of 110 kV and above by 2014. Moreover, 153,000 SR composite insulators were in service on UHVAC and UHVDC lines up to mid-2015. Indeed, China has become the first country where silicone rubber insulators now dominate EHV and UHV lines and this makes its service experience especially relevant for the entire power industry.
To allow continued future development of composite insulator technology, several performance problems will need to be resolved. Based on experience in China, some of these are important and urgent, such as brittle fracture, decay-like fracture, local temperature rise and inconsistent interface quality. Other problems are also important but not so urgent and these include natural ageing, decreasing hydrophobicity, bird pecking and tearing of sheds.
Progress in materials science and other new technologies may provide new approaches to improve the performance of composite insulators. Current test methods and technical standards for these insulators are still far from satisfactory and will need to be further supplemented and modified in the future.
Composite insulation is a common solution to several different problems encountered at substations and also offers advantages in many applications, including for apparatus insulators. Therefore, extension of this technology from mostly overhead lines to substations will progress rapidly.
Price to users is much more attractive for SR composite insulators versus porcelain or glass, especially in DC and, due to superior pollution performance as well as less need for maintenance, these insulators will remain the first choice for overhead lines across China.