Line Compaction Using Composite Insulators: Current Situation & Future Outlook
Advertisement

Over the past decades, transmission lines across the globe have been mostly built using traditional steel lattice towers. But in recent years, the social and political environment has changed and this type of line design is often no longer accepted by affected communities. This past INMR contribution from Dr. Frank Schmuck of Pfisterer Sefag reviewed how composite insulators can play a role by allowing design of structures that reduce visual impact and also required right-of-ways for new transmission lines.
---
Introduction
Facing ambitious expansion plans due to rising demand for electrical energy as well as the shift towards 'renewables', many thousands of kilometres of new transmission lines will have to be built or uprated in the near future. However, due to the sensitivity of such lines to public opposition, line designers face a challenge protecting the environment, minimizing visual impact and optimizing use of right-of-way (ROW). This includes reduction of electromagnetic and electrostatic effects.
Transmission lines carry power over long distances from power generating stations to distribution centres. Often, they must pass through difficult terrains such as mountains, deserts, forests and long river crossings. Perhaps most challenging of all is when they run along or through existing infrastructure.
AC transmission voltages have increased in stages from 66 kV to 765 kV, and a test line of 1200 kV is already commissioned in India and been under study since May 2012. Moreover, a new milestone was achieved with the commissioning of the 800 kV DC transmission line from Yunnan and Guangdong, China designed for 5 GW power. As a further trend, in the Changping district nearby Beijing is a test centre for 1200 kV DC, commissioned in 2008. It comprises an outdoor test span running about 1 km in bi-pole configuration at maximum voltage of ±1200 kV DC. The span includes a 70 m long corona cage, where electromagnetic and ion migration effects around any specific conductor configuration can be investigated.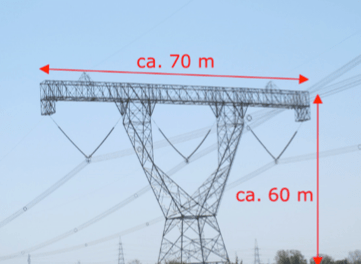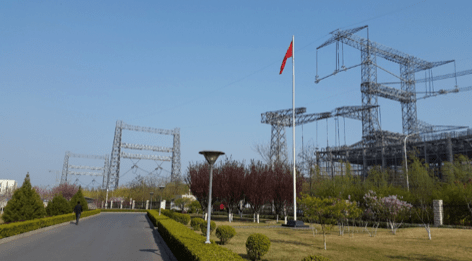 Compact Line with Insulated Cross-Arm
Experience has demonstrated that it is possible to mitigate the potential environmental, landowner and community impact of new transmission lines by adjusting the proposed route, choosing different types of structures and using different construction methods. Solutions for future new transmission lines with minimal impact include using existing corridors for voltage upgrade, reducing ROW in forested sections, constructing lines along or on the median of highways and using insulated cross-arms to compact lines. In addition, architects have often become involved to develop special towers as attractive landmarks or to minimize their visual impact.

Compact line designs actually have a long history. First installations were reported during the 1970s in Canada and Greece, at the time still based on porcelain insulators. Over time, with progress in composite insulator technology, optimized solutions were developed, including further compaction and increase in span length by installing composite phase spacers. Compact line installations were usually accompanied by development of suitable computerized simulations, especially for mechanical modelling. Available design knowledge and field experience in this regard was summarized in an IEEE guide published in 2008. It is also worth mentioning that a CIGRE Symposium held in St. Petersburg called "Compacting Overhead Transmission Lines" was among the first trend-setting technical events to consider new possibilities in line construction using composite insulators, especially the post type.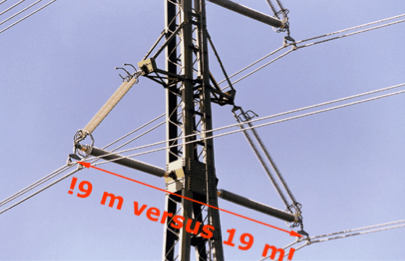 In 1998, the world's first 420 kV compact line was erected in Switzerland and reported on in INMR. This line, with an insulated cross-arm configuration, required high buckling load resistance for the post insulator. At the time, the technology to manufacture large diameter solid FRP core rods of the required electrical quality was not yet available. Therefore, a solution with a single hollow core insulator was selected versus using two parallel rods. Subsequent testing and service experience triggered further development of the concept and today the 3rd+ generation is available, using high strength rods up to 130 mm. Even larger diameters are now under development.
Advertisement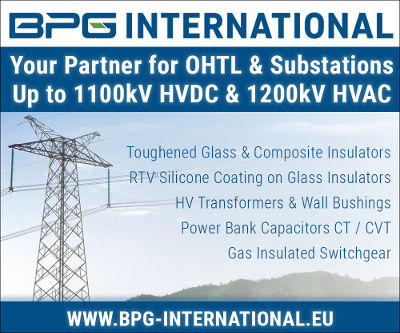 In terms of attachment to the pole or tower, such a design concept is differentiated into braced line post (rigid) and horizontal Vee (pivoting). Rigid solutions with double posts and non-circular post cross-sections are presently in field trials.
Technical Considerations for Design Selection
As indicated above, attachment between insulated cross-arm and tower or pole is differentiated into two variants that determine the stresses under various loads and, from this, suitable choice of rod diameters, especially of the post and their number installed:
• In the case of rigid attachment, no movement of the post arrangement is possible; hence an imbalanced longitudinal conductor scenario can be the critical load case because of bending load to the post.
• For a non-rigid or pivoting attachment, an imbalanced longitudinal load would cause rotation about the cross-arm axis and hence no bending load occurs. Rather, the load is a tensile load once the end position of rotation is reached. It is critically important that the horizontal Vee arrangement can then move freely, otherwise bending will occur on attachment hardware, which will likely fail.
For development of any new cross-arm configuration for specific in-situ conditions, an engineering program, as shown in Fig. 5, has been proven to offer guidance. IEC standards provide sufficient guidance for electrical design in terms of striking distances required for the specified withstand voltage. In the electrical field simulation, the dimensions and position of the corona and power arc rings are defined. In the case of composite insulators, it is critical to limit field stress at the housing and a new value of 4.3 kV/cm has recently been recommended.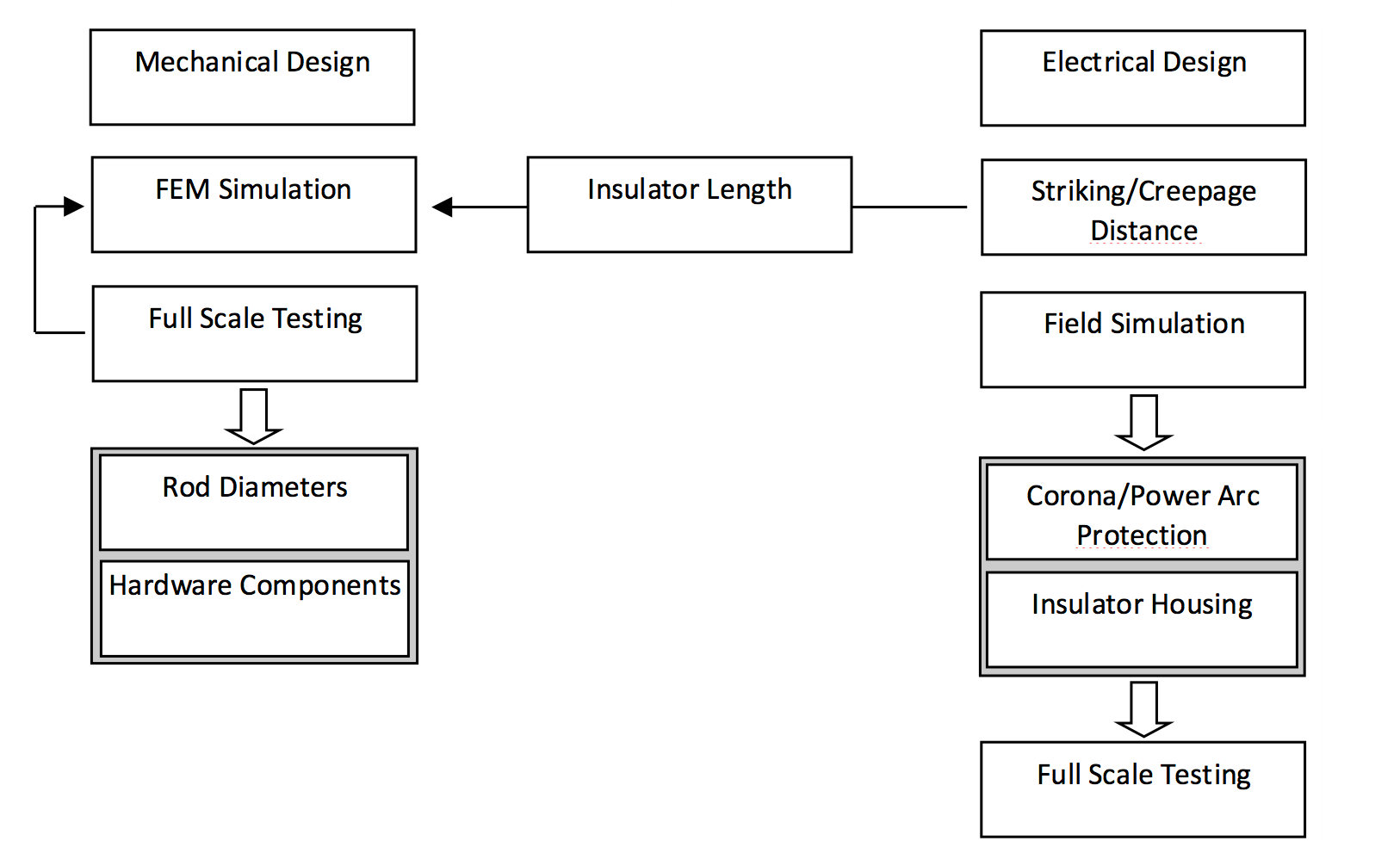 Mechanical design is more challenging because an insulated cross-arm is usually a 'tailor-made' solution. Once required insulator length is defined, finite element (FEM) simulation will provide first results for required rod diameters and deformation under stress, where bending or buckling are both critical. Different load cases have to be investigated, which are typically derived from line design requirements – so-called loading trees. It has been shown that it is reasonable to investigate the following load cases as part of the FEM simulation: normal load condition; broken wire condition; longitudinal cascade; and maintenance case. Subsequently, full-scale testing is used to verify the findings from the simulation. Empirical results are then used to optimize the FEM model, if necessary. In all cases, full-scale testing is recommended to confirm the strength of hardware components as well as whether the arrangement can rotate freely in the load case of broken wire.

So far, the pivoting attachment has been used in most applications. In this case, however, the stability of the line requires special considerations to prevent 'snap-through' of Vee post members along the line. The important forces to be considered in this regard can be seen in Fig. 7, which shows the interaction of the forces of loading tree simulation (FX, FY, FZ) and the corresponding force reactions on insulators in the cross-arm arrangement (FPB, FPP). In the case of a pivoting arrangement, FZ does not have to be considered in terms of bending stress.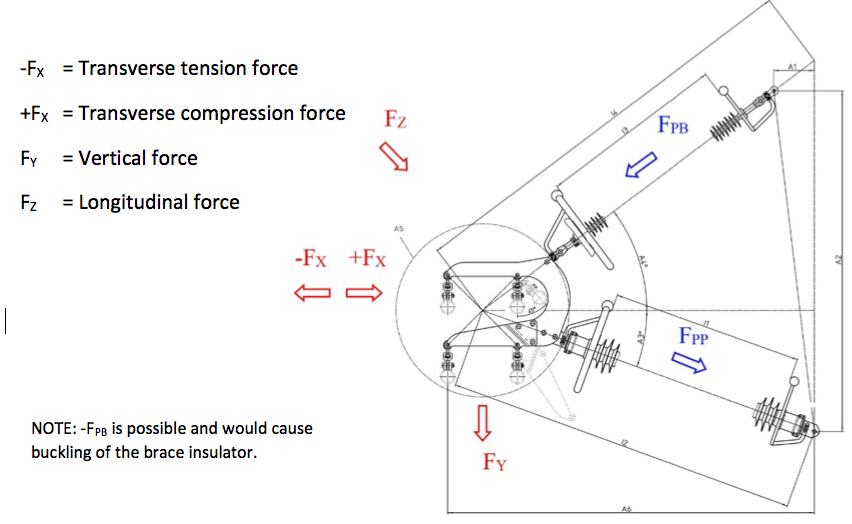 Experience has shown that FPP, the resulting force of +FX and FY, is the main design parameter for the insulated cross-arm. The E-Modulus of a glass-fibre reinforced rod is approximately half that of an equivalent porcelain insulator. Hence, the composite rod starts with an elastic buckling at lower values than the porcelain equivalent, but without risk of breakage. As such, depending on post insulator length and magnitude of compression force, a range of different solutions exist:
1. Single post made of a massive composite core;
2. Composite hollow core;
3. Hybrid post;
4. Double single post, both as massive composite cores;
5. Massive composite post with non-circular cross section.
These alternatives are compared in Table 1 with respect to their properties and characteristics. Use of a single post is the preferred technical solution. However, if the forces are too high for the available rod diameter, one of the other solutions has to be considered. Good experience has been reported for hollow core insulators, assuming their internal space is filled such that no cracks form in the interface between filler and internal tube wall and the filler itself remains free of partial discharges. This requirement becomes critical elements of the production process – especially when large dimensions are required, such as for voltages higher than 420 kV. In the case of a double single post solution, the flashover value under pollution will be smaller compared to a single unit because the power arc can develop interactively on both units. However, if a housing material with hydrophobicity transfer mechanism (HTM) e.g. silicone rubber, is employed, such a scenario is unlikely.
Table 1: Technical Ranking of Post Solutions in Cross-arm Arrangement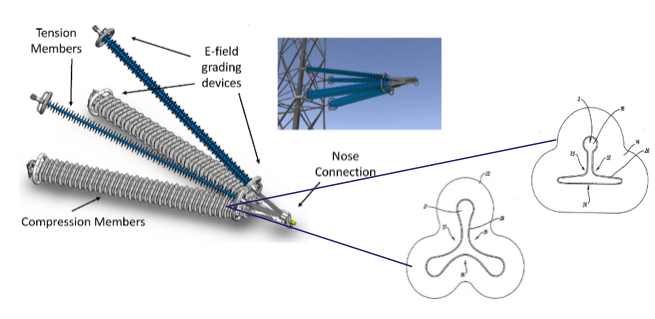 Advertisement
The design with post(s) having a non-circular cross-section has been presented as a technical solution to increase bending stiffness of the post for angle and tension towers and also as an option to improve line stability, if required (Fig. 8).
Future Outlook
These days, with availability of axially reinforced glass fibre rods with large cross-section and consistent quality for EHV applications, mechanical strength and stiffness can be increased to the extent that insulated cross-arms become available even up to 765 kV. Aesthetic line concepts using the horizontal Vee arrangement (see Fig. 9) and towers that permit a certain line inclination combined with pleasing appearance through a vertical Vee configuration (Fig. 10) have successfully been in service now for several years.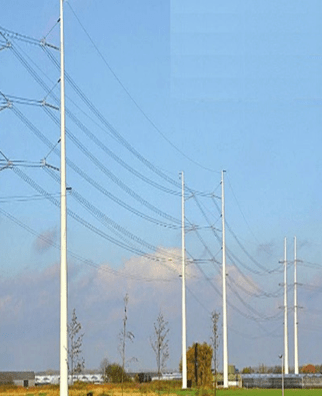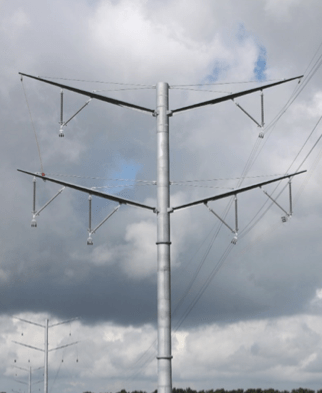 These achievements were only possible through close co-operation between utility, architect and component manufacturers. Future developments in this regard will focus on even more aesthetic integration of towers into the landscape (Fig. 11) while research into composite pylons is also in progress.