IEC Standards for Arresters: Now & In the Future
Harmonization
As a long-time member and contributor to both IEC and IEEE, I feel that there is now excellent collaboration among those involved in setting standards for surge arresters. Sill, while both IEC and IEEE arrester Working Groups have been trying to navigate toward a harmonized arrester standard for some time, so far there is no success. A harmonized IEC/IEEE standard would offer the benefit of more supplier options for users and also a broader potential market for suppliers without them facing the high expense of duplicate laboratory tests.
At the last joint IEEE/IEC arrester standard meeting this past May, we all concluded that further efforts to harmonize the two key existing standards, IEEE C62.11 and IEC 60099-4, would be fruitless as long as there were two separate documents. It was therefore agreed to put such efforts aside and focus instead on a new dual logo process for a less complex standard, as has already been used successfully by others in the IEC/IEEE communities. To that end, a draft outline for a new test standard was created for the transmission line arrester – an excellent candidate for this process since neither IEC or IEEE currently have a test standard that addresses the unique requirements of TLAs. A 2019/20 issue of the first fully harmonized test standard for line arresters (NGLAs as well as EGLAs) is now expected. If this approach works, I predict that all arrester standards will become harmonized within 15 years.
Rationalization
Back at the 2005 INMR WORLD CONGRESS in Hong Kong, I proposed to the arrester community that a rationale be written for every test mandated in arrester standards. By 2010, such a project had already been completed in IEEE but only considered within IEC's TC37 MT4. That has changed significantly over the past 2 years during which MT4 made great progress towards a document that will have a rationale for every test mandated in the standard. This past year, such 'rationale writing' has been carried out with online meetings. While there was concern that such meetings would not allow for free flowing conversation, it turned out to be the opposite and great progress was achieved. Based on the productivity and success of these meetings, I would recommend more of them for IEC Working Groups as a means to both increase participation and lower travel costs.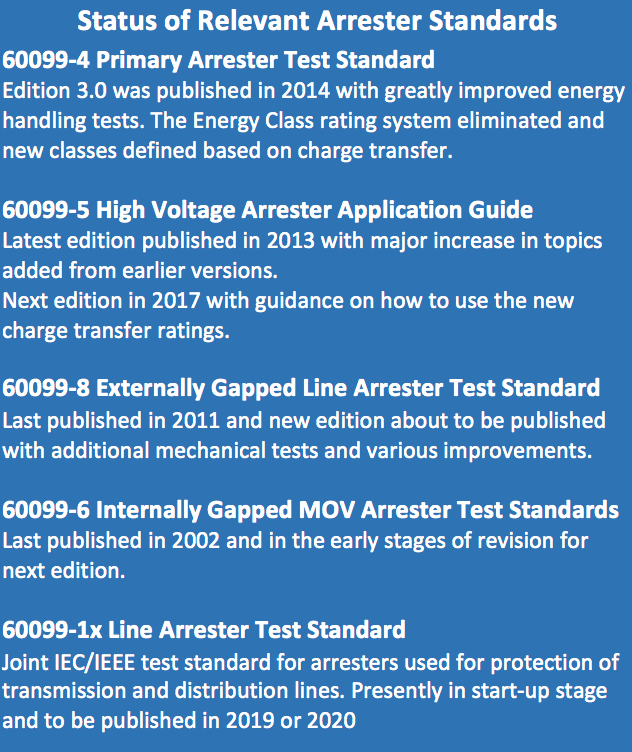 As part of the rationalization process for each test, we will discuss why we run it, why the choice of metrics and why the chosen evaluation criteria. Another valuable aspect of these written rationales is the test background which helps us understand why the test is specified as it is. Also while reviewing these in detail, errors are uncovered in the standard itself. As a result potential changes are being taken back to the main committee for consideration. The document being producing will run 30 to 40 pages and we have concerns in regard to the ideal means of publication. For the moment it was decided to publish it as a Technical Report that will become part of the IEC 60099 series of Standards and Guides. We anticipate publication of the Arrester Test Rationale Report in 2018.
Future Format for IEC Standards
As I was contemplating how we could improve the ways to present standards to users, I received an email from the IEC indicating that they were actually now doing that themselves. They recently initiated 'Online Collections' for users – a new format that takes advantage of the benefits now available for sharing electronic data. This has started with a process of making standards available in HTML through a browser and, based on what I see so far, it is a positive move. Each standard is a web page unto itself and each chapter or section is a subpage. Links to all associated sections are only a click away and a complete index of links is available to other sections as well as other standards. One outstanding feature is the option to search for terms in all standards that are linked somehow with the one being referenced. In the future, I hope we will be able to add an interactive formula as well as color. Congratulations to the IEC for this new model of standard. Please check it out at: https://collections.iec.ch.
Jonathan Woodworth
Co-Convenor of IEC TC37 MT4
responsible for IEC 60099-4