Factory in Mexico Focuses on HV Circuit Breakers & Components
When Mexico, Canada and the United States signed the North American Free Trade Agreement (NAFTA) in 1994, a vast free trade area was created encompassing almost 500 million people spread across 22 million sq. km. There are still debates about which country benefited most from the agreement. But hardly anyone doubts that there have been plenty of 'upsides' for Mexico, including the creation of many more skilled manufacturing jobs for a workforce that in the past still relied mostly on agriculture.
One example of NAFTA's impact on the Mexican economy is the Siemens HV Products plant located in the scenic town of Queretaro, about 200 km north of Mexico City. Only a few years old now, this facility supports not only 200 jobs but has also helped bring in some of the latest in power technology as well as modern manufacturing processes. The plant produces several hundred dead tank as well as live tank circuit breakers each year and a greater number of breaker components that are sent for final assembly to plants in other countries. In 2015, INMR was given the opportunity to tour the plant and also to report on its production methods as well as on trends in regard to breaker design and materials.
---
Built in 2011, the Siemens El Marqués circuit breaker plant in a large industrial park in Queretaro represented a significant expansion of a former factory located on the other side of the city. That plant, established in 1979, aimed initially at high voltage products but was converted in 1984 to MV switchgear. The more recent plant now focuses on HV equipment and has doubled sales volume over the past years. Among the products manufactured here are dead tank breakers from 72.5 kV to 245 kV rated voltage and live tank breakers up to 550 kV – all for breaking currents up to 63 kA. In addition, components such as switch units and drives for breakers are assembled and delivered to other Siemens plants in the NAFTA area where they are integrated into locally produced apparatus. The breakers made in El Marqués supply not only Central and North America but are now being shipped as far afield as Australia, Japan, Russia and the Philippines.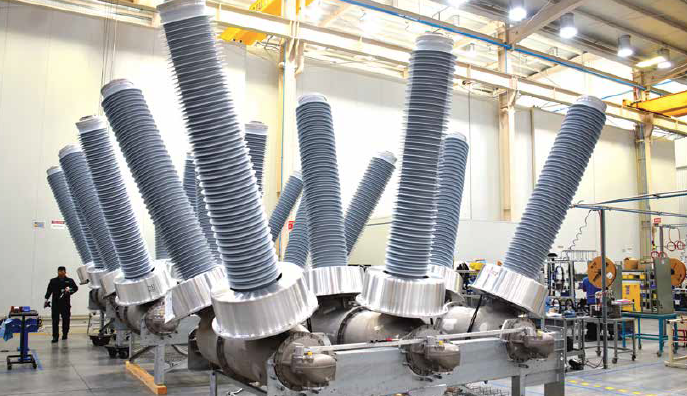 The Mexican market has transitioned steadily from a mainly dead tank market to one that is now increasingly live tank and he estimates the current ratio stands at about 60:40 in favor of the live tank type. Preference for one style over the other involves a number of offsetting technical and economic considerations. For example, while a live tank breaker typically costs less than half of an equivalent dead tank, it comes with the added cost to install three current transformers on each side of its breaking chamber. By contrast, a dead tank breaker already integrates all the CTs and also offers superior seismic performance. In terms of transport and handling requirements, a live tank breaker for 145 kV weighs only about 1300 kg compared to some 3000 kg for a dead tank unit of that same voltage class.

One of the important technical trends in breakers over the past decade relates to the type of bushings requested by end customers. In Mexico, for example, there is still a decided preference for porcelain over silicone housed composite bushings. The only exceptions are for service in heavily contaminated environments such as near petrochemical installations or along the coast. By contrast, other countries such as Australia have moved decisively toward composite bushings not for pollution performance but rather because of laws mandating safety in the event of explosive failure. Similarly, power suppliers in places such as Guatemala prefer silicone housings due to their superior seismic withstand.
Advertisement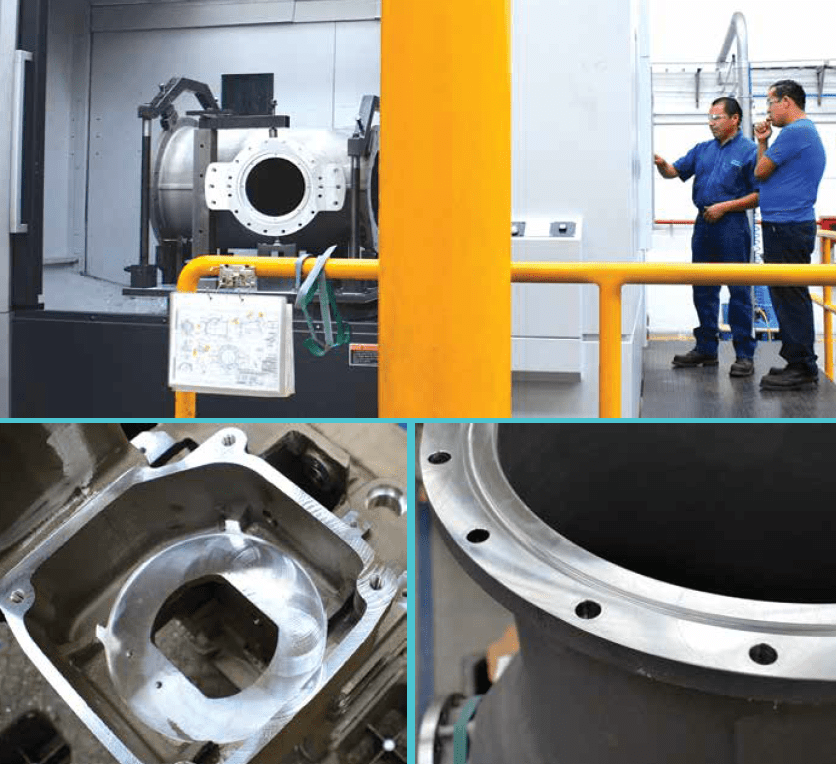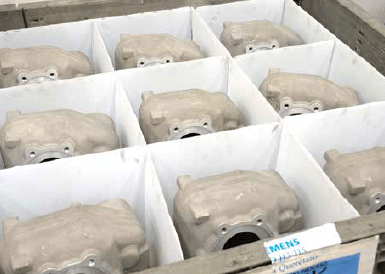 The production of a dead tank breaker begins with the various metal housings that in the case of the El Marqués plant come from both local and foreign-based suppliers. Each incoming casting is checked for porosity or other possible defects using X-ray inspection. In addition, spectrophotometry is used to verify consistency of material composition. Only about 1 to 3 percent of castings are found to be below standard and returned to the supplier.
Subsequent processing of cast metal housings and components begins with machining on large CNC machines to achieve the strict dimensional tolerances needed for tightness. These machines, each of which represented a large investment for the plant, offer automatic changeover of tooling allowing them to operate with greater efficiency and productivity. So critical is the need to respect the dimensional tolerances of each item that quality control checks are performed on random samples taken from each machine three times a day. This process employs lasers to verify all dimensions, as per the relevant drawing, including the diameters of holes for bolts.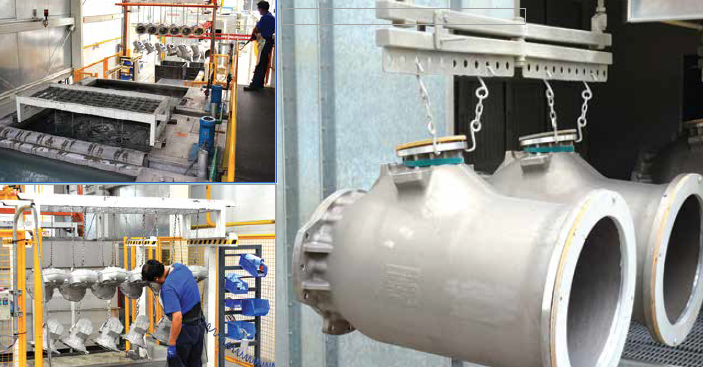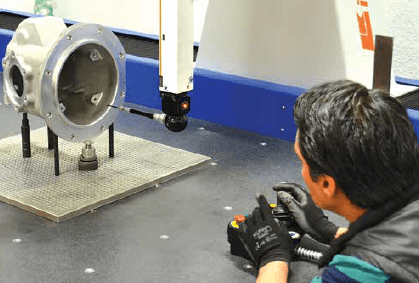 After machining, each item goes through a de-burring process to ensure perfectly smooth edges and surfaces. It then moves to routine high-pressure testing with helium at between 12 and 20 bars so that any gas leakage can be detected. From there, the pieces are de-greased in a series of proprietary cleaning solutions before being rinsed in water and dried. The next step sees the interior of the casting painted to ensure that any residual tiny particles that remain are covered by a perfectly smooth surface and this is followed by further ultrasonic cleaning as well as dry blasting. Finally, depending on function, certain pieces are glued to a high tensile strength material to form either the fixed or moving contacts of the breaker.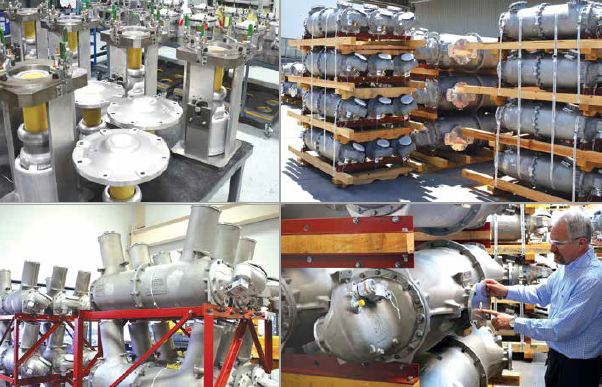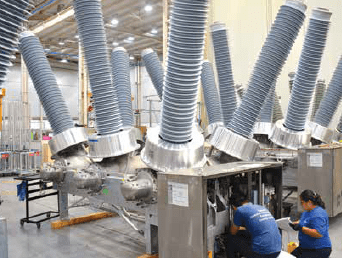 Advertisement
All breaker components are assembled in a clean room environment and subsequent testing is done to verify dimensions. Various friction and operating tests are also performed as the interrupter chamber is closed. Data from such friction testing is considered so important that it is shared with headquarters in Berlin. The last step is packing.
A second building at El Marqués is devoted to assembly of complete breakers for the local as well as various export markets. For the most part, this consists of cabinet assembly and wiring as well as combining the switches and drives from the adjoining facility with insulator housings that serve as bushings. At the moment, some 90 percent of the housings used each year are of porcelain while silicone composite types are still regarded more as a specialty item either for problem environments or for customers with special demands.
End customers at power companies rarely specify a particular supplier for the bushings and are content to leave this choice to the breaker manufacturer. Still, insulators are considered a strategic item at the plant and ordered through a dedicated commodity-sourcing department located in Germany. While often referred to as 'commodities', these are in fact highly engineered to meet the demanding electrical and mechanical requirements of a breaker.

For example, one of the problems in the past has related not to any issues with the porcelain body but rather to how well it was attached to the flange. In the past sulphur cement was used but this has since been replaced by Portland cement to improve bonding strength. If there is ever a problem with a breaker's bushings, it will typically be in the interface between the porcelain and the flange such that there is slight movement after several years in service. Eventually, such a problem can lead to leakage past the O-ring. Another challenge in regard to insulators has been managing delivery lead times. There is sometimes difficulty sourcing quality porcelains in a timely way from a few good suppliers, meaning that lead times for them can be pushed out. Typical production lead times for breakers at El Marqués vary anywhere from 5 to 7 months between order receipt and delivery to the customer.
After assembly, wiring of the breaking cubicle and addition of instrument transformers to each side of the chamber, the completed breaker is ready for final testing, which is done at the HV laboratory alongside the assembly plant. Here, all routine tests are performed as specified in the relevant IEC standards, including mechanical tests followed by electrical testing. The breaker is then pressurized at from 0.2 to 0.3 bars for transport purposes.

A separate area of the plant is devoted to development and training activities for engineering staff at customers who come at times to take courses in aspects of breaker technology and maintenance. R&D is also performed here in such areas as finding ways to optimize design and reduce weight, especially in the case of dead tank breakers.
Looking at what has been achieved at the Queretaro plant in only a few years, management feel that the investment has proven a win-win scenario. "We have transferred a lot of technology to Mexico," they say, "and the benefit for us has been to have a factory near to the U.S. but where labor costs are more attractive. In the past, all such breaker components came in from Germany, so with El Marqués we have succeeded to reduce both production and transport costs."