Effect of Biological Growths on Properties of Silicone Rubber Housings
In what must be seen as a rare meeting point of the fields of microbiology and HV engineering, a growing number of utility engineers are reporting the presence of biological growths on composite insulators. This phenomenon seems to be relatively independent of environment inasmuch as such growths have occurred on insulators installed on networks operating in temperate as well as tropical climates. Although these reports have typically gone no further than a simple record of this observation, in some cases there have been attempts to identify the specific source of this problem. For example, micro-organisms such as algae, fungi or lichen have been isolated from such insulators. Evaluation of the impact of these biological growths on insulation performance as well as of techniques to quickly identify affected insulators have also been carried out.
In spite of this work, however, relatively few reports have focused on the possible impact of such growths on the key properties of the silicone rubber material itself. Silicone rubber is known to be highly resistant to bio-degradation since the partly inorganic nature of the polydimethylsiloxane (PDMS) molecule makes it difficult for micro- organisms to use this polymer as a source of nutrients. Nevertheless, rubber polymers are clearly more sensitive to the potential for such degradation than are ceramic materials. Therefore, if inappropriate additives are chosen for production of the polymeric material, the resulting insulator can well become a target for biological colonization. Degradation of these additives or of the polymer matrix itself can then affect the bulk properties of the material under attack. Moreover, the mere presence of any micro-organisms on an insulator has the potential to change its surface properties.
The following past INMR article is based on research work performed in 2005 by PhD student Stina Wallström from the Royal Institute of Technology in Sweden under the supervision of Professor Sigbritt Karlsson. Areas of interest included identification of the micro-organisms causing these problems, examination of their impact on the chemical and mechanical properties of affected materials and evaluation of different silicone rubber formulations with respect to their ability to resist biological growths.
---
Micro-organisms colonizing bio-resistant substrates tend to form a film on the surface of the affected material. This biofilm consists of a mixture of different micro-organisms embedded in a highly-hydrated matrix of extracellular polymeric substances, mainly polysaccharides and proteins. Mixed populations of bacteria, fungi, protozoa and algae often co-exist in such a film. Generally, the composition of the biofilm affects its interaction with the support material. Therefore, it is important to know the specific composition of biofilms colonizing silicone rubber insulators in order to be able to best assess their impact on the properties of this housing material.

In this work, an analysis was performed of three different biofilms collected from silicone rubber insulators exposed to the outdoor environment in Sweden, Sri Lanka and Tanzania. Filamentous fungi and micro algae, in association with bacteria, were isolated from these samples. Even though the insulators were collected from three different continents, the compositions of the biofilms studied were found to be remarkably similar. Small unicellular green algae of the Chlorella family, living in symbiosis with bacteria, dominated these biofilms and traces of filamentous fungi were spread throughout the algae matrix. The various species identified are shown in Table 1. The striking similarity between the different biofilms indicates that the mechanism of bio-fouling of silicone rubber insulators may well be the same all over the world. This should then make it easier to develop a single bio-resistant housing material which can find application worldwide.

Damage to Housing Material
The structure and functionality of a polymeric material can be damaged by biofilms in a variety of ways. These undesirable effects can range from modifying surface properties due to the presence of accumulated biomass (via degradation of leaking components) to direct attack on the polymer matrix itself (see Figure 1).

How severe such biological attack can be depends on the composition of the polymer as well as on the nature of the biofilm. For example, it has been noted that not all polymeric insulators in the field are affected by biological growths, indicating that some formulations appear to offer effective protection against such attack.
In an attempt to identify the source of such differences in sensitivity to attack, various alternative polymeric materials were analyzed. The investigation soon became focused on the impact of flame-retardants and five different materials were prepared and tested. PDMS rubber base with 20 per cent SiO2 filler and 0.52 per cent di(4-methyl benzoyl) peroxide added as cross-linker were mixed with Martinal OL-104 S vinylsilane surface treated aluminum trihydrate (ATH) and Firebrake 290 zinc borate delivered by a major silicone supplier (shown in Table 2).

Pressed and cured samples of these silicone rubber materials were placed in specially designed micro-environmental chambers where biofilms were grown on them in a simulated outdoor environment. Figure 3 illustrates the assemblies of these five materials within the chambers. Three chambers represented Sweden, Sri Lanka and Tanzania respectively. The test samples were inoculated with a solution of micro-organisms from each country by means of spraying. A fourth chamber was used as a reference containing control specimens. All chambers were maintained at a temperature of approximately 25° C and a relative humidity of ≥ 85 per cent. A daylight lamp with a cycle of 12 h light and 12 h darkness was used to provide the UV radiation necessary for algae growth. It did not take long before mixed biofilms resembling those formed on insulators in the field started to grow on the silicone rubber samples.
Advertisement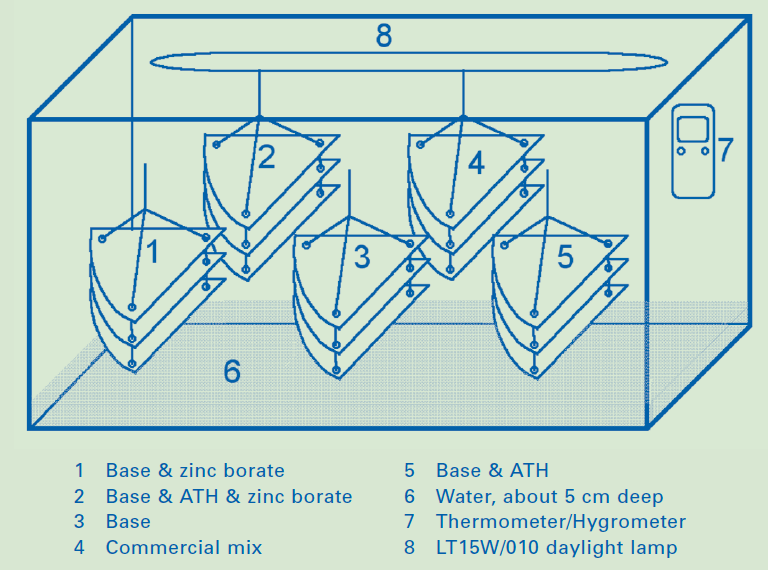 Degradation of Additives
The silicone rubber material used in the production of high voltage insulators typically contains various additives mixed into the base material. If one or more of these additives are bio-degradable, this can lead to microbiological attack on the rubber. The opposite effect is also possible – some additives function as growth suppressors and make the material more bio-resistant. As expected, the different materials tested in the micro-environmental chambers showed different sensitivities to the influence of micro-organisms. For example, less than a month after incubation, visual observation showed that the flame retardant, zinc borate, was able to protect a material from biological growth. By contrast, algae cells started to grow immediately on materials not containing zinc borate. After several weeks, fungal growth also started to develop on these infected materials and biofilms appeared which were similar to those formed on insulators in the field. The zinc borate-filled materials, where algae did not grow, seemed protected from fungal growth as well.

Micro-organisms in a biofilm tend to live in symbiosis and it is known that the algae used in this study often grow in association with bacteria. It seems probable that the fungal species isolated from the biofilms being studied need algae as a source of nutrients. This means that the protective effect of zinc borate against algae growth also extends to protection against mold growth. By contrast, the commercial silicone material tested showed a somewhat different behaviour. On these samples, mold started to grow before algae, indicating that some component or combination of components added to the rubber promoted the ability of this material to support mold growth. While algae rely on carbon dioxide as a source of carbon through photosynthesis, fungus needs a source of organic carbon to grow. It therefore seems that some additive used in the production of this commercial material serves as such a source and hence makes it more sensitive to degradation.
Six months after inoculation, samples were photographed and the resulting images were subjected to image analysis in order to determine the extent of growth on the different materials. A segmentation technique developed by Anders Dernfalk was used for the analysis. A typical result obtained through the application of this technique is shown in Figure 3, where regions with growth have been marked in red. As can be seen, the highlighted regions correspond well to the areas covered by growth.
As can be seen in Figure 4, results from image analysis clearly show that the flame-retardant zinc borate hinders development of the biofilm while ATH has no such effect on the growth. In fact, research suggests that ATH may even support the biofilm. Another finding was that the biofilm originating from Sri Lanka developed faster on the commercial material being tested. This might be due to the composition of this biofilm since microscopic studies show that it contains a larger proportion of fungi than biofilms isolated from either Tanzania or Sweden. As previously discussed, the commercial rubber is more sensitive to fungal growth.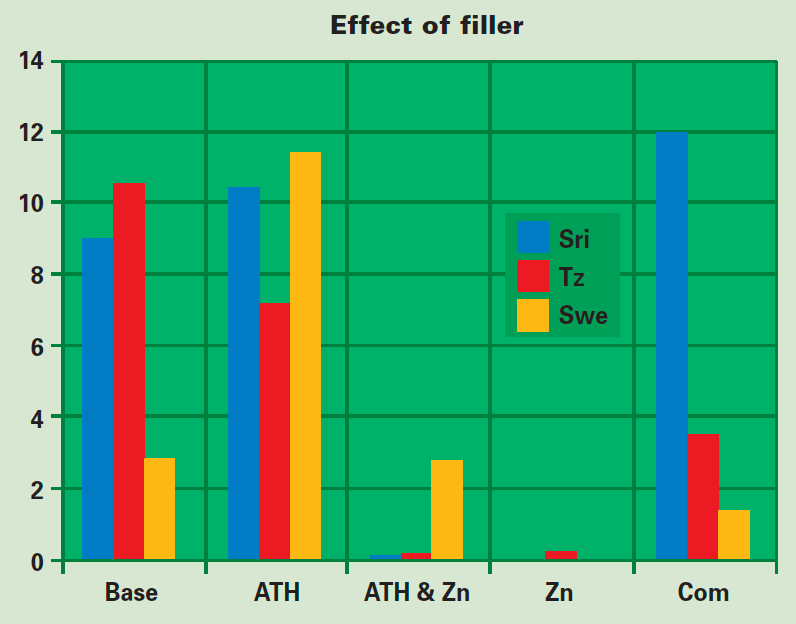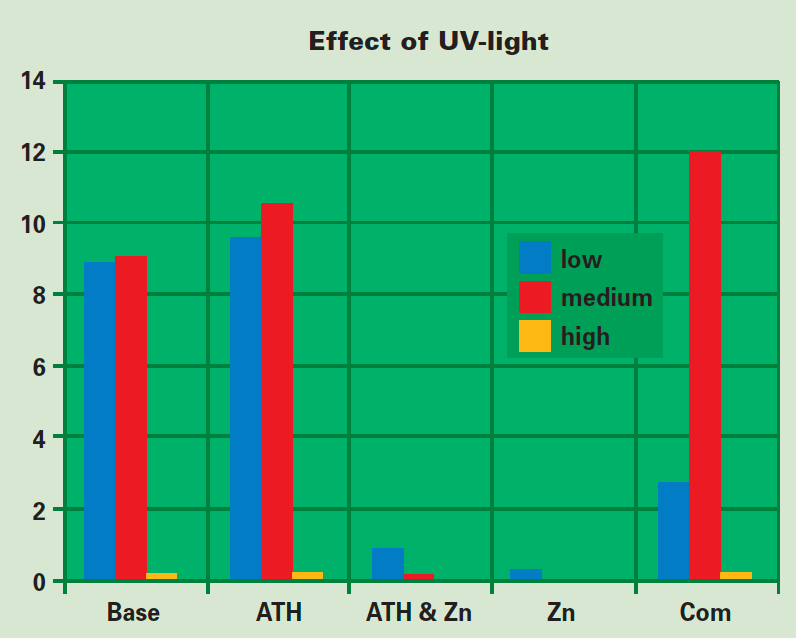 Another observation was that direct UV exposure from a daylight lamp effectively hinders growth of the biofilm. Figure 5 shows that samples which were nearest to the daylight lamp in the micro-environmental chambers were almost completely free of growth. By contast, on those plates which were partly shaded, growth developed much faster. This effect can also be seen from actual field experience with high voltage insulators, where algae growth typically develops more quickly on the shaded parts of insulators
Degradation of Base Polymer
No evidence was found during this research that the biofilms examined were able to degrade the silicone rubber matrix. When biological growths were removed from samples taken from the micro-environmental chambers and these samples analyzed with infrared (IR) spectroscopy, no difference in spectra could be observed between them and unaffected virgin materials. This indicates that no chemical bonds were disrupted as a result of the biofilm. The PDMS molecule is known to be very stable and no biological process is known which degrades the covalent bonds in organo-silicones. Nevertheless, silicone rubber could still be degraded through secondary mechanisms. A number of micro-organisms secrete powerful enzymes which can degrade very stable polymeric structures. Among these, the white rot fungi hold a unique position. This class of molds has evolved non-specific mechanisms for degrading the complex polymeric structure of lignin. The enzyme system responsible for such degradation includes peroxidases which promote the reduction of peroxides to free radicals.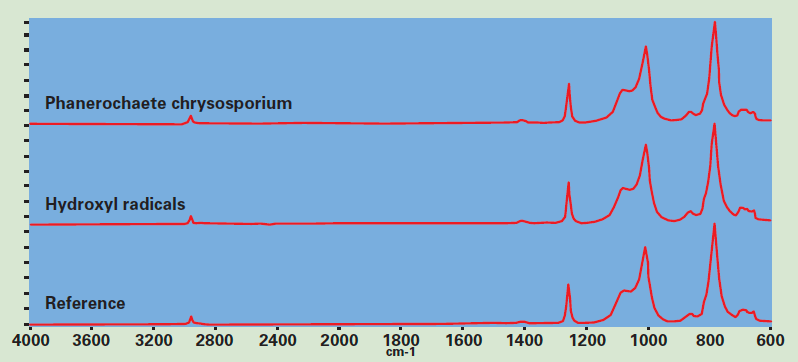 In order to study the stability of the siloxane molecule under the influence of lignin-degrading fungi, an unfilled PDMS rubber, a PDMS oil of high molecular weight, and a DMS oligomer were all treated with the lignin-degrading fungus Phanerochaete chrysosporium. After treatment, the oils were analyzed by size exclusion chromatography in order to detect main-chain scissoring reactions. Similarly, oils and oligomers were analyzed with gas chromatography (GC) in order to observe degradation mediated by chain end or side chain mechanisms. The rubbers were also analyzed for chemical changes in the surface layer using IR.
No significant differences in surface composition of the rubber or in the molecular weight of the oil were observed. Also, no low molecular weight degradation products were found during the GC analysis performed after treatment of the siloxane molecules with the lignin-degrading fungus. It was concluded that experiments with radicals generated by chemical mechanisms should be performed as a complement to the biodegradation study. The materials mentioned above were therefore exposed to hydroxyl radicals generated by the Fenton mechanism. However, subsequent analysis showed no significant influence of the hydroxyl radicals on the silicone materials analyzed.
The results obtained from this degradation study indicate that the PDMS molecule is very stable against biodegradation. However, it cannot be concluded, based only on these findings, that PDMS should be considered a biologically inert material. Even so, it appears that the probability that the silicone rubber matrix of a HV insulator can be degraded by the direct influence of micro-organisms is probably very small.
Advertisement
Penetration
Fungal hyphae can penetrate their support and thereby cause cracks and pores in the material. The mechanism of penetration is unclear, but it is known that hyphae are able to create great turgor pressures that force their cells through the material. This leads to a decrease in mechanical stability and offers a way for water to enter the polymeric insulating material thereby leading to an increase in its electrical conductivity. Silicone rubber materials are soft and flexible when compared to ceramics and should therefore be easier to penetrate. However, the penetration rate seems to be slow. Indeed, a recent study demonstrated that fungal hyphae will not penetrate a thin sheet of silicone rubber even if this would give it access to nutrients.
Thin sheets (0.5 mm thick) of the silicone rubbers listed in Table 2 were placed on malt extract agar, a fungal growth medium rich in nutrients. These sheets were then infected with viable fungal spores and hyphae isolated from infected insulators in the field. No penetration could be observed after two months of incubation at 28°C and 85% RH, indicating that the rubber materials tested were not easily cracked by this organism.
Fouling
Even though silicone rubbers seem to be very stable against direct attack by microbes, composite insulators can still provide support for a biofilm. Such an unwanted deposition of biological matter on an insulator is generally referred to as fouling. If the colonized material resists degradation, micro-organisms can use pollutants from the environment to gain nutrition, or, in the case of algae, grow by means of photosynthesis. This ability of a biofilm to use an external carbon source makes laboratory testing difficult. Materials which seem to be inert during degradation studies can still encourage growth under outdoor conditions.
Although a fouling problem does not change the bulk properties of the infected material, it can affect surface properties of the colonized object. The hydrophobicity of the silicone materials incubated in the micro-environment chambers were therefore tested in accordance with the hydrophobicity classification guide developed by STRI.
The results displayed in Table 3 clearly show that samples covered with micro-organisms were more hydrophilic than virgin materials and samples from the reference chamber. However, after cleaning the surface of infected materials with a soft cloth dampened with distilled water, hydrophobicity was somewhat restored. The hydrophobicity of materials containing large amounts of filler particles was not as easy to restore as in the case of less filled materials. This is because filler particles cause surface roughening and apparently the gentle cleaning procedure cannot effectively remove all the biofilm from the rough surface of highly-filled materials.

To further examine the possibility of cleaning infected silicone rubber, samples from the micro-environment chambers were analyzed by using an environmental scanning electron microscope (ESEM) with X-ray energy dispersive spectroscopy (EDS). The ESEM/EDS not only gives a microscopic picture of the infected surface but also combines this information with an overview of the elemental composition of the surface of the tested material. Since molecules in the biofilm differ in chemical composition from those in the supporting silicone rubber, the atomic composition of the surface layer can be used to monitor the amount of contaminants before and after a washing procedure. If traces of the biofilm remain after cleaning the surface, it can be assumed that the adhesion between the biofilm and its support is too strong to allow the applied washing procedure to be effective.
Silicone rubber samples cut from the worst infected portions of the ATH-filled silicone rubber and the base silicone rubber incubated in the micro-environment chamber representing Sri Lanka were analyzed with ESEM/EDS. The results (shown in Figure 8 and Figure 9) indicate that while it was possible to effectively clean the base silicone rubber by gently wiping its surface with a soft cloth wetted with distilled water, the ATH-filled rubber was not that easy to clean from bio-fouling. Traces of the elements Mg and Na, originating from the biofilm, were detected after the cleaning. ESEM pictures confirmed the results of the elemental analysis; the ATH-filled silicone rubber showed a rough surface after cleaning, while the surface of the base rubber looked clean and smooth after washing.


If the surface of a silicone rubber insulator is cleaned effectively, there is a good possibility that the surface properties of the insulator will be restored. However, it is not always easy to decide based on visual observation alone if the cleaning procedure used was effective or not. Many micro-organisms produce pigments which are often lipophilic and therefore tend to diffuse into the matrix of a polymeric material. The stains produced are impossible to remove by simple cleaning. However, this problem is mainly aesthetic and does not adversely affect the insulating properties of the silicone rubber.
Conclusions
Effects ranging from fouling to degradation of the polymer matrix occur when a polymeric material is colonized by a biofilm. In the case of silicone rubbers used in high voltage insulators, this study showed that fouling is the most severe problem. The polydimethylsiloxane (PDMS) molecule is highly stable and no evidence of biodegradation has been found. Neither those micro-organisms isolated from insulators in service nor aggressive ligninolytic fungal species seemed to be able to break the chemical bonds of PDMS. However, bio-fouling can still influence the functionality of an insulator. For example, this study demonstrated that the hydrophobicity of a silicone rubber is reduced when the material is colonized by a biofilm. This can alter the electrical properties of a fouled insulator. However, the surface hydrophobicity of the rubber can be restored by removing the attached biofilm. The effectiveness of the cleaning procedure depends largely on the composition of the rubber. A silicone rubber containing large amounts of alumina trihydrate (ATH) has a rougher surface structure compared to an unmodified silicone. This makes it more difficult to effectively remove any attached biofilm.
In addition, surface-treated ATH makes a material more accessible to micro-organisms. This was shown when materials were tested in micro-environmental chambers simulating biofilm growth outdoors. These tests also demonstrated that while the commercial silicone rubber tested supported growth, addition of the flame retardant, zinc borate, to a material made it able to suppress the growth of mold, algae and mixed biofilms.