Diagnostic Measurement & Monitoring of HV Bushings
Measurement of capacitance and dielectric dissipation factor (power factor) is a proven diagnostic to assess the condition of high voltage bushings. In the past, dielectric response measurements in the frequency domain with frequency domain spectroscopy (FDS) – also called dielectric frequency response (DFR) or in the time domain with polarization depolarization current (PDC) – were applied to transformer insulation to determine water content in the cellulose. These methods have also been successfully applied to high voltage bushings.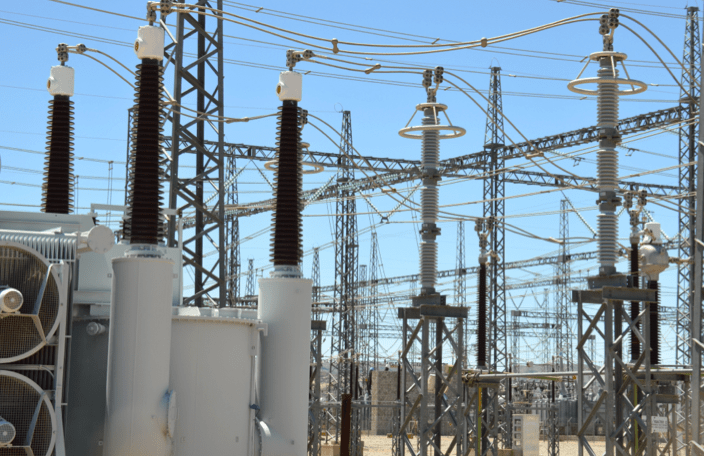 A common method for monitoring dielectric losses in bushing insulation is addition of the currents of the bushings of the three phases. If the currents are equal, the sum of the three phase currents is zero. Small deviations, however, cannot be recognized because the voltages of the three phases are not always symmetric. This is the reason that imbalance in the three currents can sometimes be misinterpreted. A newer approach uses voltage transformers or other bushings of the same phase as reference. This way, more precise capacitance and tangent delta measurements become possible. Capacitance of the bushings can also be used to measure or monitor any partial discharges generated in the transformer or in the bushings. Normally, on-site PD measurement is difficult due to heavy interference in the substation. But simultaneously measuring PD at different receiver frequencies, allows pulse shapes to be analysed. This can prove helpful to differentiate between the PD pulses inside the winding or those close to the instrument, i.e. within the bushing. This INMR article from 2015, based on a contribution by Michael Krüger of Omicron in Austria and Wojciech Koltunowicz of Omicron Energy Solutions in Germany, proposed additional methods of insulation testing and monitoring and also describes their advantages. Measurement results of oil impregnated paper (OIP), resin impregnated paper (RIP) and resin bonded paper (RBP) bushings are presented for new and aged bushings and limits for assessment are discussed.
The methods described are integral. For singular insulation faults such as partial discharges, PD measurement is much more sensitive. For RBP bushings in particular, there is often more than one PD source in the insulation, e.g. in cracks and voids. With new methods such as impulse form analysis in the time domain or frequency spectrum analysis, different PD sources can be separated from one another and also from interference. This enables more detailed diagnosis and also, by better interference suppression, more sensitive on-site PD measurements. All such methods are illustrated with practical case studies, which illustrate their importance and efficiency.
---
High voltage bushings are essential parts of power transformers, circuit breakers and of other power system apparatus. Indeed, more than 17% of all transformer failures are caused by defective bushings and such failures can destroy a transformer. For example, a recent survey by CIGRE Working Group A2.37 found out that 30% of all bushing faults resulted in transformer burn and 10% in burst or explosion. Therefore, regular diagnostic measurement is essential for safe operation of transformers.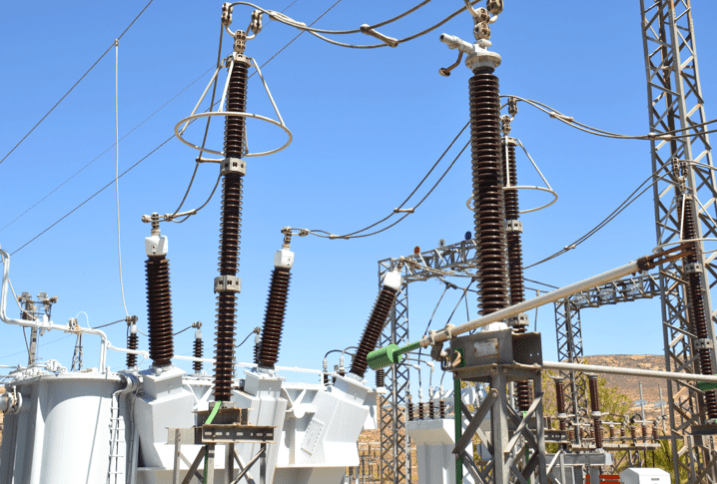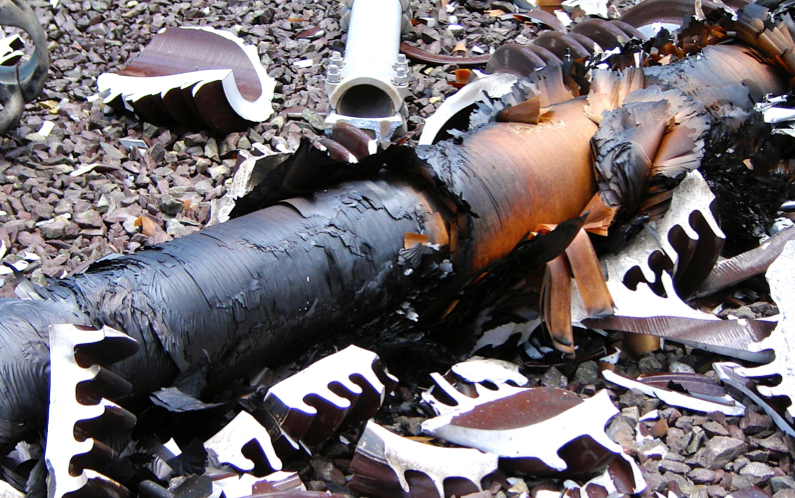 Measurement of Dielectric Losses
Measurement of capacitance and dissipation, or power factor, has been common now for decades and is normally performed at line frequency. Table 1 shows the 50/60Hz limits for DF/PF and partial discharges (PD) according to IEC 60137 and IEEE C57.19.01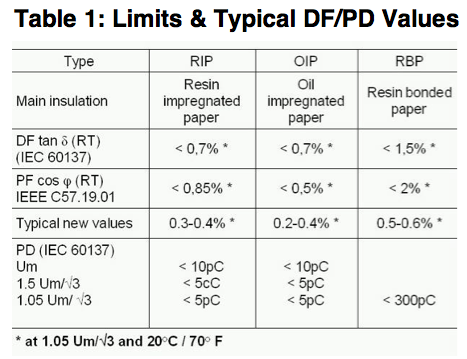 Measurement of Dielectric Response on New RIP, RBP and OIP Bushings
Fig. 1 shows the tan δ curves of new RIP, RBP and OIP high voltage bushings. The frequency range is 15 to 400 Hz and test voltage is 2 kV. The curves are rather flat and the minimum is below the lowest test frequency of 15 Hz. The values at 50 Hz fulfill the limits as per Table 1.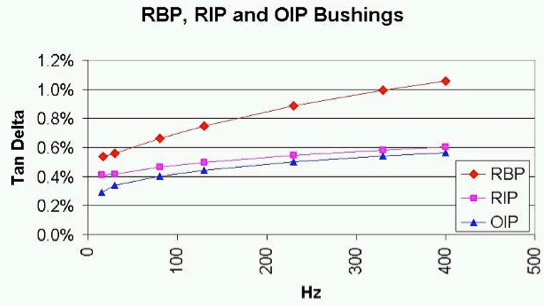 In Fig. 2, one can see an RIP bushing that was stored outside without protection of the oil side. The non-protected side became humid over time and the change in tan delta can be clearly seen. Moisture increases the tan d, particularly at low frequencies, with the minimal of the tan δ curves shifting to higher frequencies with increasing moisture content.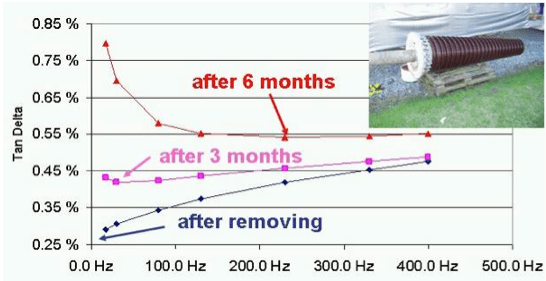 Limits for Dissipation Factor at Different Frequencies
Table 1 outlines limits and typical values for the dissipation factor for 50/60 Hz. Measurement of the dissipation factor at other frequencies should become a standard. Low frequency results (e.g. 15 Hz) allow for sensitive moisture assessment; measurements at high frequencies (e.g. 400 Hz) allow sensitive detection of contact problems at the measuring tap or at the innermost layer connection or of high resistive partial breakdowns between grading layers. Table 2 shows indicative limits for new and aged bushings at different frequencies, with all tests done at a test voltage of 2 kV

Case Studies of Diagnostic Measurements on RIP, RBP & OIP Bushings
The measurement principle described, using frequencies between 15 and 400 Hz, was applied for diagnostic measurements on RIP, RBP and OIP bushings.
Diagnostic Measurements on RIP Bushing
Normally silicone-housed RIP bushings have a fiberglass reinforced cast resin tube that has two functions: it provides mechanical stability and prevents moisture from getting into the active resin part. During the 1980s, some manufacturers made bushings up to 245 kV without such fiberglass tubes and with the silicone rubber directly vulcanized onto the resin active part. In the case of those bushings, however, water can diffuse over the years into the active part and cause breakdown of the bushing. In Fig. 3, the blue curve shows a measurement on a bushing of the design described above and with high moisture in the active part. The red curve is the result of the same kind of a bushing without moisture. At low frequencies the differences are obvious.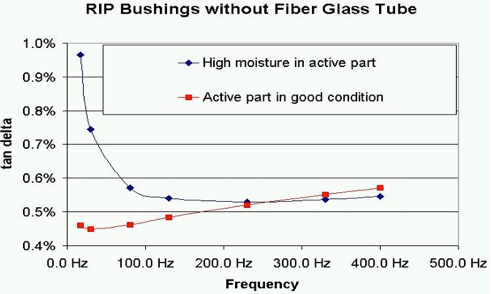 Diagnostic Measurements on RBP Bushing
A 123 kV resin bonded paper bushing showed a conspicuous dielectric response (see Fig. 4, red curve, phase C). The blue curve was measured on the A phase bushing. The increase of the tan δ curve for high frequencies is obvious. The bushings were tested afterwards at line frequency and voltages between 2 and 12 kV (Fig. 5). In this diagram the tan δ curve starts with rather high losses and goes down for higher test voltages.
Advertisement
This type of behavior is known in the case of bad contacts either on the measuring tap or in the contact of capacitive layers. The bushing was therefore removed from the transformer and dissembled. The measuring tap was well contacted but the innermost capacitive layer had no contact to the conductor tube. Bad contacts can raise the temperature of the inner insulation and, as such, replacement of the bushing was a good decision.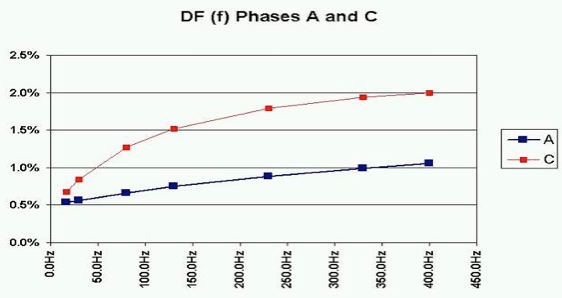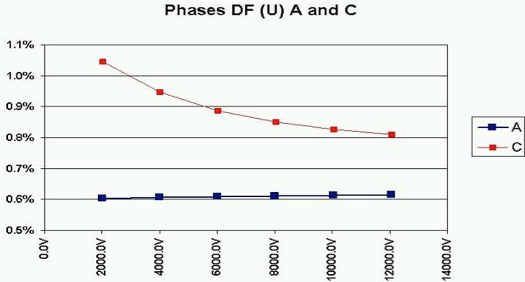 Diagnostic Measurements on OIP Bushings
33 kV OIP bushings were replaced because the tan δ was high at elevated temperatures and it was assumed that their inner insulation was wet. Fig. 6 shows the DF of OIP bushings at 50 Hz for different water contents as a function of T. New and the old bushings were tested at 30°C from 15 Hz to 400 Hz. High differences could be measured, particularly at low frequencies (see Fig. 7).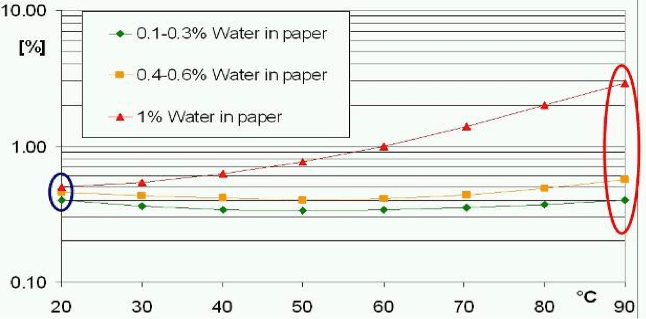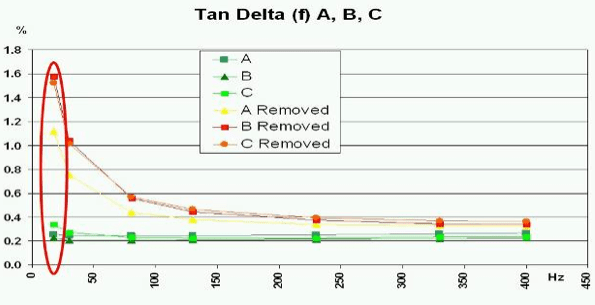 This example clearly shows that tan δ measurement at low frequencies can detect presence of water with high sensitivity.
FDS and PDC Measurements on Bushings
Measurement of losses can be done in the frequency domain by frequency domain spectroscopy (FDS) or in the time domain using polarization depolarization current (PDC). Findings can be transformed from the time domain into the frequency domain and vice versa. FDS measurement covers the whole frequency range from high down to very low frequencies, but measurements at low frequency need long measuring time. PDC is much faster but can only measure up to about 1 Hz. A new approach uses the advantage of both methods and measures the frequencies from 5 kHz down to 0.1 Hz with FDS and 0.1 Hz down to 1 mHz or even lower with PDC. PDC data are transformed into the frequency domain and shown as tangent delta values. Fig. 8 shows the principle of combined FDS-PDC measurement and Fig. 9 the dielectric response analyzer DIRANA with the measuring arrangement. The bushing is shielded with an aluminum tube to reduce interference since currents measured for RIP and OIP bushings can be as low as values below 1 pA.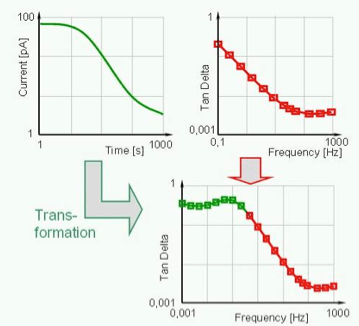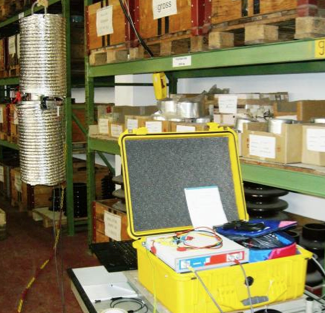 Temperature influences results. With increasing temperature, losses at very low frequencies increase, whereas losses at higher frequencies become lower and the minimum of the loss curve shifts to higher frequencies. This has to be taken into account whenever comparing results from FDS-PDC. The measurement in Fig. 11 was performed on an RIP bushing.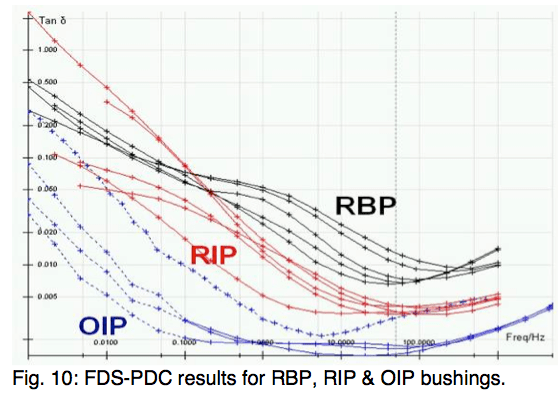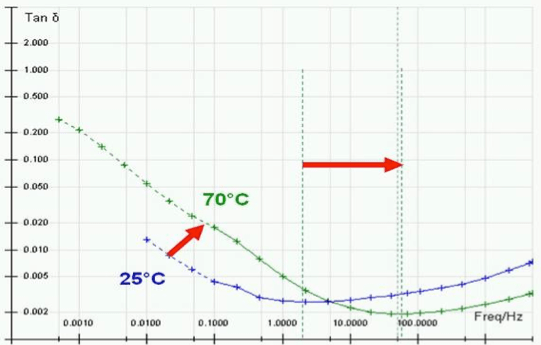 Experiments with RIP Bushing
A RIP bushing was exposed to different moisture and temperature in a climate chamber. The experiment was started at 20° and 38% relative humidity (RH). On the 2nd day, the bushing was heated up to 70°C with an RH of 10% (green curve in Fig. 12). The next days, the bushing was exposed to high RH up to 80% at 70°C. After the 9th day, the pink curve was measured at 80% RH and 70°C. On the 10th day the moisture was reduced again to 10%. The red curve was measured during the 12th day with 10% RH at 70°C. Moisture still remains in the resin surface. A last measurement was made on the 13th day. The tan ∂ values for frequencies above 10 Hz are more or less identical, whereas values at low frequencies still show evidence of the moisture (see Fig. 13).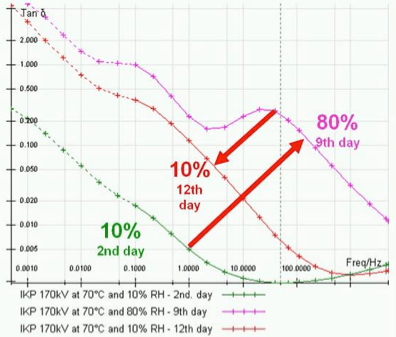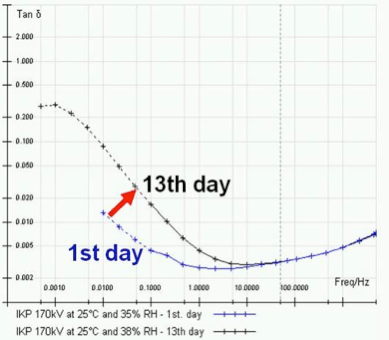 Drying RBP & RIP Bushings
Bushings normally are delivered packed in a wooden crate also containing silica gel in a bag. Often, they are stored in these same crates for years, sometimes in humid environments. While the bushing is protected against water penetration on the outdoor side, it is not protected on the oil side, where the resin surface can be damaged by water. Fig. 14 illustrates an example of a proper resin surface and one that has been damaged by water. If a bushing features a surface such as shown on the left of Fig. 14, it should not be re-used, even after drying, since air present in the bright areas will cause partial discharges.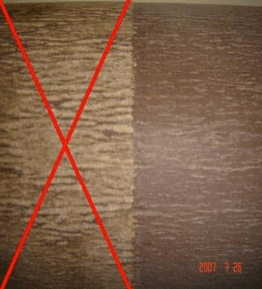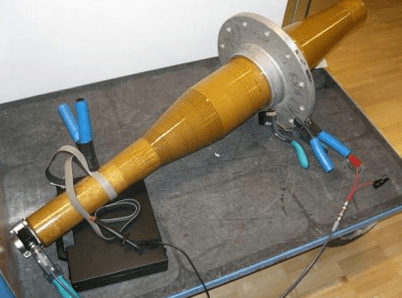 Advertisement
Case Studies of Drying on RBP & RIP Bushings
145 kV RBP Oil-Oil Bushing
The 145 kV RBP bushing shown in Fig. 15 was stored in the original crate in a cavern for 30 years. The 50 Hz tan δ value was 30%. The bushing was additionally measured with FDS-PDC (see Fig. 16). An experiment was carried out, drying the bushing at 80°C for 12 weeks. Results are shown in Fig. 17.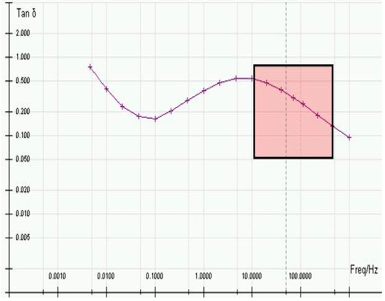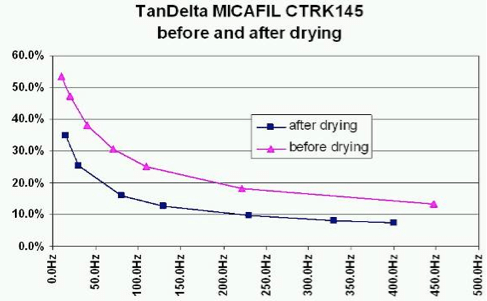 After a drying period of 12 weeks, measurement still shows a tan δ value of over 20%. Bushings with such high tan δ values cannot be re-used.
45 kV RBP Oil-Outdoor Bushings
These 45 kV bushings were also stored in their original wooden crates. Fig. 18 shows the FDS-PDC measurement results on 3 non-dried bushings and one that was dried in an oven for a week.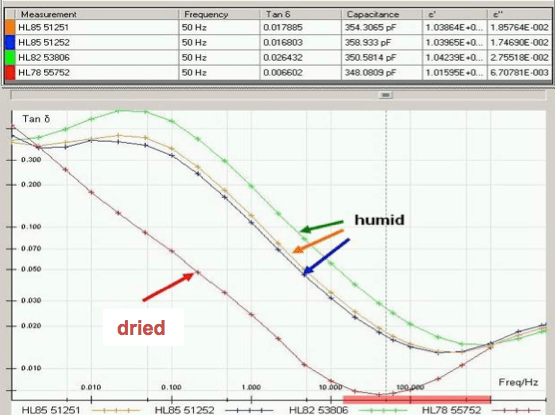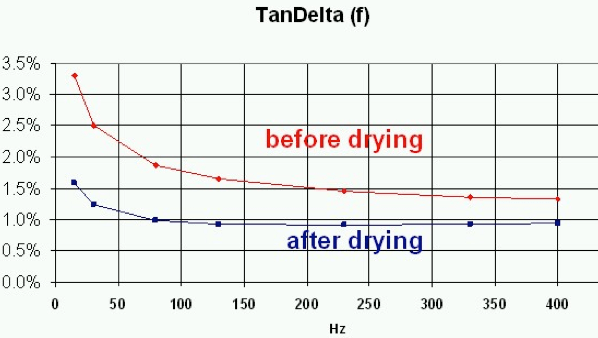 By drying, a clear improvement can be seen for one bushing and the 50 Hz tan δ value went from more than 2% to 0.66% – which is acceptable.
145 kV RBP Oil-Outdoor Bushing
A 145 kV oil-air bushing was dried in an oven for 12 weeks at 80°C. Fig. 19 shows the results before and after drying. The 50 Hz tan δ value decreased from 2.2% to 1.1% after drying. This value is still rather high so a PD measurement was performed to check for resulting cracks in the resin (see Fig. 20).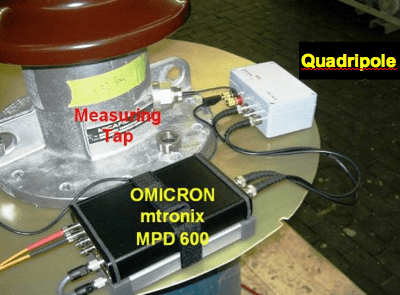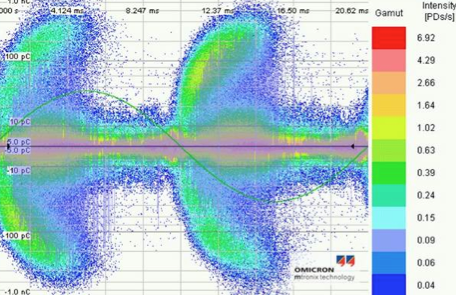 Firstly, a PD measurement was made without using the 3 Centre frequency relation diagram (3CFRD). All overlaid PD signals can be seen in Fig. 21 and pattern recognition is impossible. By contrast, with the 3CFRD, PD measurements are performed simultaneously at 3 different center frequencies, in this case at 500 kHz, 2.8 MHz and 8 MHz. With this technique, PD signals from different sources can be separated from one another and from external interference (see Figs. 22 & 23). The PD intensity of single sources can also be measured.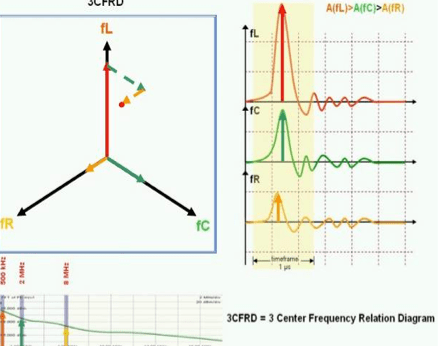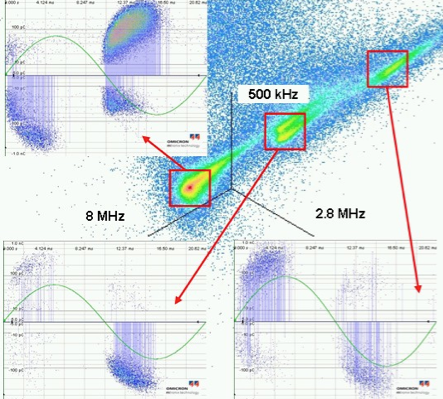 On-Line PD, Capacitance & Tangent Delta Measurements on HV Bushings
Some commercial C-tan δ systems sum the current phasors through the C1 of bushings on all phases to detect any abnormal changes in capacitances and the dielectric losses. However voltages of the three phases can be highly asymmetric and this causes big variations in the C-tan δ values. This makes it impossible to use this method for sensitive monitoring of capacitance and losses (Fig. 24).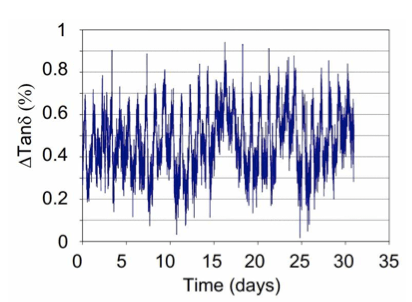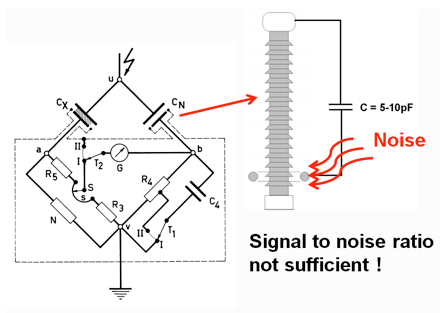 For precise capacitance and tan δ measurement, a reliable reference is needed. For example, high voltage laboratories use pressured gas capacitors, which are proven to give stable and precise results. The literature mentions air capacitors between the bushing head electrode and auxiliary electrodes as reference. Such capacitors have values on the order of a few pico-Farads so measured signals are extremely small compared to any electromagnetic interference (Fig. 25). A better choice is therefore use of voltage transformers or of bushings on other transformers that are directly connected to the same phase (as in Fig. 26).
A pilot project was started on a three-phase 400 kV transformer to gain experience and it was found that such a system delivers stable values, e.g. capacitance varies within +/- 0.5% while tan δ differs by from 0.27% to 0.3%. The PD level depends greatly on external interference and can go up to 5 nC or higher. As such, a warning level of some 100 pC could lead to a lot of false alarms. It could be observed that within a certain period, e.g. 24 hours, the PD level was reduced to values lower than 200-300 pC and this phenomenon could be used for automatic assessment. Additionally, the 3CFRD can be successfully used to eliminate any noise.