Detecting Composite Insulator Designs Susceptible to Brittle Fracture
The population of composite insulators in medium and high voltage grids worldwide is growing constantly. As numbers of these insulators increase, so do cases of failure. In HV networks, a sudden and serious failure mode called brittle facture has occurred over the past few decades and is regarded as dangerous to the whole surroundings of a power line. In the Hungarian grid, for example, this kind of failure has occurred since a few years. Although in certain applications (e.g. road, railway or river crossings, populated areas, etc.) double insulator strings are being applied by national regulations, this cannot always guarantee safety (e.g. in the event of dynamic mechanical forces, mechanical overload, double failures, etc.). This recent INMR article, based on a contribution by Dr. Bálint Németh and Gábor Göcsei at the HV Laboratory of Budapest University of Technology and Economics in Hungary, proposed a methodology to test for risk of such failures.
---
Inspection Methods
There are several known inspection methods to detect brittle fracture failure at an early stage. However, these examinations are mostly chemical or optical tests, e.g.: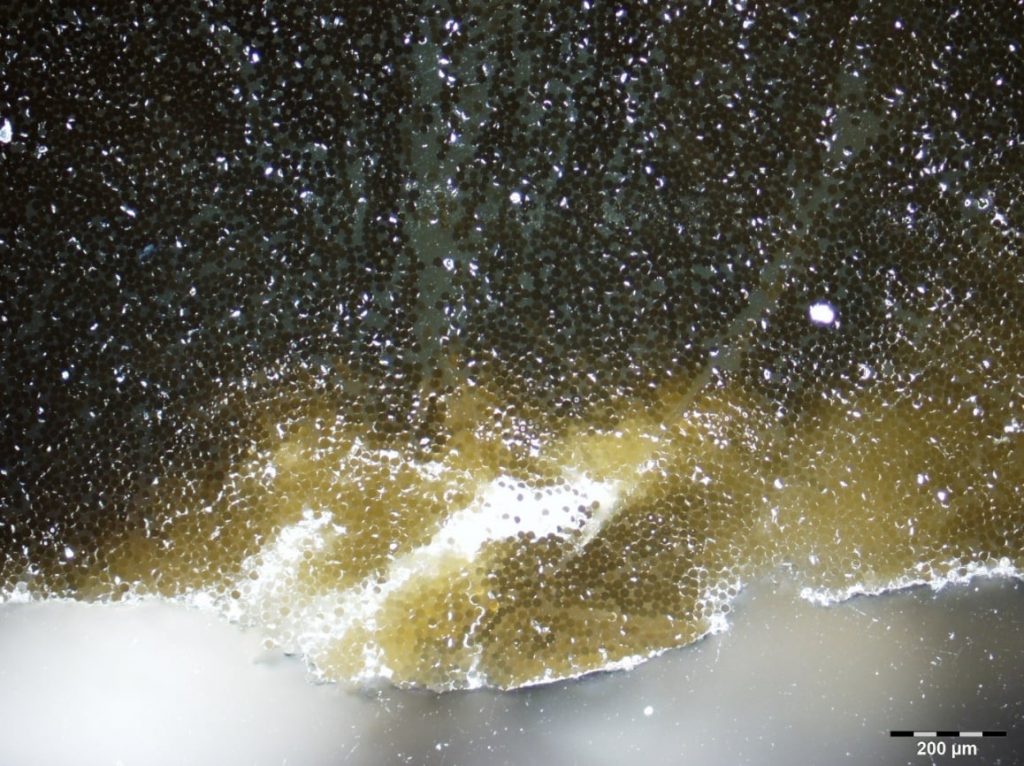 Scanning Electron Microscopy (SEM)
Scanning Electron Microscopy (SEM) is one of the most common inspection methods but requires high resolution images of samples. In regard to brittle fracture, a cross-section of the insulator is inspected to determine condition of the fibers in the core rod. Special attention is required since the condition of the sample surface has an effect on results. In the case of SEM inspections conducted at the HV Laboratory of Budapest University of Technology and Economics (BUTE), for example, all samples were first prepared, polished and examined by the university's Electronics Technology Laboratory. Fig. 1 shows an SEM image of an insulator sample with an uneven surface on the perimeter of the fiberglass rod. Variation in density can clearly be observed.
X-Ray Photoelectron Spectroscopy (XPS), Laser Induced Breakdown Spectroscopy (LIBS), Secondary Ion Mass Spectrometry (SIMS)
In regard to the inspection of brittle fracture, X-Ray Photoelectron Spectroscopy (XPS), Laser Induced Breakdown Spectroscopy (LIBS) and Secondary Ion Mass Spectrometry (SIMS) all aim to detect boron content in the samples examined, seen as mainly responsible for chemical corrosion of the insulators. XPS, by contrast, is able to analyze the amount of any given chemical element in samples. A high oxygen concentration indicates oxidation, which is considered one of the possible root causes of ageing and eventual brittle fracture.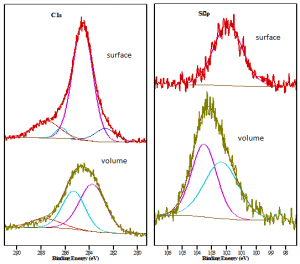 A new generation of composite insulators are now made without boron and often referred to as 'boron-free'. Such inspections require high accuracy and precision. In the case of examinations executed at BUTE, the Department of Atomic Physics was responsible for analyzing samples.
Energy Dispersive X-Ray (EDX)
Advertisement
Energy Dispersive X-Ray (EDX) combined with Scanning Electron Microscopy (SEM) is an effective way to analyze insulator samples. SEM-EDX results are similar to results of FTIR and therefore such independent sources of data can complete and validate one another.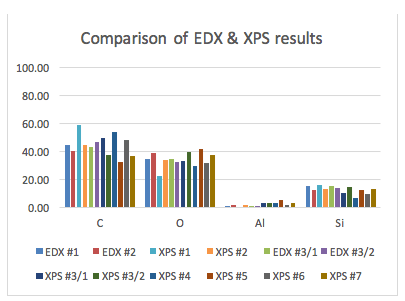 In the High Voltage Laboratory of BUTE, for example, both SEM-EDX and XPS inspections have been conducted and comparison of results for different samples are shown in Fig. 4. It can be seen that the results of SEM-EDX and XPS were in accordance with each other in the case of all insulator samples inspected.
Fourier Transform Infrared Spectroscopy (FTIR)
Fourier Transform Infrared Spectroscopy (FTIR) is one of the most common ways to detect marks of brittle fracture at an early stage in failure and components of a given sample can be analyzed with this methodology. Each element has a characteristic absorption wavelength in the spectrum. With regard to brittle fracture, nitric acid – generated as a result of the presence of moisture and high electric field – leads to significant absorption at the wavelength of 1384 cm-1, as shown in Fig. 5.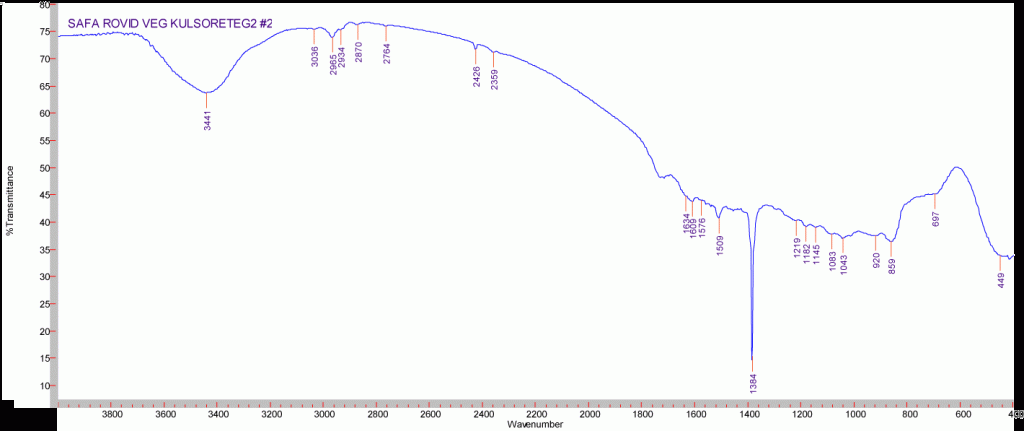 Research Summary
Based on practical experience, FTIR is particularly effective to detect marks of brittle fracture in a given sample with a good technical-cost balance. The presence of boron makes insulators vulnerable to brittle fracture and this is effectively detected using XPS, LIBS and SIMS examinations. SEM combined with EDX is a good way to inspect the oxide content (i.e. level of oxidation) of insulators.
BUTE-HVL's New Inspection Method
Principle of Inspections
After comparison of the possible ways to conduct inspections, results have been analyzed at the BUTE HVL. The main finding was that although these examinations are all generally effective, they are not economical enough to be used on large numbers of samples. To assess the condition of insulators installed on the Hungarian grid, for example, analysis of a statistically-significant volume of data is required. To realize this, development of a cost-efficient yet effective method is clearly necessary.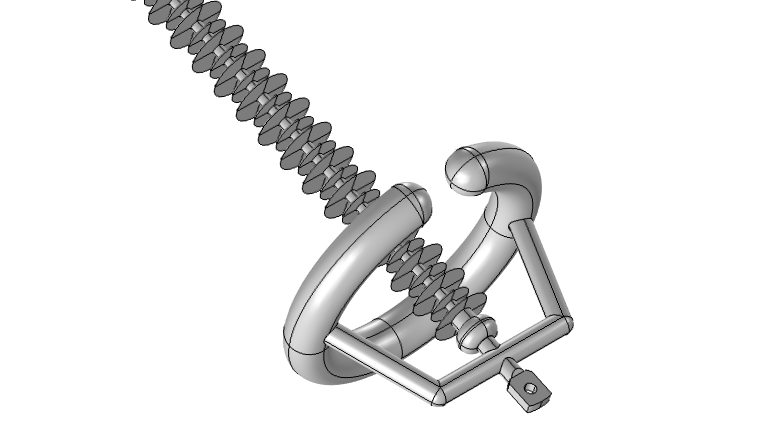 The new way of inspection being proposed here is based on electrical testing, with the main principle as follows: when an insulator is cut into samples, each is inspected separately from the others. Samples are aged for 92 hours in boiling water. Then, a voltage withstand test as well as leakage current measurement is carried out.
Practical experience shows that any ongoing degradation to an insulator (including incipient brittle fracture) results in a significant increase in leakage current of samples tested. In the case of a suspect sample, other parts of the same insulator can be tested to validate findings.
Before any laboratory measurement, calculations and simulations have to be made to analyze critical stresses. A 3-D model of a common type of insulator used in Hungary has been created and is shown in Fig. 7. Finite element (FEM) simulations have been made in regard to electric potential and electric field distribution.
Electric potential distribution is shown in Fig. 7 (the model also includes grounded structures nearby, e.g. metal towers). Based on these results, electric field distribution can be determined.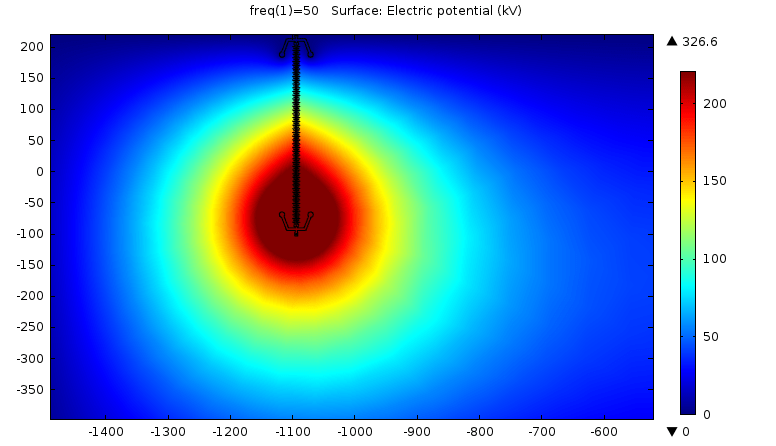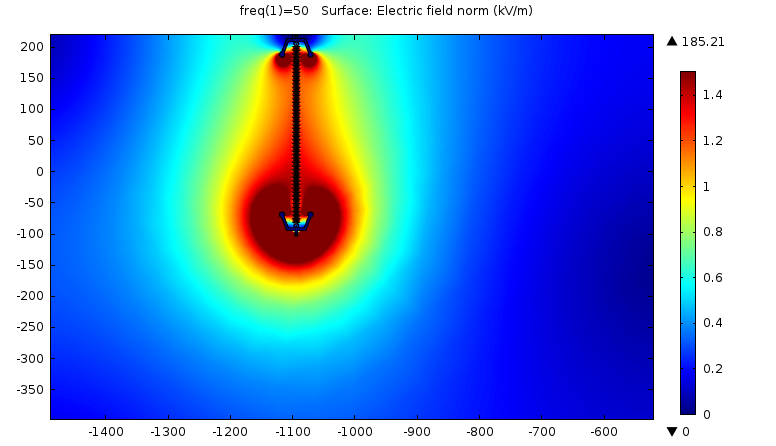 As shown in Fig. 8, critical stresses with respect to electric field occur in the vicinity of the grading ring at the phase conductor side. The main finding of such preliminary simulations was that it is always preferable to analyze results of samples taken from this part of the insulator so as to have a higher accuracy in regard to indications of possible future failure.
Advertisement
Measurement Results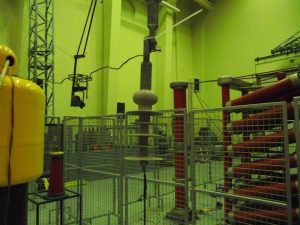 All samples were analyzed with the inspection methodologies, discussed earlier. Samples #1 and #2 were classified as 'failed' based on different measurement results. Sample #3 was marked as 'healthy' since it was taken from a new, reference insulator. All leakage current measurements were performed at different voltage levels. Fig. 10 shows results at 25 kV while leakage current values at 50 kV can be seen in Fig. 11.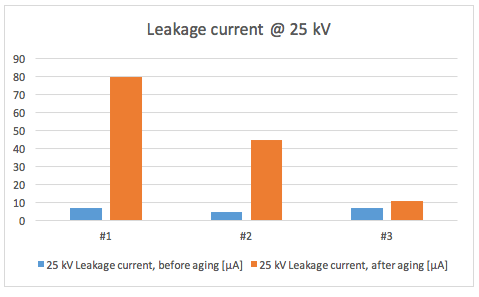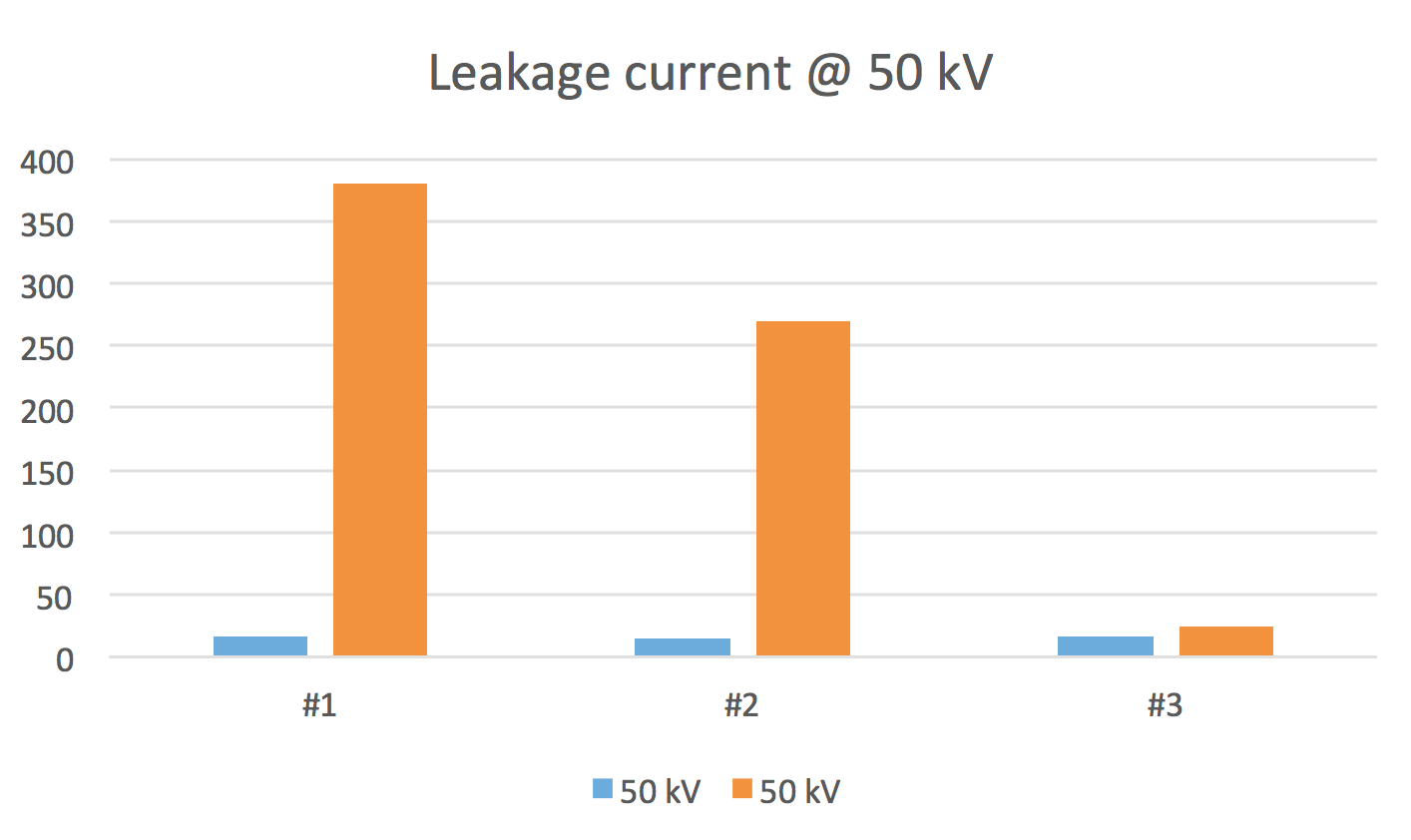 As can be seen, accuracy of measurement increases with increasing voltage. The main reason for this is that as voltage and leakage current increase, the impact of environmental disturbances become less and less. It is therefore preferable to use as high a test voltage as the length of sample allows. Based on results, it is clear that while leakage current of damaged samples increased significantly, in the case of the 'healthy' sample, this value remained in the same scale after ageing as before. Although this method of inspection is still under development, initial results are promising. Using this economic approach, damaged samples can be identified effectively. Moreover, in the case of any insulator marked 'failed', further inspection can be conducted to detect whether brittle fracture is or is not the root cause of degradation.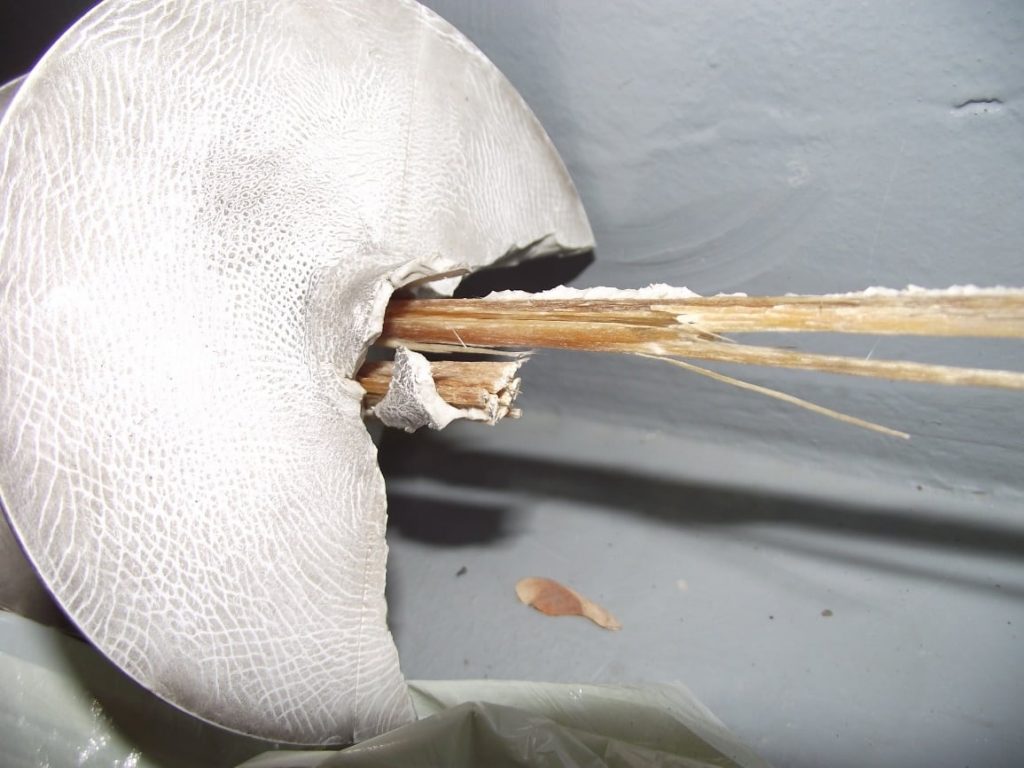 Summary
Brittle fracture is one of the most common and dangerous modes of composite insulator failure. It remains hidden yet has fatal effects, so prevention is essential. There are several methodologies to inspect composite insulators from different aspects. Each is effective but cannot be practically used on a large scale because of high cost.
Development of a new way to inspect these types of insulators has begun at the HV Laboratory of BUTE. Initial results seem promising. Based on leakage current, the actual condition of test samples can be estimated. This cost-effective method may prove yet another way to inspect large populations of composite insulators with high accuracy.