Designing, Testing, Building & Maintaining Compact Towers with Insulated Cross-arms
A search for new tower designs was launched in Belgium in early 2008 in conjunction with two new 400 kV projects: Stevin (extension of the 400 kV grid to the coast) and Brabo (reinforcement of the 400 kV grid in the Port of Antwerp). Requirements were:
• minimal visual effects on landscape
• low EMF and noise levels under line
• transmission capacity of 3 GVA/circuit
A Working Group was established to conduct research and make proposals to management. The trigger was the trend within Europe toward designs that improve public acceptance of new lines by all stakeholders. This led to an international survey of compact designs since 1950, with the pros and cons of each. The conclusions of this study were that there is diversity in the circa 10 basic designs in regard to silhouette; some innovative designs are applied locally (e.g. near a town), others for a complete line; and use of steel poles is superior aesthetically to lattice towers but carries extra costs. 
Elia, the Belgian TSO, compared 5-6 new tower designs against its standard 380 kV lattice tower. Comparison was as objective as possible using scores and weighted factors covering aspects such as: permits & authorizations; integration into landscape & EMF levels; financial costs; safety and ease of maintenance. After this work, Elia retained the 2 options with the best scores, namely the steel pole and a lattice tower with insulated cross-arms (versus the classic lattice tower).  
An analysis was done of Total Cost of Ownership of the complete standard line using different tower design options. Results were quite similar for the different designs. Therefore, the final choice was left to the project managers and their recommendation was use of lattice towers with insulated cross-arms and having an average span of 350 m. However, a lot of additional work remained in regard to applying this technology, including:
• Specifying the design & delivery of insulated cross-arms;
• Qualifying suppliers;
• Working out procedures & tools;
• Developing inspection & maintenance guidelines.
This INMR article from 2015, contributed by Jean-François Goffinet of Elia, reviewed what was done in these different areas.
---
Development of New Tower Design
As a TSO is typically conservative and wants to maintain good performance regarding average interruption time (AIT) and energy not supplied (ENS), a need was felt to come up with proven designs using suppliers having good reputations and long experience.
Designing Insulated Cross-arms
Composite insulator technology came to maturity in the 1990s and led to publication of numerous IEC standards since 2000. In parallel, Cigré published a Guide in Electra (2002) and IEEE issued a Guide for Braced Insulator Assemblies for OHTL 60 kV and Greater (2008) – even though this technology had been used for years in the U.S. It is important for any TSO to be able to rely on international standard even if these are only a starting point and provide minimum requirements. Becoming familiar with these standards requires time and experience due to the great amount of tests to be performed on composite insulators. At first, it can give newcomers to this technology a feeling of uncertainty; in fact it's more a question of trying to eliminate bad designs.
Starting for the first time with composite insulator technology made Elia choose not to rely only on its limited internal expertise with such insulators and insulated cross-arms. In fact, as part of the Elia Group, Elia Belgium could also rely on the experience of its sister company 50Hz in Germany that already had some experience with composite insulators and their specification. Moreover, due to our close contact with neighbouring TSOs (e.g. TenneT and their development of Wintrack towers with insulated cross-arms, it was obvious for Elia to rely on them for information. Specifications were issued in 2011 taking into account experience by both 50Hz and TenneT. In parallel, an insulation co-ordination study for Elia's 380 kV compact transmission line was made to assess electrical performance of its design. This provided additional input for specification on maximum electric field levels on the insulated cross-arms.
Advertisement
Finding Suppliers at Right Price
Having good connections with other TSOs and being a member of Cigré helped Elia engineers to share information about potential suppliers. A first contact with different suppliers took place at the Cigré session in Paris (2008) as well as during the INMR WORLD CONGRESS in Crete (2009). Thereafter, an Assessment Matrix (list of questions) was sent to all potential suppliers of insulated cross-arms in the frame of a request for information. The goal was to gather data about their products and ability to meet Elia requirements. Due to the importance of the insulated cross-arms in the construction of new 400 kV lines as well as in uprating existing 150 kV lines, Elia decided to qualify 2 suppliers in order to:
• be sure to have a qualified supplier on time;
• have redundancy in 2 products;
• share all risks (e.g. financial, technical) with 2 suppliers.
The strategy was also to build long-term partnerships with both suppliers based on a 6+2 year frame agreement, signed in 2012. Elia's goal was to go through a learning curve when it came to this new technology and selection of the 2 suppliers was based on European Tender practices while also following internal Elia rules and other criteria.
Design Review & Testing
Based on lack of internal expertise and in order to best assess the designs offered by the 2 suppliers, Elia contracted an external testing organization in Sweden for different tasks, including:
1. evaluating electrical design of the insulated cross-arms by simulations based on the drawings and characteristics of the materials used;
2. reviewing available design and type test reports;
3. making recommendations for documentation and testing.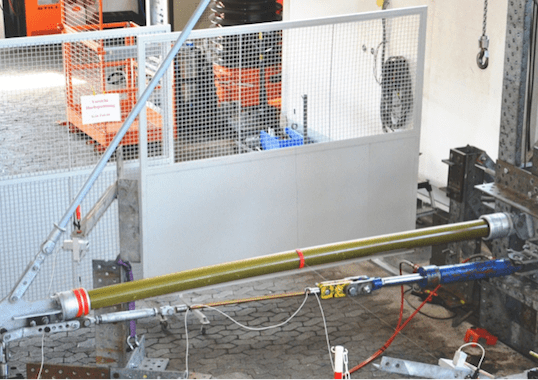 The goal of point 1 was to assess the design by electrical field calculations in relation to Elia requirements. This study led to modification of certain pieces before going to the test laboratory, thereby saving time and money. Due to the seeming complexity for newcomers of IEC standards for composite insulators, it was felt that point 2 could be more efficiently performed by experts in the field. When testing such complex systems, a first step is to assess mechanical capacity of all pieces. Therefore, application of load scenarios on the complete system is mandatory but requires correct set-up as well as proper measurement devices.
These tests proved useful since they revealed weaknesses in the original design of certain pieces (e.g. hinges) as well as in various connection parts. After these two assessments, all electrical tests were passed. This process might appear easy at first glance but in fact completing all such testing takes from 1 to 2 years, depending on required adaptations in design and availability of laboratory test space.
Application to Stevin Project
In order to limit the visual impact of the new 380 kV line, a new tower top design with insulated cross-arms was chosen for the different sections: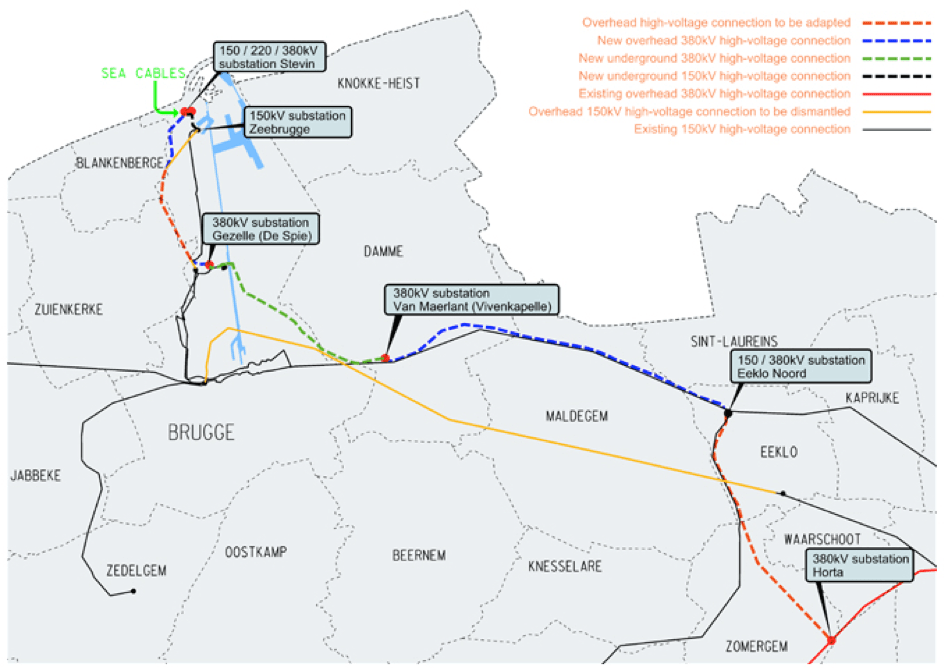 1. Gezelle-Stevin section (8.2 km)
This section will re-use about 60% of an existing 150 kV corridor.
2. Eeklo-Van Maerlant section (17.3 km)
A new OHTL will be constructed in parallel to an existing 150 kV line. Use of pylons with insulated cross-arms will limit visual impact and make the new line look similar to the existing line. On this part, 4-bundle 707AAAC-2Z classic conductors will be installed.
In order to maintain the same tower silhouette on the complete sections and to be able to withstand high compression loads, Elia decided to use pivoting Vee for tangent towers as well as non-pivoting Vee designs for small angles < 10 gon.
According to the IEEE Guide, it is important to verify the stability of a section by optimizing the angles of the insulated cross-arms as well as limiting the number of pivoting Vees that follow. This was assessed by KEMA-DNV GL in different studies, the last being performed for the Stevin Project based on a new wind modelthat also applies to the Belgian coast (see paper B2-110 from 2014 Cigré session).
Building & Accessing Insulated Cross-arms
This issue of construction and ease of access was one of the initial questions from Elia's maintenance teams. They therefore had a representative in the original working group established in 2008 to address all such questions from the field. During design of the insulated cross-arms with suppliers, some attention was paid to the possibility of blocking the pivoting Vee while pulling the conductors. The original idea was found too weak during mechanical testing and evolved instead to a blocking system that used guy insulators.
Development of an access workbench was part of the project as was adapting some towers at Elia's training centre in order to carry out pre-testing. The possibility to install prototypes of cross-arms in a safe environment without time pressure and to perform tests as well with a prototype workbench was considered a basic requirement. Development of specific work procedures that take account of all possible maintenance needs on such a tower required a lot of meetings and the trained staff relied on 3D drawings to simulate all the possible working scenarios on these complex structures.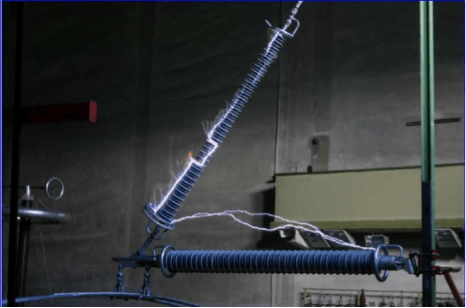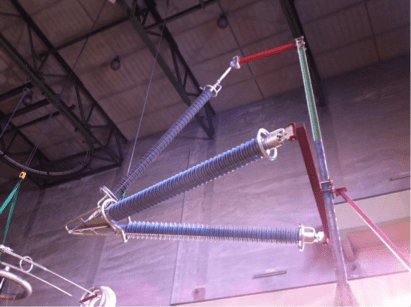 Advertisement
For example, having the possibility to access the end of the cross-arm without heavy trucks or cranes was seen as a basic need since not every tower is easily accessed from a road. The workbench was developed using an external supplier and it took much time to arrive at a proper design that was regarded suitable by field crews. Final tests with the workbench prototype took place a few months before construction and required minor adaptation prior to delivery.
Since composite insulators are relatively new to Belgium, it also became Elia's responsibility to provide contractors with recommendations regarding their proper handling in order to avoid damage during such operations. For this reason, the insulator specifications required delivery of instructions for handling and assembly as part of the order. Suppliers were also asked to provide training to all contractors. The composite insulator handling Guide issued by Cigré is still a reference but is now being reviewed in the framework of WG B2.57. Elia, along with other TSOs, has also sponsored a document that offers clear guidelines for the correct storage and handling of composite insulators.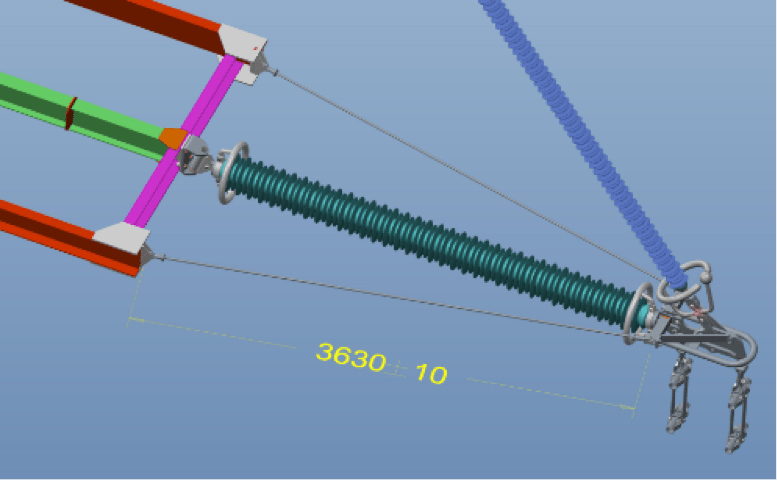 Inspection & Maintenance
One of the main challenges for Elia insofar as introducing a new technology to the grid related to proper inspection. In fact, this is regarded as one of the disadvantages of composite insulators since the following questions often arise: How best to inspect them? With which frequency? With what devices? Using internal or only specialized external staff?
As a start, Elia asked its suppliers to provide a 10-year guarantee for their composite insulators. Secondly, suppliers were required to deliver inspection guidelines during the so-called 'maintenance-free' period as well as recommendations for maintenance measures after expiry of this period. Since some suppliers are not fully familiar with these types of issues, Elia participated in a joint project with other utilities with the goal of generating inspection guidelines and documentation on all damaged composite insulators. This helped provide a basis for field inspection performed by Elia's maintenance teams and could be complemented by EPRI's Field Guide: Visual Inspection of Polymer Insulators.
Conclusions
Development of a new tower design within a TSO took many years since many issues had to be addressed while also taking into account internal rules. Nevertheless, Elia wanted to go for innovation while ensuring the same level of reliability for customers and also guaranteeing the safety of staff and contractors. For these reasons project managers chose not to rely only on internal expertise but to look for guidance through business relationships as well as contracted external experts and test laboratories.
For these types of complex tower structures, simulation and testing are both critical to achieving expected mechanical and electrical performance over the long-term. Elia's philosophy throughout this project was to become a partner to all stakeholders and to try to find a 'win-win' scenario for all, at reasonable cost.