March 4, 2017 •
ARTICLE ARCHIVE
,
Corona
,
Maintenance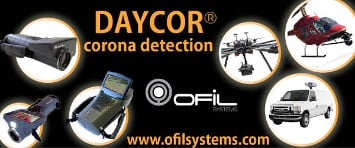 Mitigating the presence and impact of corona on overhead lines and at substations is among the important tasks confronting power system operators. The reason for this is that, if left unchecked, corona can lead to a variety of problems, including progressive degradation and eventual failure of certain types of insulation. In 2015, INMR traveled to Israel to meet a supplier of specialized cameras that help maintenance personnel monitor their networks for presence of corona. Ofil Systems has been offering such equipment since the mid 1990s but expanded its product range in recent years to meet different inspection protocols and user requirements.
---
Corona in Power Networks
Corona is caused by ionization of gas and subsequent release of light when electrons that have gained energy from a high electric field revert to their original stable state. Since the discharge does not completely bridge the electrodes, it is sometimes referred to as partial discharge.
The reason that the glowing effect is concentrated around the corona source is that insulation provides an effective barrier to further ionization. Moreover, intensity of the electric field decays rapidly with greater distance and eventually field strength becomes unable to sustain continued ionization. Indeed, one of the requirements for build-up of sufficient ionization to trigger the UV emissions associated with corona is some critical level of localized electric field. If this minimum value is not reached, corona will essentially be absent.
Corona can affect a range of network hardware, equipment and components – from switchgear to capacitors, from conductors to busbars, from generators to breakers. When it comes to insulators, corona can originate from end fittings, contamination or from protruding elements such as ice sickles and water drops.
Polymeric materials are more susceptible to degradation from corona due to corrosive substances created when corona is emitted. Corona ruptures stable oxygen molecules in air to create radicals. These then combine with molecules to form ozone (O3), which attacks unsaturated bond sites in elastomeric materials such as silicone or EPDM. The end result is usually cracking. Even tiny amounts of ozone, e.g. in the ppm range, are sufficient to initiate cracking, however the time required for this to occur will depend on material composition.
Ozone also combines with nitrogen in air to produce nitric oxide gas, a major greenhouse contributor. While most elastomers used these days in electrical insulation are formulated to resist ozone attack, they may eventually succumb should its concentration become sufficiently high
Corona produces oxalic and nitric acids in the presence of water from ambient humidity such as dew, fog or any surface moisture. Depending on the pH of these acids, polymers can then undergo additional degradation. Corona has even been known to 'drill' holes in a material, suggesting that degradation is not due solely to chemical attack. For example, temperatures at the tip of a corona discharge have been found to be high enough to cause 'evaporation' of even inorganic materials. There is also danger of mechanical attack to an elastomeric material, much like sandblasting, due to the impact of repeated discharges.
Since degradation due to corona is initiated at the molecular level, inorganic dielectrics with strong chemical bonds – such as porcelain and glass – have much higher resistance to it than do polymeric materials. But this does not mean that these insulators are immune to all possible negative effects, which can include acid and heat attack on the cement used to attach fittings.
Among the questions often asked by maintenance personnel who are responsible for inspecting lines and substations relates to the relative seriousness of any corona activity that may be observed. Is it reason to take immediate action or perhaps only a transient phenomenon posing no long-term threat? The answer depends largely on where the observed corona is taking place.
For example, corona on insulator hardware due to a rough surface may be relatively benign. However corona directly on the insulator itself is a warning that degradation processes may soon be underway.
Another question typically raised is how inspecting for corona relates to thermal analysis using infrared cameras, a well-established complementary inspection technology. According to industry experts, IR cameras find most benefit detecting internal phenomena such as hotspots that are typically current dependent. These suggest a progressive existing problem that needs to be remedied quickly.
By contrast, UV inspection for corona is voltage dependent and designed to detect mainly external phenomena affecting the surface of what is being monitored. Such predictive inspections can be performed under virtually any weather conditions, apart from rain, and can help detect problems at an early stage – before they have progressed to the point of serious deterioration.
In spite of the many problems linked to corona, it is not necessarily a given that it will always shorten the expected service life of composite insulators installed on high voltage lines. This is because corona can be greatly mitigated and even eliminated through good insulator design and manufacturing. At the same time, need for a corona/field-grading ring will depend not only on voltage level but also on location. For example, insulators operating in areas of heavy contamination, at high altitudes or under prolonged heavy wetting must always be equipped with properlydesigned and correctly-installed corona rings at the line end – ideally even at voltages below 230 kV. That is because if sustained corona activity takes place near a composite insulator's polymeric housing, its normal life expectancy will almost certainly be reduced.