Converting Arrester Standards to Understandable Utility Standards
Advertisement

With the rapid growth in the power industry, new and even experienced staff are not always sufficiently familiar with surge protection as well as related equipment and concepts. The problem is due to a variety of factors such as comparative cost and perceived importance versus more expensive assets. There is also the challenge to understand the concepts themselves. This article, based on a paper at the 2013 INMR WORLD CONGRESS by Michael Champagne of Entergy Services in New Orleans, examined one utility's approach to develop an internal application guide based on industry standards that could be used by those working on utility facilities. The goal was to eliminate or significantly reduce arrester application errors. This internal guide aimed to address basic challenges to common applications and outlined surge protection and resulted in significantly fewer arrester failures from misapplication by workers while also providing improved overall surge protection for key utility assets.
---
Transformer and breaker ratings are generally more straightforward than arrester ratings. For example, it's relatively easy to determine voltage and power ratings of a transformer or the voltage and continuous current ratings of a breaker. With some explanation, most newcomers can quickly understand breaker interruption ratings. But arrester ratings are not necessarily so simple. The problem is perhaps best illustrated by the following typical question from a project manager: "Why are we installing a 192 kV arrester at a 230 kV substation? Is this a mistake?" Arresters have two voltage ratings, both of which have a logical basis. But to a novice, a detailed explanation is needed and duty cycle rating (or simply rating) and maximum continuous operating voltage (MCOV) rating each have to be explained in the context of system voltage. While graduates in power engineering well understand a three-phase system, they are not always clear on the term 'system voltage' and whether it applies to phase-to-ground or phase-to-phase voltage. Only once explained that system voltage is phase-to-phase while arresters are normally installed phase-to-ground does the concept of MCOV start to make sense. At that point, the duty cycle (or arrester rating) can be briefly explained and noted that the two voltage ratings are coupled in a table found in IEEE's Arrester Test Standard. From the standpoint of a user, MCOV is the more important rating; however, it must be understood that when identifying an arrester to a manufacturer, duty-cycle rating should be used because that is how it is usually identified within the industry. Beyond the challenge of voltage, there are also variations in energy rating, physical size, insulation type, fault duty rating, how the device works and indeed the whole concept of insulation coordination. To make it even more challenging, there are pre-conceived myths among field mechanics that an arrester has to fail violently to do its job and, in extreme cases, that it is just another point of failure. Such myths, along with poorly understood ratings, combine to make understanding arrester standards challenging for relatively new users. Utilities can work to overcome this by developing internal Application Guides.
Identifying the Audience
When an organization that employs surge protection begins to write its own Guide, it must first identify who will apply the devices. While an internal Guide should be written by engineers familiar with industry standards the people that install and replace arresters (including engineers, technicians and field mechanics) may not be. An internal Guide must be understood by all skill levels to be useful yet champion the fact that surge protection is necessary to protect vital assets.
Approach
The approach used by Entergy was twofold: first re-write the internal arrester application guide; and then present the revised guide to intended users in the form of a short tutorial. Since an internal Guide on surge protection must also define the limits of the document, in Entergy's case it was decided that it would apply only to substations and not to distribution circuits or transmission lines. While the Distribution Department has its own standards and transmission line applications also have their place, substations are where the bulk of surge protection work has been required. In addition, the new Guide would not address FACTS devices because surge protection would normally be addressed by designers of such devices.
Once inside the substation, the authors of the Guide had to reach consensus on where arresters would and would not be applied. While this may seem straightforward, authors had to overcome a perception that a surge arrester was just another piece of equipment that can fail. They therefore reviewed current practices to determine what equipment is normally protected. Practice in force at the time the Guide was being developed was to install station class arresters on transformers and intermediate class arresters on each distribution feeder exit to protect the circuit breaker. In the past, one operating company routinely installed entrance arresters on all incoming transmission lines whereas other companies did not. This practice originated at the time of silicone-carbide arresters that were approaching the end of their life cycle and starting to fail, but it was eventually discontinued. This may have given rise to the myth that arresters were just something else that can fail in a substation.
After reviewing the IEEE Arrester Application Guide, it was decided that large, expensive equipment such as transformers, breakers, capacitor banks, cables, etc. would be protected as opposed to small items, such as insulators). Guide authors also decided that all distribution feeder exits (38 kV and below) and all EHV transmission line entrances would be required to have station class arresters. In addition, there was guidance on how to determine whether or not to install arresters on transmission line entrances at lower voltages where breakers are present. The reason is to protect an open breaker against incoming surges, such as subsequent strokes of a multi-stroke lightning strike.
Thirdly, authors reviewed the list of arrester failures and potential failures that recently occurred on the Entergy system. Some of these were misapplications, some were due to unusually high temporary overvoltages (TOV), some were because of external factors, such as contamination from salt fog, cooling tower spray, solid contaminants, or wildlife encroachment or extreme mechanical demands placed on the arrester. The number of building blocks available to internal users was kept to a minimum to reduce risk of misapplication. For example, it was chosen to eliminate intermediate class arresters and move to one energy handling class of arresters inside of substations with minimum energy rating of 14 kJ/kV of MCOV for two shots throughout the system. This was done to eliminate any possible confusion. Since implementing this requirement, Entergy experienced no arrester failures on new equipment. The new Guide also requires exclusive use of silicone-housed arresters to minimize problems of tracking along the housing surface due to external contamination in polluted environments. Rainwater tends to form beads on the polymeric surface and thereby minimize formation of a conductive path of rainwater and pollution that would otherwise track across the arrester housing. Using polymeric arresters also eliminated risk of collateral damage from exploded porcelain, as was experienced in the past and removed guesswork in terms of which housing material to apply where.
To further mitigate external insulation failures, Guide authors required a minimum leakage and strike distance for each system voltage level. Many manufacturers are able to accommodate this requirement by offering an optional taller housing for any given arrester rating. Another effort to minimize number of building blocks was to require exclusive use of arresters with a fault withstand capability of 80 kA. This not only prevented confusion on the part of designers but also eliminated exposure in such cases where fault current levels increase due to installation of a new generator at nearby locations.
Tutorial
The main purpose of the internal tutorial was to successfully communicate to all personnel who apply arresters that the internal arrester application Guide had been revised as well as the logic behind the changes. Like the Guide itself, the tutorial had the same target audience so the authors had to start with basic concepts. The first was to define the dangers that arresters are intended to protect against as well as the function of an arrester. While many people use the term 'surge', they may not have an understanding of what a voltage surge looks like. IEEE Standard 4 provides a definition and graph (see Fig. 1).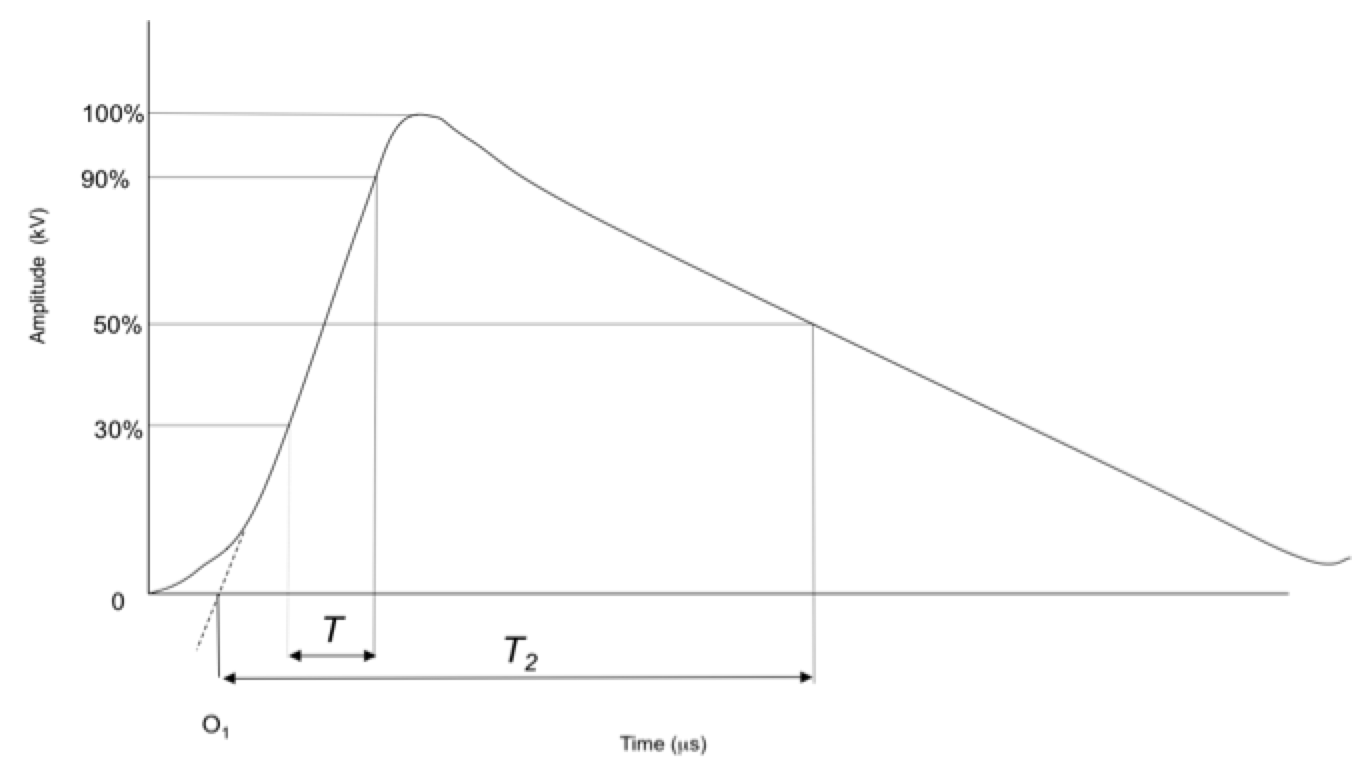 Important aspects of a test wave had to be explained:
• T = Time elapsed for the test wave to rise from 30% to 90% of its crest value
• T1 = 1.67 T
• T1 = Virtual Front Time (the rise is sometimes referred to as the front)
• T2 = Virtual Time to Half
• O1 is the Virtual Zero
• It is written as T1 / T2 wave
• A typical example is an 8/20 wave
The concept of insulation coordination was also introduced and an arrester's function has to be presented in abbreviated form to best explain the arrester's role in protecting power equipment (illustrated by a graph shown in Fig. 2 from ABB's T&D Book).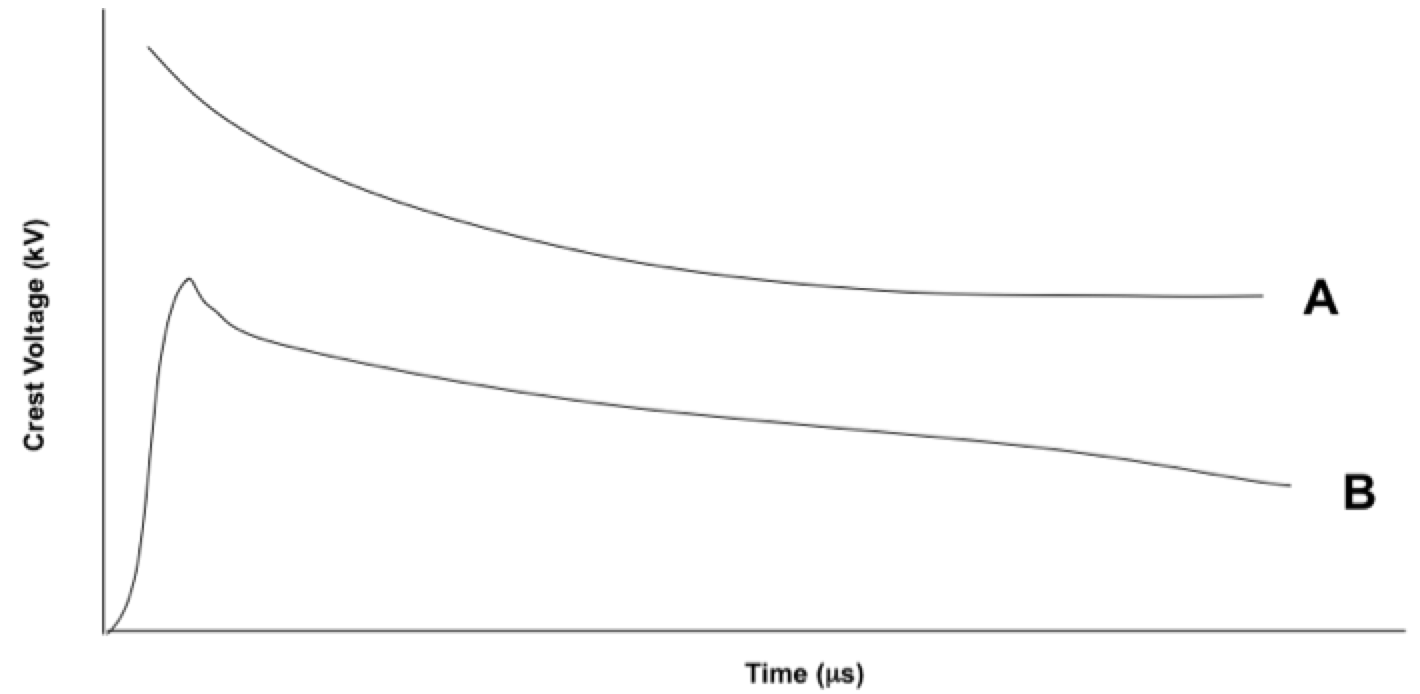 Basically, Curve A is the demonstrated strength of insulation on a piece of equipment while Curve B is the protective level provided by an arrester. Curve A is protected by the protective device of Curve B that limits the voltage to a value less than the insulation strength of Curve A. It is sometimes helpful to refer to protective level as arrester discharge voltage. The protective ratio is the ratio of A to B at various points on the graph in Fig. 2. The IEEE arrester application guide recommends minimum protective ratios for the 3 comparisons along these curves. It is important to explain that the strength of the insulation represented by Curve A will depend on the specific type of equipment and that the protective level for a given arrester may be unique to that arrester and dependent on the rate of rise of the incoming surge. Therefore, this ratio must be verified at 3 points along the curve to determine that the arrester provides sufficient protective margin. Points on Curve A are provided by standards that apply to a specific piece of equipment whereas points on Curve B are provided by arrester manufacturer catalogue data. Before making this comparison, a specific arrester must be chosen using voltage ratings.
Advertisement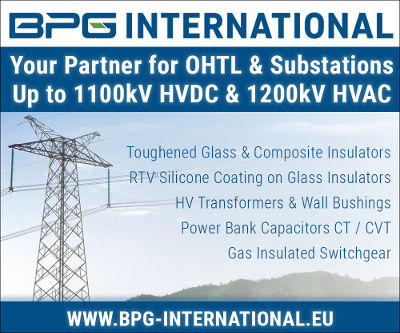 The challenges in applying arresters with the correct voltage ratings are made even more complex by the fact that there are no hard rules. For example, the minimum MCOV of an arrester for a given application can be determined using equation (1):

where
VMCOV is minimum maximum continuous operating voltage (MCOV) of the arrester (kV)
VSYS is system voltage (kV)
To address the problem of temporary overvoltages that may last longer than anticipated, the Guide authors elected to apply the next higher level of MCOV above what would be calculated from the above equation in most applications. In specific applications where a higher MCOV rating is required, guidance for those applications was published in the Guide. This is best illustrated by specific examples. Once a specific arrester is chosen, one can calculate protective margins using the definitions and equations presented below:

Minimum protective ratios are provided by IEEE Arrester Application Guide C62.22. They can be calculated and their minimum requirements given using the following equations: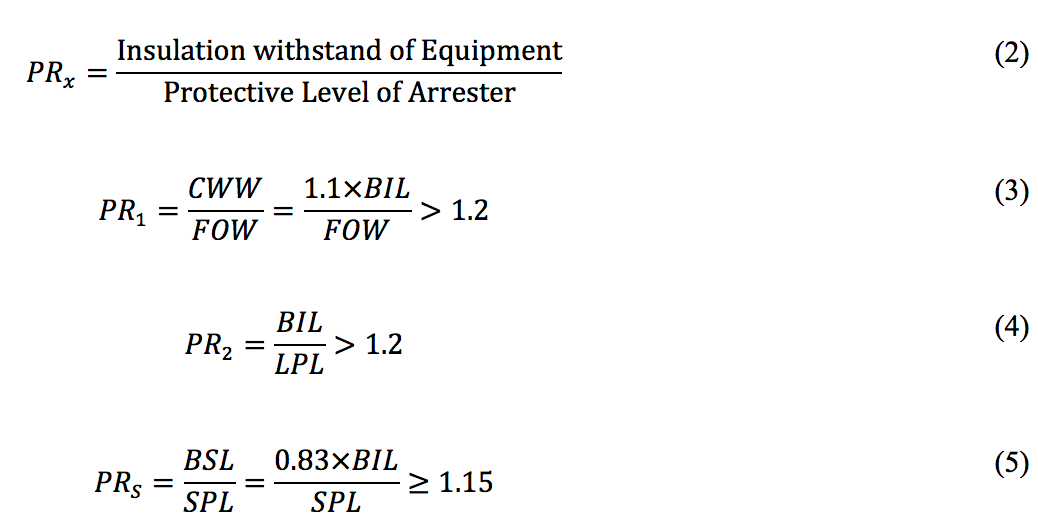 It was deemed necessary to present these calculations using a particular example to sufficiently explain the concepts. Commonly in use on the Entergy System is a 230 (primary)/13.8 (secondary) kV step down power transformer. The 230 kV winding has a BIL of 825 kV and the 13.8 kV winding has a BIL of 110 kV. Using equation (1), the minimum MCOV rating of the arrester on the primary side of the transformer should initially be 140 kV. In keeping with the new philosophy of allowing for one extra step, an arrester with an MCOV rating of 152 kV (i.e. a 192 kV rated arrester) would be applied. Similarly, on the secondary side of the transformer, a 12 kV arrester with an MCOV rating of 10.2 kV is applied for a solidly grounded transformer and an 18 kV arrester with an MCOV rating of 15.3 kV is applied for a resistively grounded transformer. To complete the example, protective margin calculations were presented. Using typical data and equations (3) through (5), protective levels were calculated and are presented in Table 2:

Equations (2) through (5) were used to calculate the protective margins of each arrester and are presented in Table 3:

In some industrial applications, external customers operate resistively grounded systems where a neutral grounding resistor is applied between the neutral bushing of the transformer and the substation ground. As part of the tutorial, it was important to explain the effects of the resistor during ground faults and the consequences on arresters on the secondary side of the transformer. When a resistively grounded transformer experiences a ground fault downstream of its secondary terminals, the return fault current will flow back to the neutral through the neutral grounding resistor, creating a voltage shift in the neutral of the transformer. While the voltage of the faulted phase will be at or near zero (depending on location of the fault), the voltage of the two un-faulted phases will remain at or near their normal phase-to-neutral voltage. Because the neutral voltage has shifted, the phase-to-ground voltage on the two un-faulted terminals of the transformer will rise above normal phase-to-ground voltage and approach system voltage. The exact values of the voltage on the un-faulted phases will depend on the characteristics of the particular system but it will be a large voltage that will remain for the duration of the fault. This condition is a temporary overvoltage (TOV).
In some cases, where protective relaying had not been modernized, this condition could last for some time. For this reason, the Guide authors provided advice to use an arrester with an MCOV greater than the system voltage in cases where transformers would be resistively grounded. This practice allows the utility to avoid depending on the TOV characteristics of the arrester and still achieve a protective margin well above IEEE requirements. In the example presented here, an 18 kV (15.3 kV MCOV) arrester will be used. The protective ratios of the two arresters can be compared in lines three and four of Table 2. This gives rise to the question of when should the TOV curve of the arrester be used. In the case of a 13.8 kV application on the secondary side of the transformer, it was not deemed necessary to depend on the TOV characteristics of the arrester because it was possible to achieve adequate protective margins without unnecessarily subjecting the arrester to overvoltages. But this is not always the case. Such an example would occur when distributed generation is present on the secondary side of the transformer (see Fig. 3).
As shown in Fig. 3, there is distributed generation to supply a local load but connected to the power grid through a 230/13.8 kV transformer. The transformer is connected to the system delta (primary) – wye (secondary) as is customary to supply a distribution area load. The transformer is protected by a 192 kV (152 kV MCOV) arrester on its primary terminals. The substation is supplied by two transmission lines from remote sources. In the case of a single line-to-ground fault on the 230 kV bus, the two line breakers A and B would trip; however the local generation would continue to feed the fault until breaker D is able to trip. It had been determined that, due to coordination issues, the backup relaying on breaker D may take as long as 20 cycles to trip the breaker. During this 20-cycle delay, arresters on the un-faulted phases of the primary terminals of the transformer would be subjected to full system voltage because the primary windings are connected in delta. It was necessary to examine the TOV characteristics of this arrester and that data is usually presented in the form of a graph (as in Fig. 4).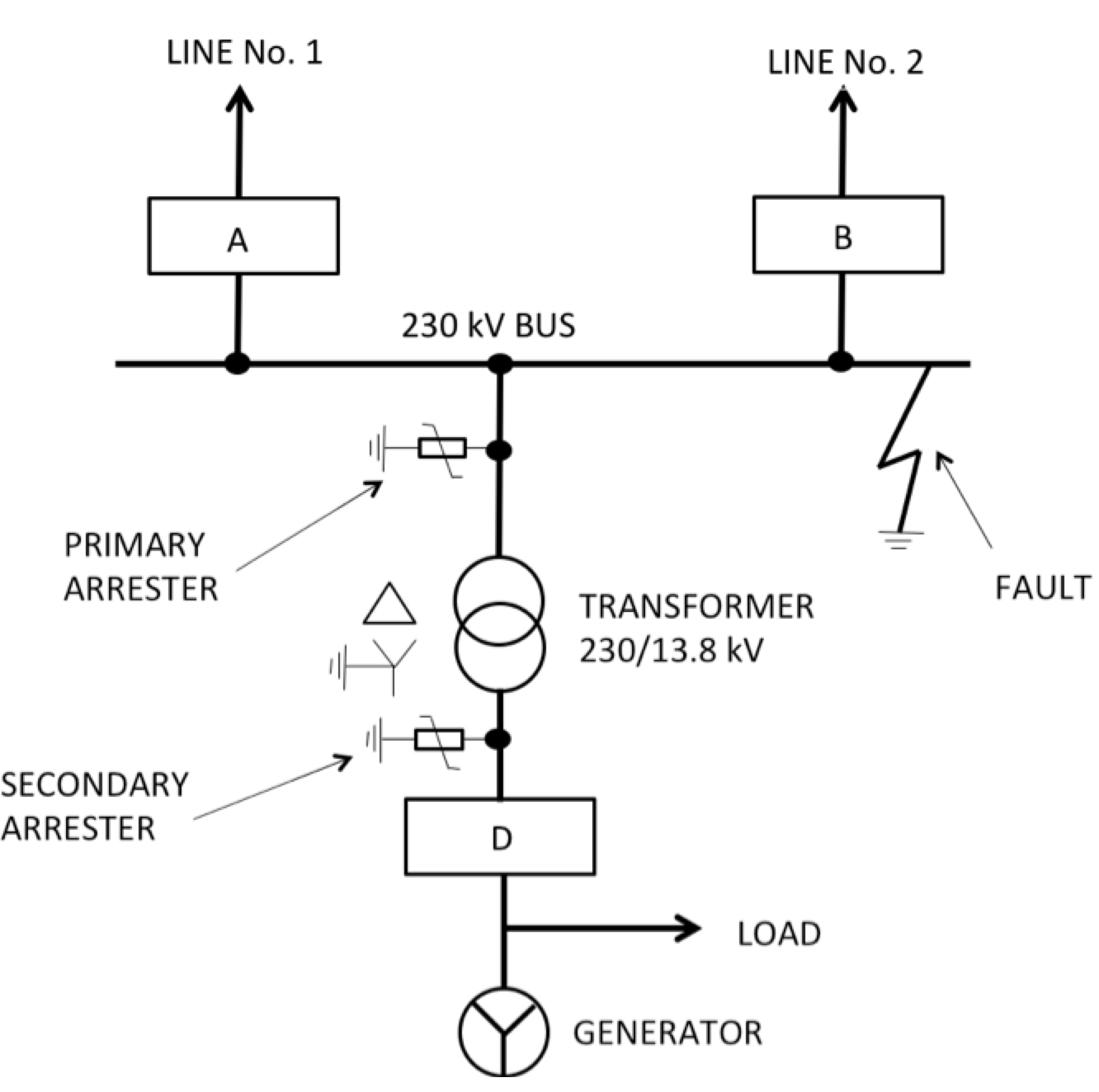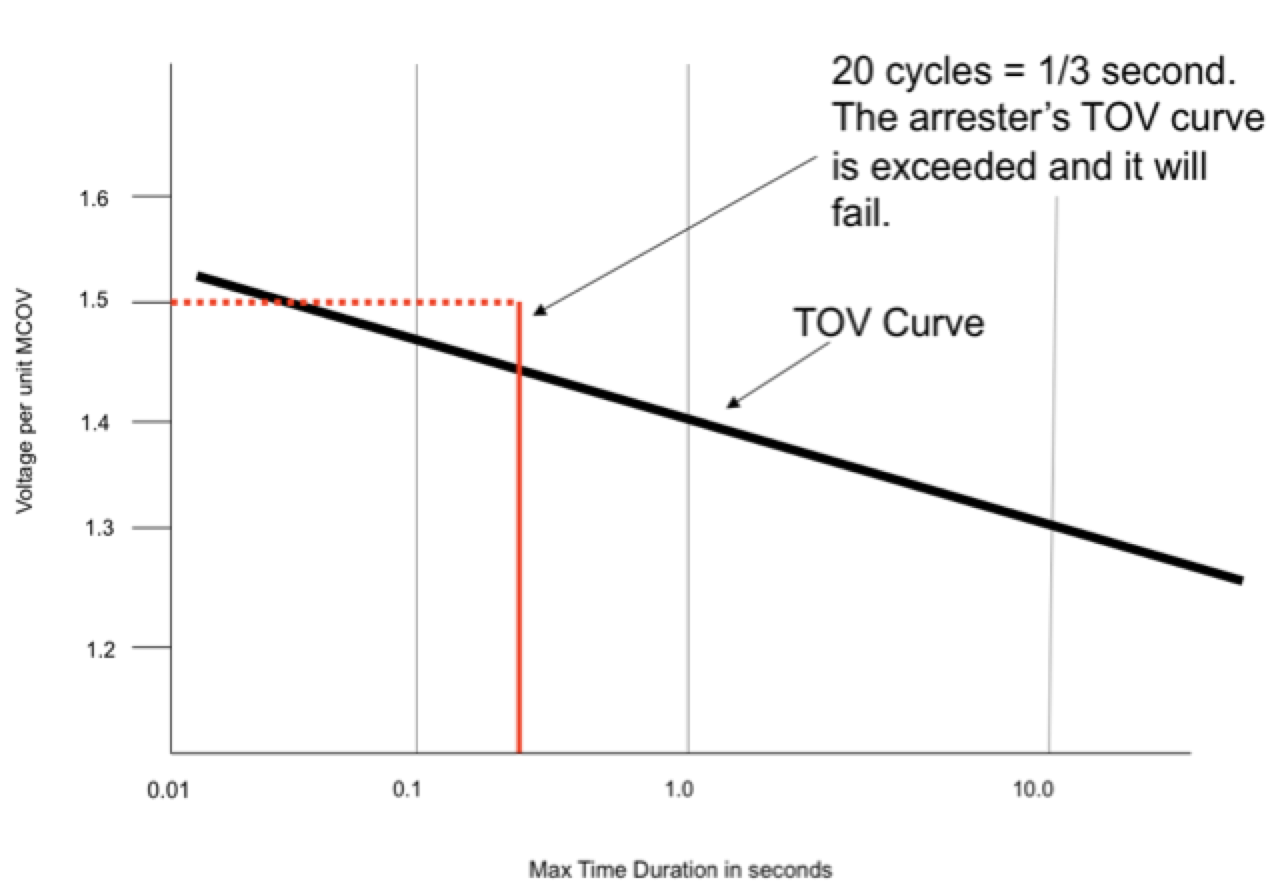 Advertisement
TOV capability is presented in per unit of MCOV. In this example, the MCOV is 152 kV, the TOV is 230 kV and therefore the overvoltage is 152 kV/230 kV or 1.5 per unit. As Fig. 4 shows, the arrester would exceed its TOV curve at 20 cycles. The graph shows that the arrester can withstand 1.5 per unit MCOV for less than 0.1 s or 6 cycles. Therefore, a higher rated arrester would have to be used. But it is not practical to use an arrester with an MCOV above 230 kV because the proper protective ratios cannot be achieved. For this reason, a higher rated arrester must be used that will be sufficient to withstand the TOV but low enough to achieve the proper protective margins. To find such an arrester, Fig. 4 reveals that the original arrester can withstand 1.45 per unit MCOV for 20 cycles. Using that as a starting point, a trial new minimum MCOV can be calculated using equation (6).

The next available rated arrester is a 198 kV (160 kV MCOV) model. The TOV curve must be examined for the new arrester to determine if it can withstand the TOV for the anticipated time. From catalogue data, the new arrester is able to withstand 234.2 kV for one second, which satisfies the TOV requirement. Next, the protective margins must be calculated using Equations (3) through (5). For comparison, the protective margins for the 192 kV rated arrester and the 198 kV rated arrester are presented in the first two lines of Table 3. As shown, all requirements are met by the new arrester.
The last part of the tutorial had to explain the philosophy behind applying arresters on line entrances. This philosophy was taken directly from IEEE's Arrester Application Guide and can be summarized and illustrated by Fig. 5.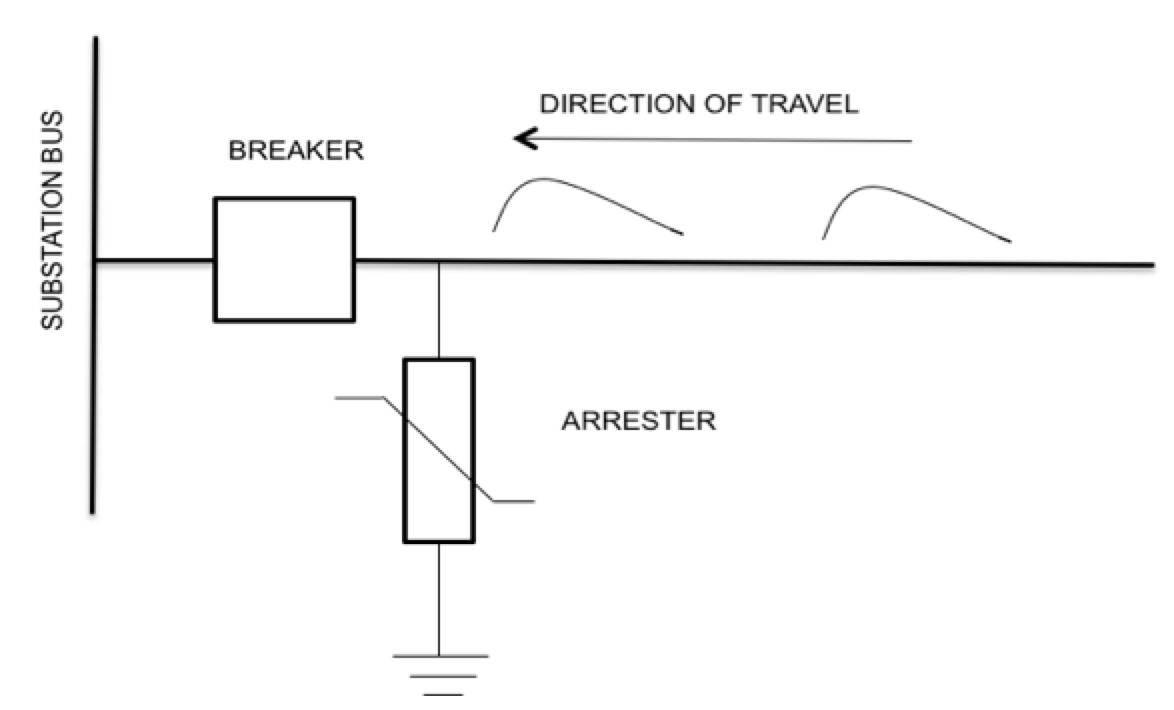 Lightning strikes can contain multiple strokes spaced a few milliseconds apart. If lightning strikes a line or if there is a backflash due to shielding failure, the surge from the first stroke will enter the substation from the line and will be detected by protective relaying causing the breaker to trip. If the breaker is open or partially open, the second surge from the second stroke will arrive at the open breaker where it will double and reflect. If the voltage caused by the second stroke is greater than the insulation value in the open or partially open breaker, this will cause the breaker to fail. For this reason, one should consider installing arresters on the line side of breakers. In the case of feeder breakers, not all circuits are built with shields and are subject to breakers being locked open during thunderstorms. Hence the requirement that all distribution feeder exits should have arresters. In the case of EHV transmission lines, switching surge is a concern that prompted the requirement that all such line entrances must have arresters. At transmission voltages between 69 kV and 230 kV, there are practical considerations that affect installing arresters at each location, such as cost, availability of space, presence of automatic tripping schemes and the strategic importance of the line itself.
Summary
It is worthwhile for a utility (or indeed any user of electrical equipment) to write internal application Guides that are based on industry standards and that can be used by those who work on facilities. The central goal is to eliminate or at least significantly reduce arrester application errors. This Guide must address basic challenges to common applications and explain the utility philosophy about surge protection in a way that makes it easy for staff to understand. At Entergy, this practice has resulted in significantly fewer arrester failures and misapplications by personnel that are not surge protection experts. This, in turn, has provided greater surge protection for utility equipment.