Australian Utility Confronted Insulator Pollution
Advertisement

The State of Western Australia accounts for almost a third of the Australian continent yet is isolated from the rest of the country. Except for air travel, contact with the major areas of population located in the east is primarily through rail and roads links which are several thousand kilometers in length. In between the two extremities of these links, there is little except broad expanses of desert. Western Power is the main energy company in the State, owning and operating major as well as smaller power stations. This power is transferred to customers using a network of 330 kV and 220 kV transmission lines. In addition, Western Power also operates 132 kV lines as well as 66 kV lines. Although isolated by geography from other electrical networks in Australia, the types of problems confronted by Western Power are typical of those found at many other electricity supply companies. For example, since much of the customer base is located along the seacoast, overhead power lines typically have to cope with intense marine pollution. Industrial and agricultural pollution are also important local environmental factors affecting the network. A decade ago, INMR visited engineers at Western Power and reported on the major challenges affecting reliability of this network.
---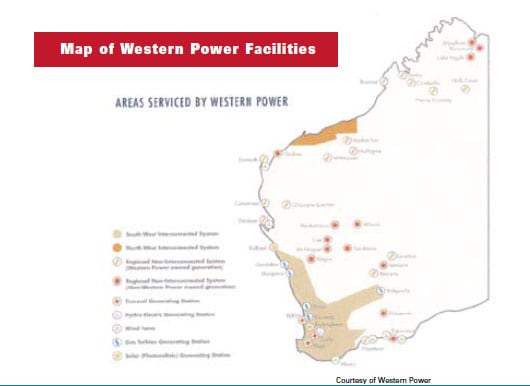 Most utility engineers quickly recall the historical events that had a lasting impact on subsequent practices affecting their network. The ice storm of January 1998 in eastern Canada is one such example; another is the widespread pollution flashovers affecting north-east China during February 2001; yet another is the massive cascading blackout in the U.S. northeast in August 2003. In the case of Western Power, one such occurrence was the power crisis that took place in mid-February 2004 during a severe heat wave. Gas supply to an important power plant was disrupted just at the time when demand for electrical power had been pushed to an unusually high level. Because of this, the utility was forced to selectively curtail its electricity delivery to customers. The ensuing local brown-outs and black-outs were not well received by the public. A government-sponsored inquiry took place and led to a series of recommendations that Western Power agreed to implement. For example, new management procedures were established to cope with sudden and high load demands. These procedures included steps to ensure adequate generation and fuel supply capacity as well as measures to retain specialist staff and recruit additional technical workers.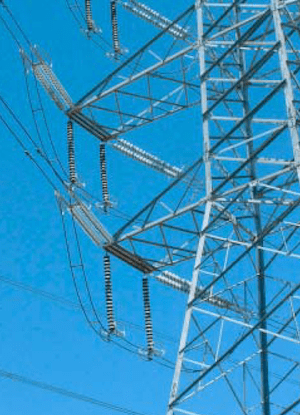 Another such milestone event in the utility's history took place about 10 years ago. This time, the interruption of power delivery was caused not by a disruption in generation but rather by widespread pollution flashovers which overwhelmed the overhead network. This specific incident forced the utility's engineering group to begin a stepwise process intended to increase the reliability of overhead lines. The specific trigger for this incident occurred in late March, near the end of the Australian summer. There had been an unfavorably long period of warm dry weather during which salt brought inland by offshore winds accumulated on the surfaces of insulators along many lines, without any immediately noticeable effect. Looking back on this event date, the now retired Senior Transmission Engineer of the time, recalled, "suddenly, salt fog and mist brought in by a sea breeze wetted the already polluted insulators of some critical overhead lines in our system. This resulted in a massive number of flashovers over such a short period of time that the south-west interconnected system collapsed and blacked out the entire region." It was soon established that the double circuit Northern Terminal -Southern Terminal line which runs south from Perth was severely affected. Located more or less parallel to the Indian Ocean, this line starts less than 2 km from the coast before reaching the Southern Terminal located about 8 km inland. Most of the flashovers occurred toward the Northern Terminal section. Flashovers during this event also occurred on a line located north of Perth in the Geraldton area, some 25 km from the coast. In this case, pollution deposited by strong prevailing winds from the sea had overwhelmed even aerodynamic profile insulators with a specific creepage length of 26.5 mm/kV. When initially installed, those insulators had been promoted as the ideal insulators for the local service conditions.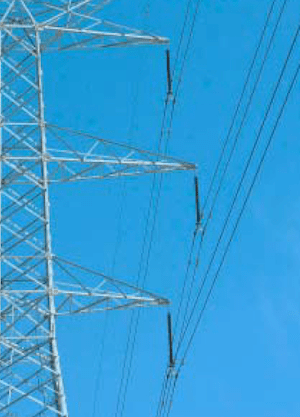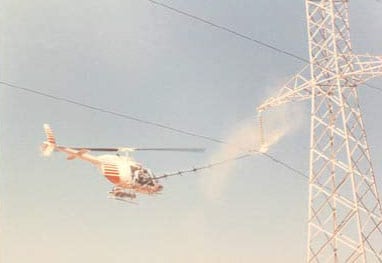 Advertisement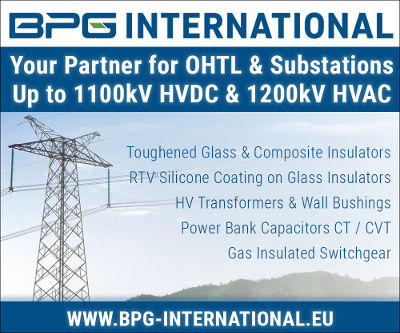 Flashover was not the only problem related to the high levels of local pollution in Western Australia. Another was corrosion of the pin on porcelain cap & pin insulators resulting from the electrolytic action of the DC component of high leakage currents. For example, in the case of the aerodynamic insulators having 26.5 mm/kV specific creepage and which had suffered from numerous flashovers, quite a number also showed signs of pin corrosion after only 6 years service. Pin corrosion was also observed on insulators along a 220 kV line in the North-West which had been constructed in 1984 and which employed insulators with a specific creepage of 24.5 mm/kV. After 12 years service, some pins on this line had already corroded to half their original diameter. This problem of prematurely replacing insulators due to pin corrosion even applied to insulators on 132 kV and 66 kV lines having such high specific creepages of 33 mm/kV and 35 mm/kV respectively.  
Engineers at Western Power moved to deal with this corrosion problem by requiring zinc sacrifical electrode insulator designs in the hope of extending the life of these units by between 30 and 50 per cent. The utility also considered selecting only composite insulators for application in those areas most affected by the pin corrosion problem. Based on experience with pollution flashover and pin corrosion over the past few years, a number of general guidelines were adopted by Western Power for the selection of insulators, depending on the specific geographic area (see Table 1).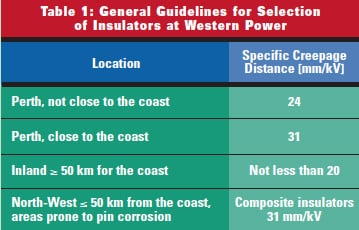 Although the guidelines for dealing with pollution on insulators were implemented for new lines or for those where there was a refurbishment project, this still left a number of existing lines where the insulation level was now deemed inadequate to cope with incidents of severe pollution, such as occurred in 1994. In those cases, Western Power relied on helicopter-based washing of insulator strings. While this was seen as an effective measure to prevent pollution flashovers and minimize pin corrosion problems, engineers viewed it as expensive and time-consuming maintenance. Moreover, it was often difficult to select the optimum washing time, balancing the concerns of controlling costs by not washing too early with risking flashovers by waiting too long.
Apart from the issues related to pollution affecting insulators on the transmission system, Western Power faced another problem, this time affecting its distribution network – pole top fires. According to staff although the proportion of wooden poles affected annually was less than 0.1 per cent, given the approximately 800,000 poles in the system, this still meant several thousand fires to cope with each year. Much of Australia is very dry and consequently prone to bush fires which can prove quite devastating. As a result, fires are always taken very seriously and great efforts are taken to deal with any types of events which can provoke them.
Poles can catch fire for a number of reasons. For example, this can be the result of sparks between the base of an insulator and either the cross-arm or the pole. Similarly, dry band discharges along the cross-arm or pole can also trigger a fire. Sparks or discharges are typically caused by leakage current along the surface of a polluted insulator when it is wetted by fog, mist or light rain. If the insulator is tightly fastened to the cross-arm or employs a spring washer, such sparking does not generally occur. However, the expansion and contraction of the wood due to changing weather conditions makes it necessary to periodically manually tighten the insulator pin. This is an expensive and time-consuming process.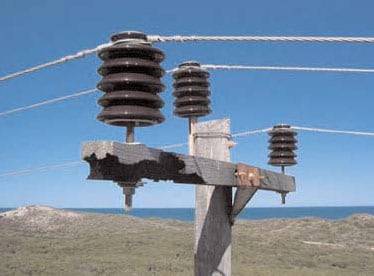 Various mitigation methods have been used by Western Power to deal with pole fires. In one of these, the base of the distribution insulator is bonded to the earth wire. Sparks and dry band discharges are thereby eliminated. However, in case of insulator flashover, it is likely that the earth wire will melt and possibly cause the pole to catch fire. A variant to this approach is to bond all three insulators to a plate which is kept at a certain distance from another plate connected to the earth wire. Since the real source of the problem is the leakage current flowing along the insulator surface, it seemed logical to try to eliminate or substantially reduce these currents. Two methods were used in this regard: the simpler was to wash the pollution from the insulator surface; the other to coat the surface of the insulator with a product which prevents leakage current. Washing was seen as time-consuming and expensive. Moreover, the main problem became how to decide when it should be done. Installation of current monitoring equipment in critical locations can provide some guidance but may not be of much value in cases where there is sudden wetting of a highly-polluted insulator surface.
To deal with the problem of pole top fires Western Power began utilizing products intended to prevent leakage current, namely silicone grease and RTV silicone coatings. For example, a program was begun in 2003 which saw 10,000 poles greased annually. Spraying of the grease was done live to bonded as well as unbonded poles with one application hoped to be effective for four years or longer. However, after this service life, renewing the grease would involve cumbersome removal of the existing layer using high-pressure water washing. There were a number of concerns in this regard in terms of the impact of this removal process of contaminated grease on both the insulators and the environment.
Western Power also began relying more on the use of RTV silicone coatings to prevent the formation of leakage currents on the surfaces of insulators. The Technical Services Manager at the utility indicated that the first trial application of such an RTV coating involved a 132 kV line running within the area around Perth. Apparently, the insulators along this portion of line had to be washed up to 4 times during the critical dry season to prevent problems of radio interference. According to staff, the coating functioned effectively in its early years even though applied with only half the recommended thickness of 0.5 mm. Given this positive experience, Western Power started live application of RTV silicone coatings to distribution insulators in areas exposed to pollution in order to prevent problems arising from excessive leakage currents. In fact, RTV coatings were expected to replace greasing as the preferred method for controlling future pole top fires.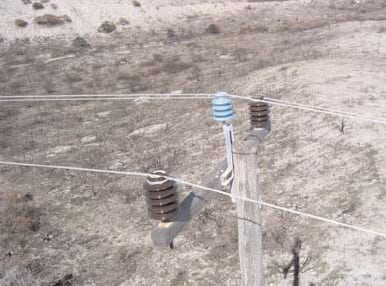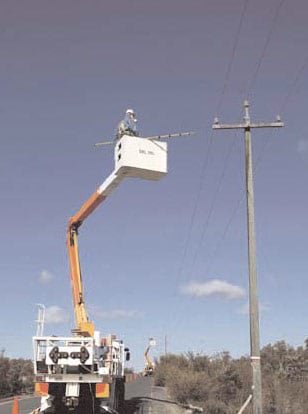 Advertisement
Apart from the use of remedial measures such as silicone-based greases and coatings, a number of alternative types of insulators have been used over the years on both 22 kV and 33 kV lines. Based on this experience, Western Power decided that new and replacement poles at these voltages would feature steel cross arms equipped with cycloaliphatic epoxy insulators. In areas exposed to heavy pollution, porcelain or composite post insulators could be substituted in place of epoxy. Other methods to prevent pole top fires were also considered. One of these involves replacing wooden poles with concrete structures. In addition, engineers at the utility acknowledged that, while far more expensive, greater use of underground cable represented the most effective solution to avoiding the serious problems caused by atmospheric pollution. Visual impact became another reason why this solution became mandatory in new residential and commercial sub-divisions of the network.