Arresters Improve Transmission Line Performance in Malaysia
Advertisement

In recent years, overhead line performance analysis was done in line with series of research for improving the line performance against unscheduled outages. The most common outage was reported due to lightning strikes affecting distribution and transmission lines. It is a major concern to electric utilities to study and overcome these common causes of outages. In Malaysia, from 36% to over 50% of transmission line outages yearly was due to adverse weather (i.e lightning and thunderstorm). Until 2008, 37 kA was reported as the average first return stroke current which was comparable to other tropical regions such as Northern Australia and Indonesia. A tremendous 484.4 kA peak current stroke was also recorded in Peninsular Malaysia. These high currents have undoubtedly contributed to the biggest cause of transmission line outages each year. This contribution to INMR by Eng. Iryani Mohamed Rawi reports on experience with use of transmission line arresters at Tenaga Nasional Berhad (TNB) and provides a case study on a 500 kV line.
Line Outage History
An observation on overhead line cause of outages from the year 2002 until 2013 is shown in Fig. 1;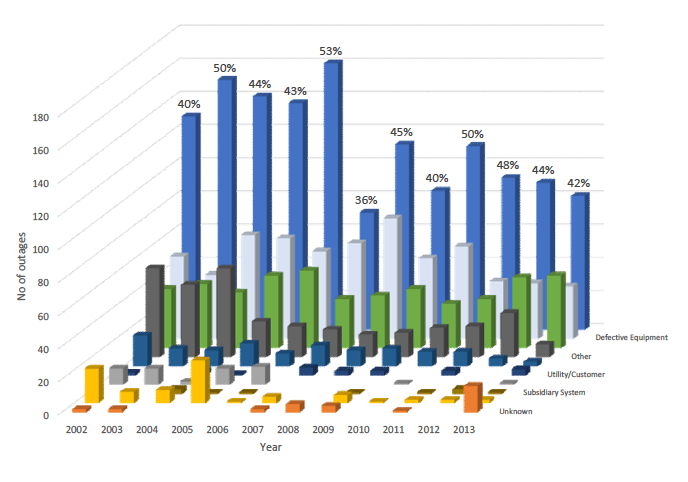 From Fig. 1, it is observed that adverse weather (lightning and thunderstorm) was the primary cause of outages on transmission lines (132kV, 275kV and 500kV) in peninsular Malaysia. From 2002 until 2013, 36% to 53% of outages were reported due to adverse weather i.e lightning and thunderstorm. 2 With regard to seasonal variation in Peninsular Malaysia, the Northwest region rainfall activity was compared with lightning stroke counts along 500 kV AT to BT line. From Figure 2, it is observed that lightning activities (strokes collected from year 2004 until 2015) are highest during the maximum rainfall season while decreasing number of lightning stroke counts are observed during the minimum rainfall season. This is in line with the monsoonal period and inter-monsoon season reports by MET department of Malaysia: Southwest Monsoon from late May to September and the Northeast Monsoon from October to March. Northeast Monsoon is reported to bring more rainfall compared to the Southwest Monsoon, originating in China and the north Pacific. On the other hand, Southwest Monsoon originates from the deserts of Australia. The inter-monsoon or transition period between the two monsoons are in March and October [3].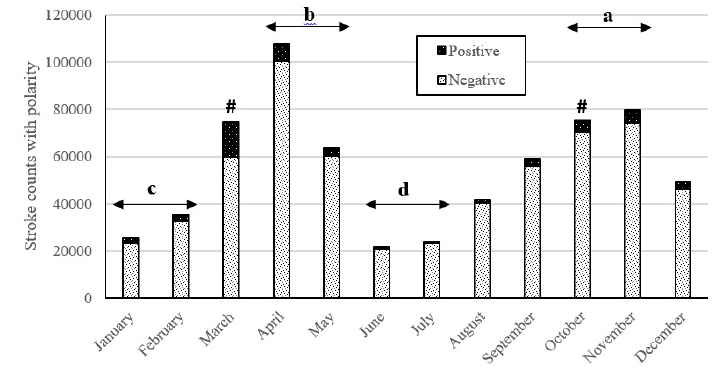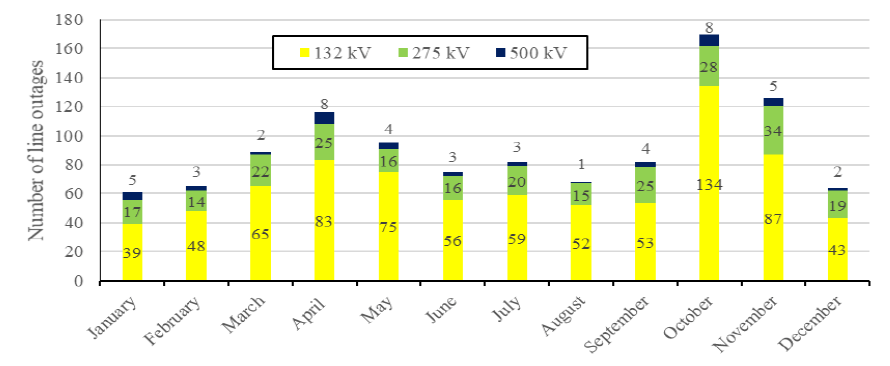 Northwest region of Peninsular Malaysia rainfall indication:
a – Primary maximum
b – Secondary maximum
c – Primary minimum
d – Secondary minimum
# – Inter-monsoon or monsoonal transition period from an accumulated series of TL events i.e. 132 kV, 275 kV and 500 kV lightning-related outages from 2002 until 2015 in Peninsular Malaysia, increased number of outages were reported to be in April to May and October to November (shown in Fig. 3). These are consistent with the monsoonal activities throughout the Peninsular Malaysia as discussed above.
Transmission Line Arresters
In TNB, transmission line arrester (TLA) is commonly used to improve line performance due to lightning. TLA was first introduced on 132kV line in 1994, which are the gapped type. Later in 2005, a pilot project was done on 132kV gapless type arrester [4] followed by 30 units of 275kV gapless arrester installed on a 275kV line in 2006. Meanwhile, installation of gapped type arrester on 275kV line continued. Recently in 2015, gapped type 500kV arresters were installed on pilot trial.
Gapless type arrester was not commonly used in TNB due to reported issues from the pilot projects. Those issues are corroded live and earth wire jumpers connecting the TLA unit to tower body, and larger arrester unit size compared to gapped type arrester. Clearance issues were also reported where failed jumper was detected to rest on earthed part of the tower body causing line outages.
Number of transmission line arrester installed according to its type are indicated in Figs. 4 and 5 below;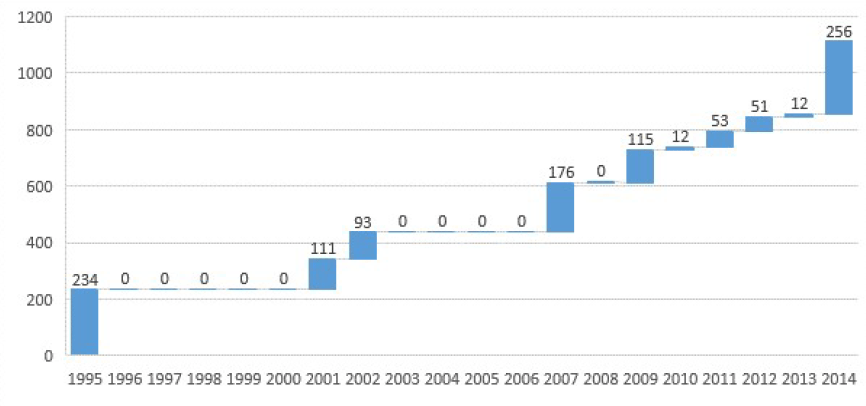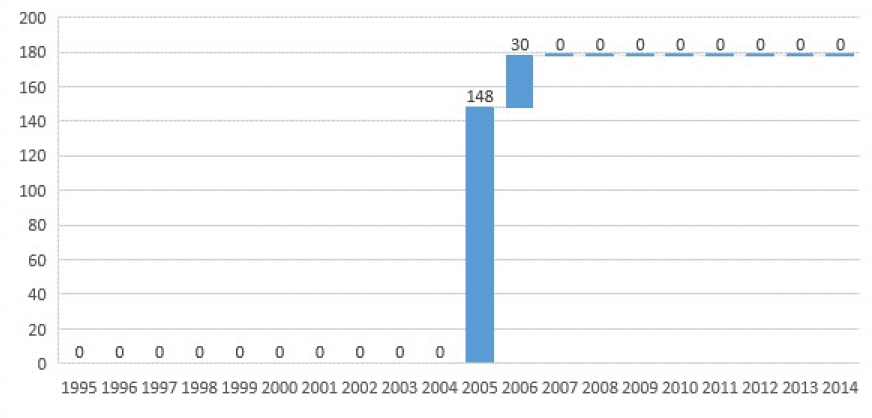 Number of line arrester installed on 132 kV line are 954 for gapped type, and 148 for gapless type. For 275 kV, 141 units are for the gapped type and 30 units for gapless type. Finally, 18 units of gapped type arrester were installed on 500 kV line. Fig. 6 shows installed arresters on 132 kV, 275 kV and 500 kV lines.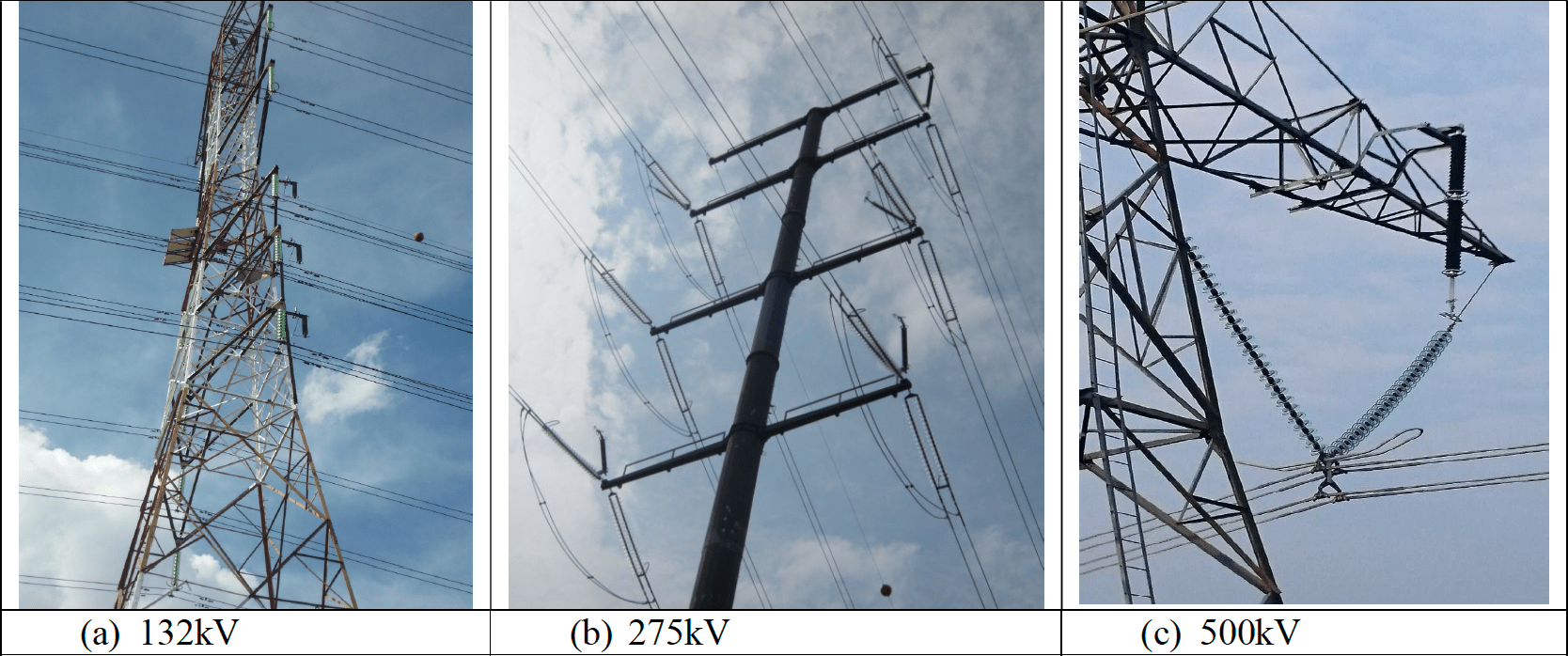 Case Study
In 2012, Engineering Department of TNB Transmission was urged to conduct a lightning study on critical lines where selection criteria was based on number of outages recorded on the line (high outage rate), line length and line located in high ground flash density (GFD) area. Those lines are shown in Table 1 below;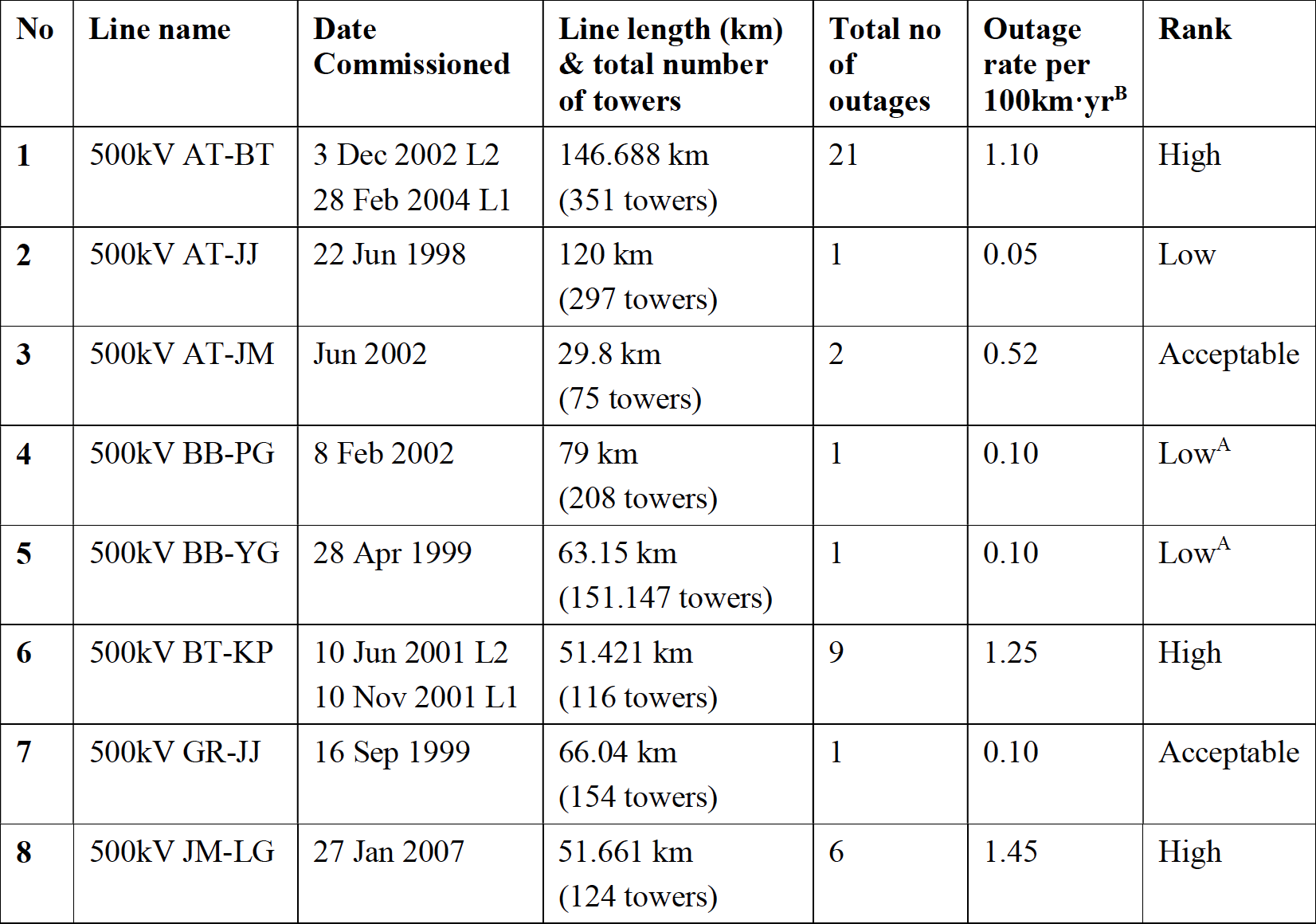 Note:
A: Line energized at 275 kV
B: Line outage rate = 

Advertisement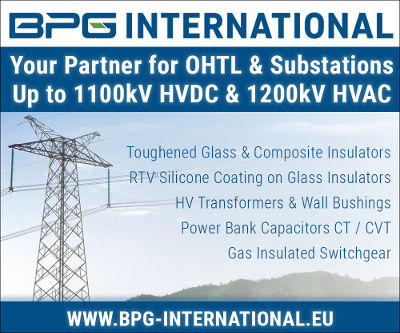 From Table 1, it was noted that 500 kV AT to BT line has recorded a high outage rate compared to other 500 kV lines. From 2004 until 2012, 21 outages were recorded due to lightning, which translated into 1.1 outage rate per 100 km per year. A lightning study was conducted on this line with details as in Table 2 below;

In TNB, for 500 kV system double circuit line arrangement is used including the normal towers and the transposition towers. For shielding protection against lightning strikes, two earth wire design is applied with zero degree shielding for normal towers and +15 degree shielding for transposition towers (TP). These are shown in Fig. 7.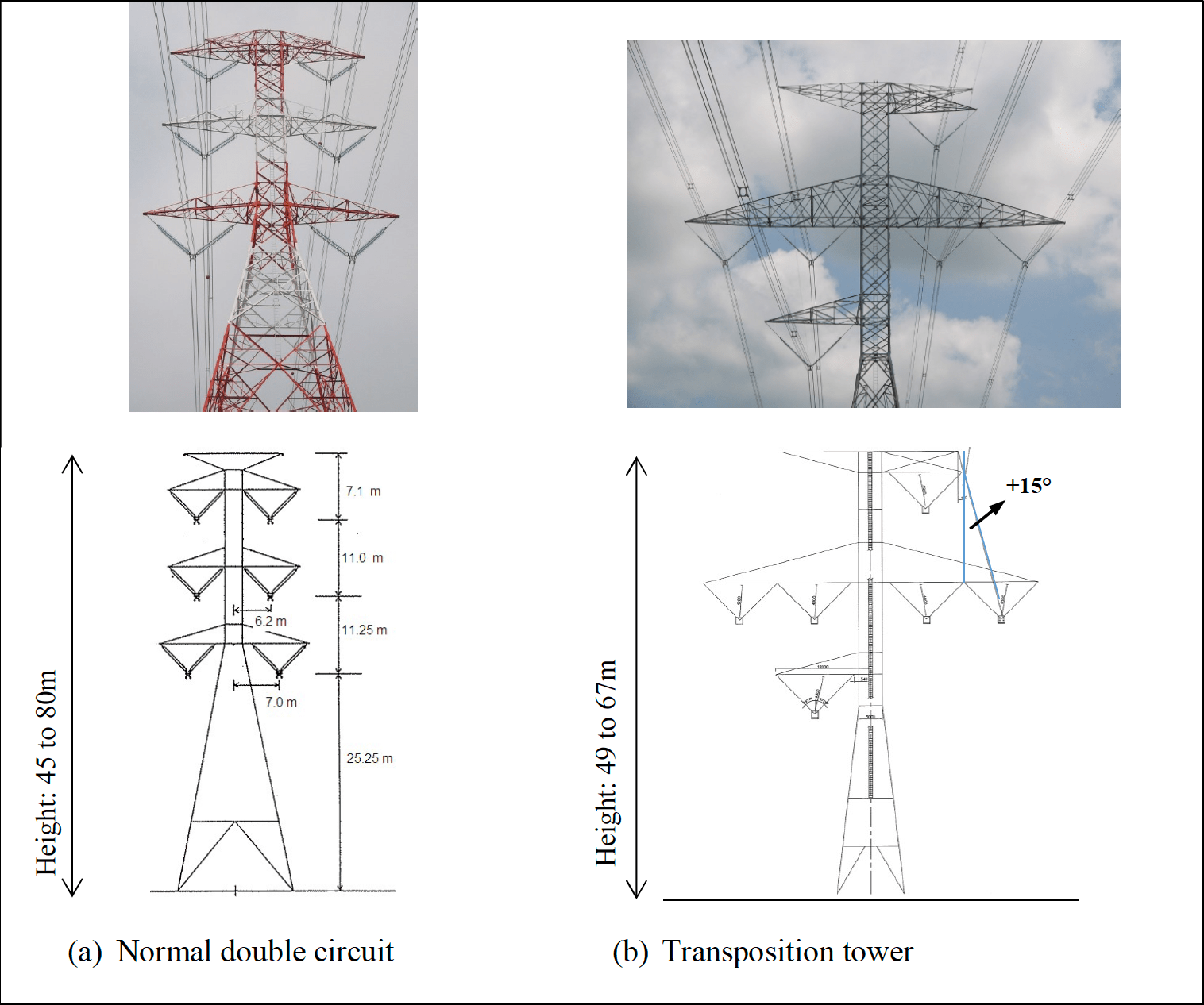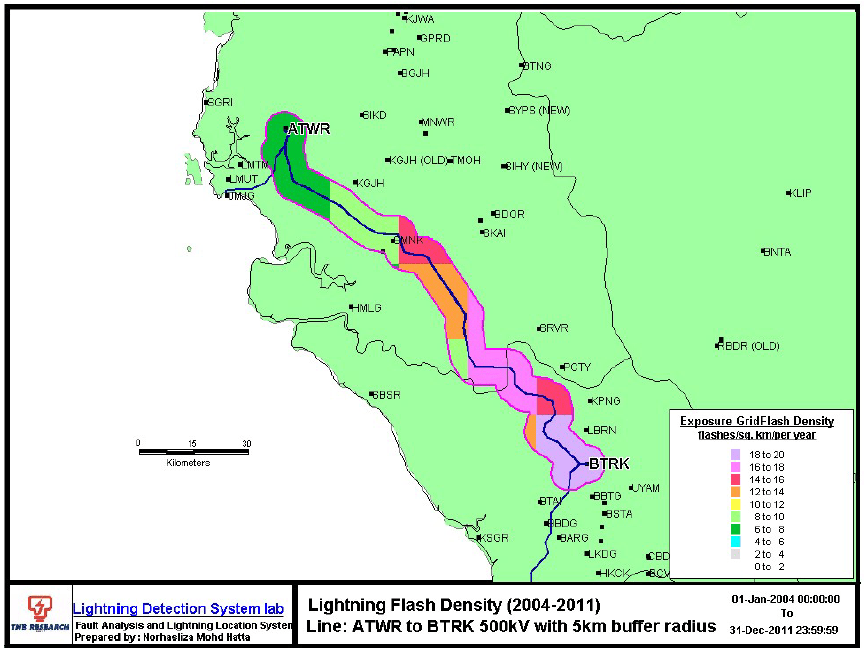 Lightning density map (GFD) was generated to represent lightning flash occurrence intensity along 500 kV AT to BT line from 2004 until 2011. It was found that higher activity was recorded in southern area of the line which is nearby the BT substation. These area were also noted as areas with higher altitude i.e hilly with high resistive soil type.
A set of data containing positive and negative strokes from the year 2004 to 2015 within 9 km radius from the tower centerline was analysed and summarized in Table 3 below. From the statistics, it is seen that negative stroke has lower peak amplitude for the minimum stroke and it also contains higher peak amplitude for the maximum peak stroke, thus giving a bigger range of current and larger standard deviation value. Mean or average value for collected strokes is 22 kA for negative stroke and 17 kA for positive stroke. Total collected strokes is 658,619.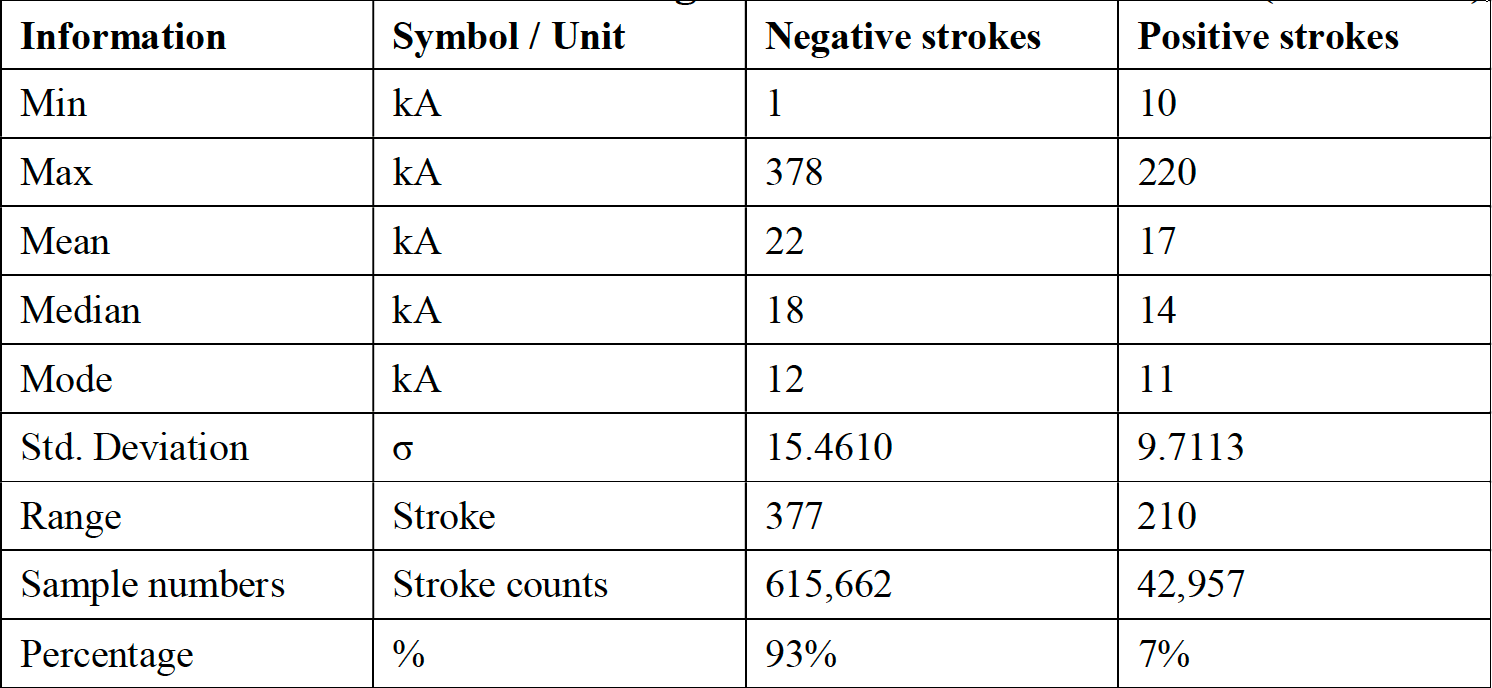 Measures For Reducing Number Of Line Outages
According to IEEE 1243-1997, it is important to consider the route selection, shielding angle, insulation level, and tower footing resistance to ensure good performance of a transmission lines. Other special methods includes introducing additional earth wires, active air terminal, and installing surge arresters.
In this case study, for existing line, it is not feasible to implement some of the above suggested solution as it will affect the existing design especially the electrical clearances. Therefore in this study, it was proposed to reduce the tower footing resistance and to install line arresters at selected locations. Reducing TFR will help in term of backflashover performance and installing arrester will help in both cause of outages i.e. backflashover and shielding failures.
Histograms in Fig. 9 show the improved TFR value at 351 towers along the line with the 50% probability of occurrence that was improved from 7 Ω (before repair) to 4 Ω (after repair). In Figure 10, statistical data on measured TFR at 351 towers before the repair works shows that: 10% of the tested towers have a footing resistance greater than 24 Ω; 40% are below 9 Ω; and 2% – 3% are with extremely large value of 43 Ω to 51 Ω. After the repair work, more than 65% towers reached the desired TFR value of less than 5 Ω.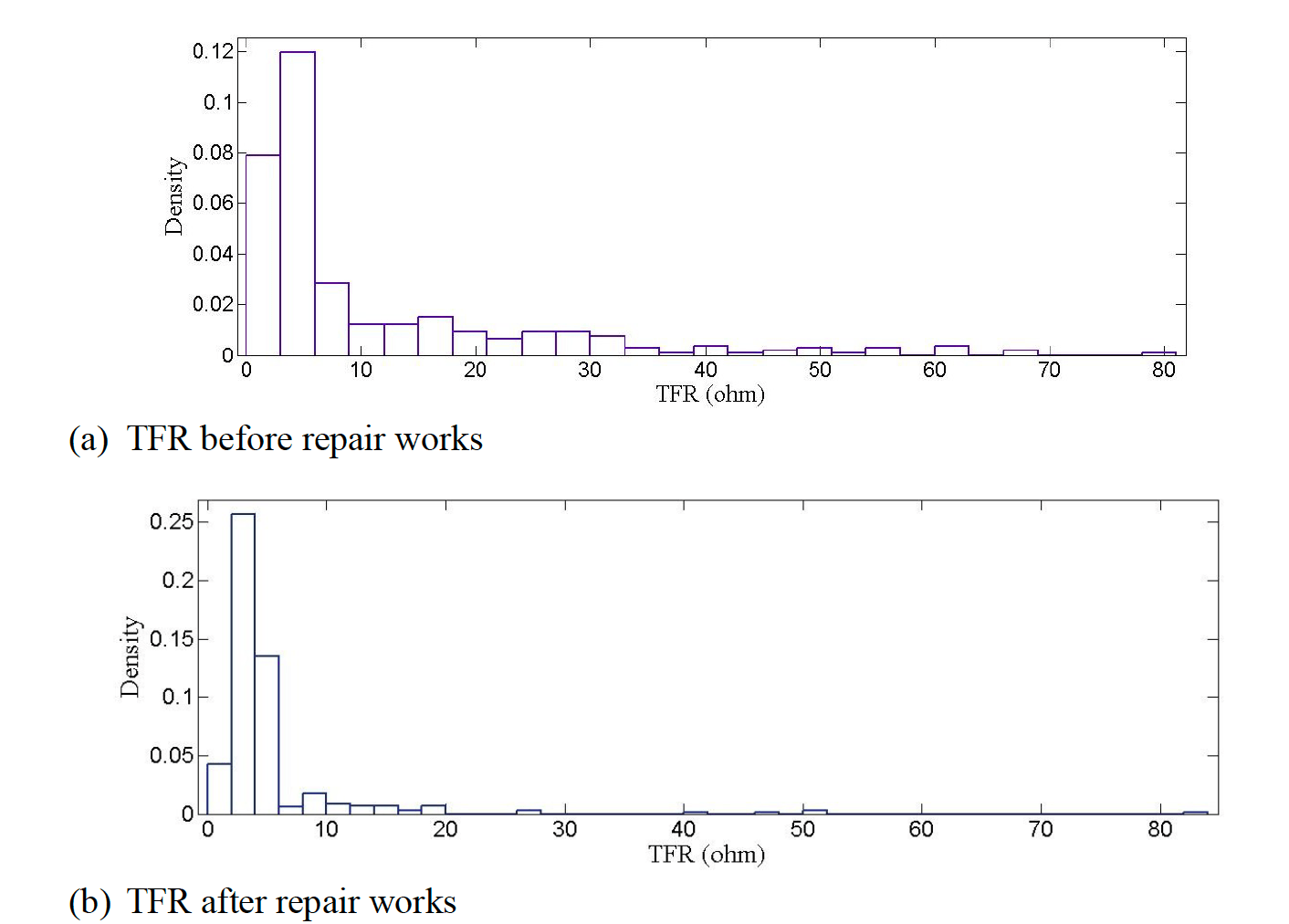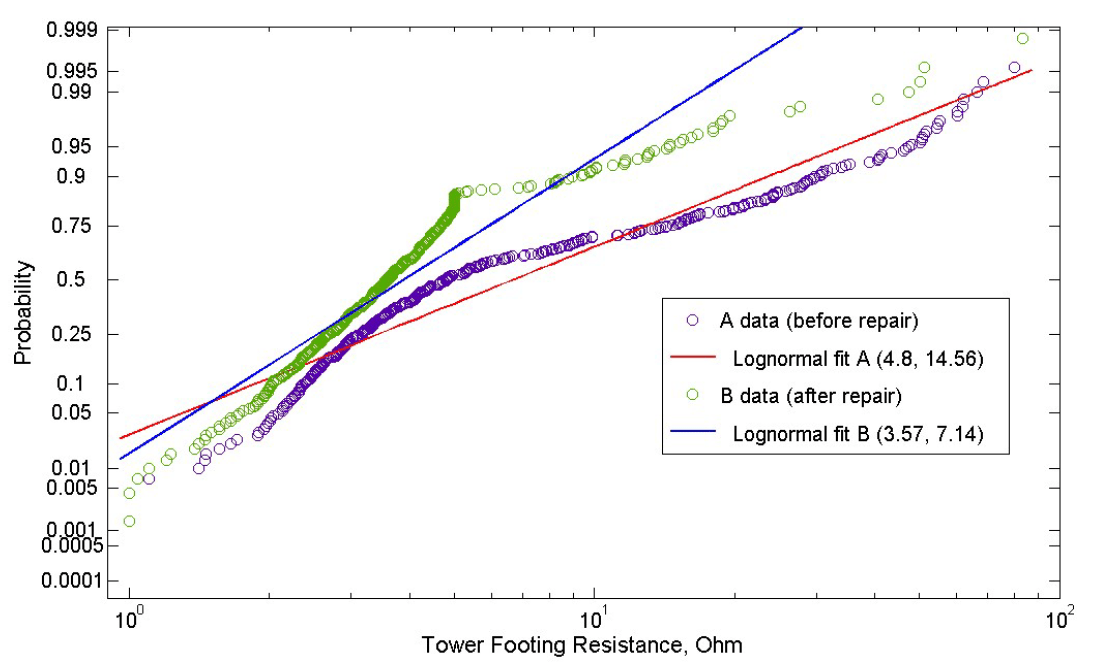 The distribution fittings shown in Figure 10 represents the actual limited data pattern (N=351) which can be satisfactorily be represented by a lognormal fit. The derived parameters for A data (TFR value before repair work) are Median = 4.80 and Standard Deviation, SD = 14.56, and for B data (TFR value after repair work) are Median = 3.57 and SD 7.14. The median value was found to be consistent with those obtained and reported in other countries i.e. Med = 4.40 – 4.77, SD = 1.12 – 1.45 [130–132] except for the SD.
The reason for having a large SD value is due to the big variation of soil condition. Higher soil resistivity is obtained under rocky foundations at high altitude areas as opposed to low resistivity soil at paddy field areas
Simulation Result and Installation of 500 Kv Arrester
Using TFlash software for estimating line performance, result in Table 4 explains:

In Table 4 significant improvements are shown after more towers were installed with arresters. In Case 5 for instance, 52.4% of line outage performance improvement is shown after installing 330 arresters on 150 towers along the line. However, more arresters will result in higher cost. In this case, an approximate value of RM 29.7 million is required to purchase 330 units of 500 kV arresters. For the purpose of pilot trial, the management has agreed to purchase only 18 units of 500 kV arresters which are to be installed at 7 different tower locations.
From the installation experience of 500 kV arresters, several issues faced are highlighted as follows:
1. Design of tower attachment fittings for the arrester to ensure sufficient clearance of the external gap to the live part of the system i.e conductor;
2. Very tight outage schedule as 500 kV line is considered as super critical lines;
3. Difficult access to site;
4. Weight of arrester and attachment fittings requires special method to bring it to site and installing on the tower crossarm.
Advertisement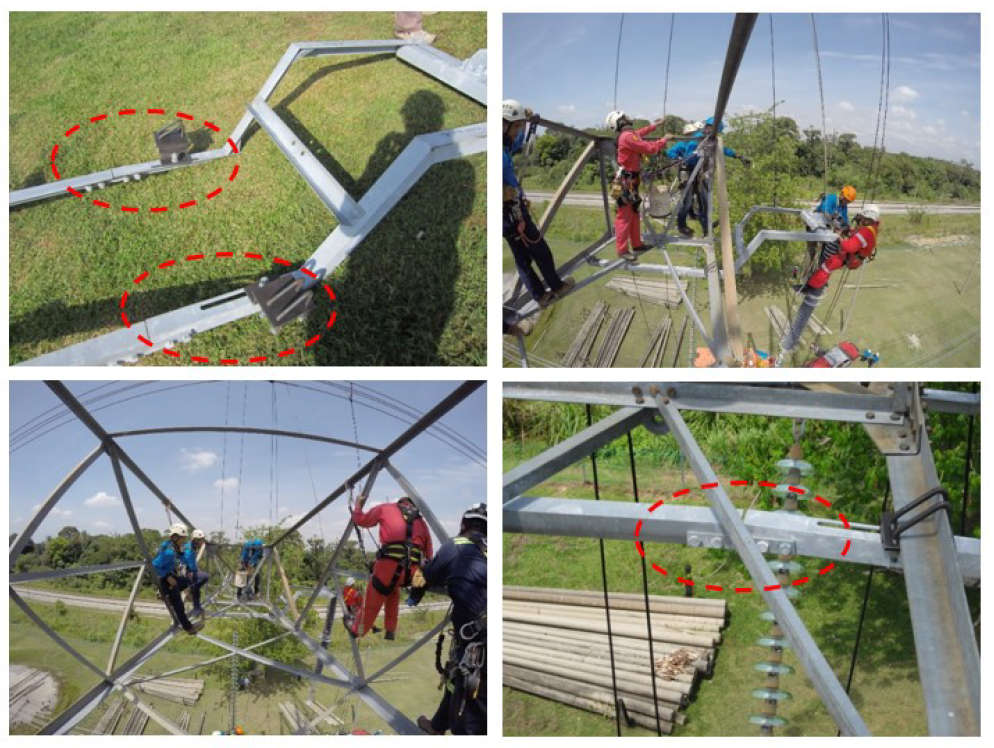 All issues were resolved bringing to succesful installation of arrester in January 2015.
Improved Line Performance
To study the effectiveness of EGLA, the line performance was monitored and EGLA condition was observed. Number of line outages and number of lightning strokes along the line are shown in Fig. 12. It is observed that there was no outage recorded from 2014 until 2015 after TFR improvement work was done. An increased number of observed strokes was recorded during this monitoring period.
However, in 2016 there was 2 outages reported that was on 9th November 2016 and 20th November 2016. Summary of outages are in Table 5: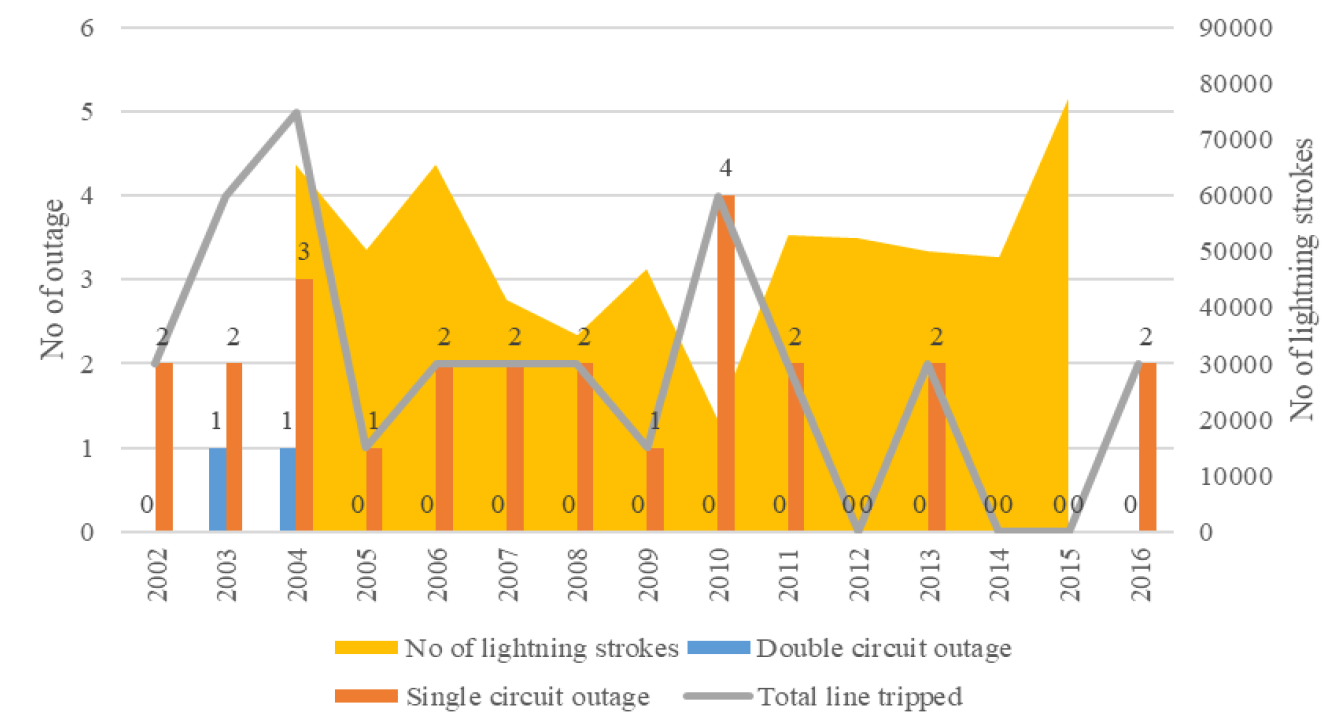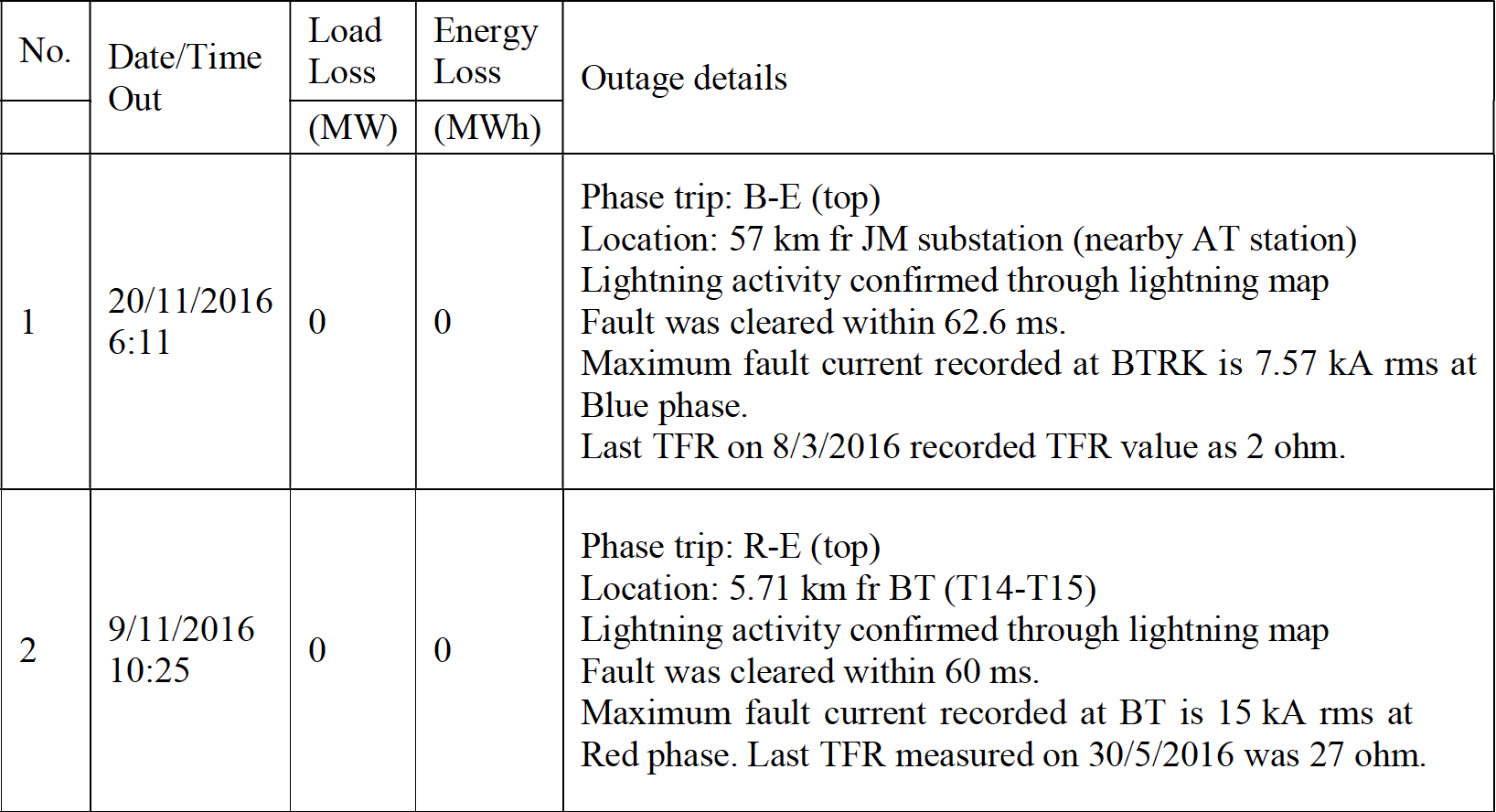 Lightning stroke was obtained from the LDS system where it was found that there is a possibility if large current hitting directly on the line during both events. The nearest tower installed with arrester is 11 km and 4.7 km away from the detected stroke. Both events are shown in Fig. 13;

Therefore it is summarized that for 9th November case, the line could have been protected if arresters were installed in these area and for 20th November case, extreme large current i.e 222 kA and 43 kA are not designed to be protected by any surge protecting devices especially for shielding failure cases.
Product Pre-Approval Process
In TNB, accepting a product requires detailed screening and pre-approval process which involves technical evaluation and product field trial. Summary of process are as below:
1. Checking of the manufacturer's quality management system (ISO 9001)
2. Technical evaluation process (Type test, TNB specification)
3. Field trial
4. Quality certification committee
Continuing process:
1. Re-certification audits
2. Surveillance and special audits The pre-approval process ensures only high quality product to be installed in the system and speeds up tendering process.
Summary
From this study, it is summarized that
1. Being in tropical region, Malaysia experienced very high lightning activities throughout the year
2. Lightning is the major cause of overhead line interruption and outages
3. Line performance was improved after reducing TFR, followed by successful installation of
500 kV arresters. Line performance is still being continuously monitored
4. 2 line outages occurred on 500 kV AT-BT line in 2016 were due to insufficient line protection by not having line arresters in the areas to be protected, and due to extremely large current of 222kA and 43kA hitting nearby the line.
5. No outages reported due to detected strokes nearby towers with installed arresters
6. TNB practice a very strict quality and inspection system to ensure high voltage products to be used in the system.