Monitoring Pollution on Line & Substation Insulators
Advertisement

This edited article is based on a contribution by Giovanni Pirovano of Ricerca sul Sistema Energetico (RSE) in Milan at the 2015 INMR WORLD C0NGRESS. It discussed activities carried out and presented experimental results obtained during the course of research on pollution severity of line and substation insulators. The goals were optimizing insulator selection and also planning maintenance operations to prevent flashover failures.
---
The severity of environmental pollution is a critical element in reliability of electricity supply. This is because high levels of surface contamination due to salt deposits or pollutants from industry or agriculture can cause insulator flashover and service interruptions on lines and at substations. Mitigating these can be achieved using insulators with better dielectric characteristics (e.g. those provided by composite insulators) or by remedial measures such as insulator cleaning. In this regard, the possibility to know, in real time, the actual conditions of insulating surfaces allows for effective scheduling of such measures. Having this in mind, a special prototype was designed and realized in Italy at the end of the 1990s. Named AMICO (Artificially Moistened Insulator for Cleaning Organization), it was installed at a Terna substation in Portoscuso, Sardinia for several years. During this period, it registered data (superficial conductance of an energized probe insulator as well as environmental parameters) associated with rapid accumulation of pollution that led to a blackout on the island in September 2001. (Note: the first prototype of this system had not yet been equipped with a data transmission device).
Based on this experience, it was decided to design and realize 6 newly engineered devices with superior performance and also a GSM system for real time transmission of data. These devices were then installed in HV substations as well as at the EDF test station for naturally polluted insulators in Martigues. All the sites selected were characterized by a high level of environmental pollution. In addition to these devices, another system – Insulator Leakage Current Monitoring System (ILCMS) – was also developed. This system allowed measuring leakage current on line and substation insulators.
Insulator Pollution Monitoring Systems
AMICO Device
The system measures electrical conductance of a probe insulator, representative of substation insulators and exposed to the same environmental stresses. Conductance measurement is carried out every hour under actual meteorological conditions and once each day under forced humidification of the probe insulator, achieved by means of a cooling fluid that circulates within the probe itself. Humidification of the pollution layer on the insulator renders it conductive, thus allowing conductance to be measured even during prolonged dry periods. This seems to now be happening more and more in many regions of the globe due to ongoing climate change. This procedure simulates and forecasts the effect of natural humidification on an insulator under actual pollution conditions and provides an alert to the power utility allowing time for appropriate countermeasures. As indicated, humidification is carried out only once each day (usually at dawn during summer and in the late afternoon during winter so as to avoid dew temperatures below 0°C) to limit possible washing of the pollution layer. In this regard, measurement of dew point temperature (by an accurate and specially developed sensor) and choice of duration of cooling time (automatically defined by the system), are both crucial factors.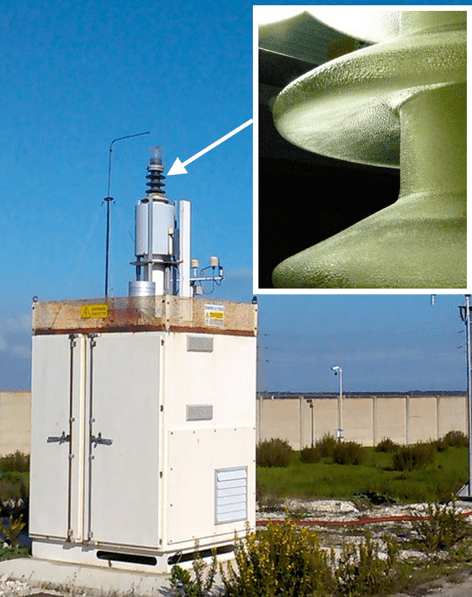 Surface conductance is measured by applying, for few cycles, power frequency voltage of 11 kV at the probe insulator and measuring resulting leakage current. It is assumed that complete humidification of the pollution layer is attained when the derivative of the conductive current reaches a value of zero. At that moment, the system heats the liquid to reduce humidification time of the probe insulator's surface. In order to allow correlation of conductance measurements with Equivalent Salt Deposit Density (ESDD) and Non-Soluble Deposit Density (NSDD) close to the AMICO installation sites, different substation and line insulators (cap & pin, RTV-coated composite) were positioned and regularly subjected to ESDD and NSDD measurements.
AMICO devices #4 & 5 and the one in Martigues were eventually removed from service due to corrosion of metallic parts from the highly aggressive environments. In order to overcome such problems and to improve performance based on experience, a new version of the AMICO system has since been designed and developed.
In particular, the new version allows:
• significantly reducing the device's bulk and weight through new components and a new casing;
• greater resistance to aggressive environments by means of a stainless steel casing;
• superior features, simplification of management and maintenance and reduction in size of the cooling system by using a Peltier cells system (vs. previous compressor and evaporator);
• improved performance, flexibility and reduction in data acquisition and control system failures, by using solid state devices;
• extended possibility to also feed the insulator probe in DC (also with a compact generator);
• facilitating maintenance of the device, while improving ergonomics and safety.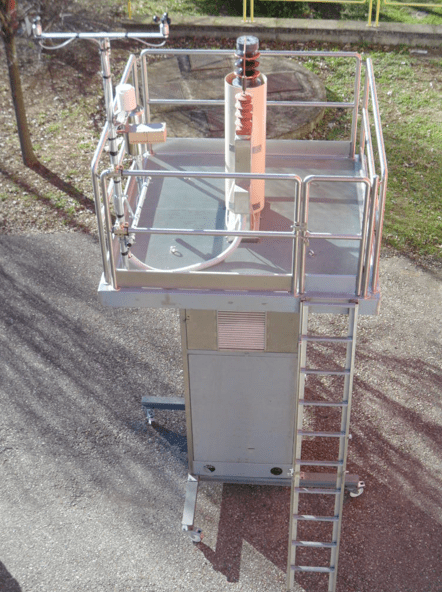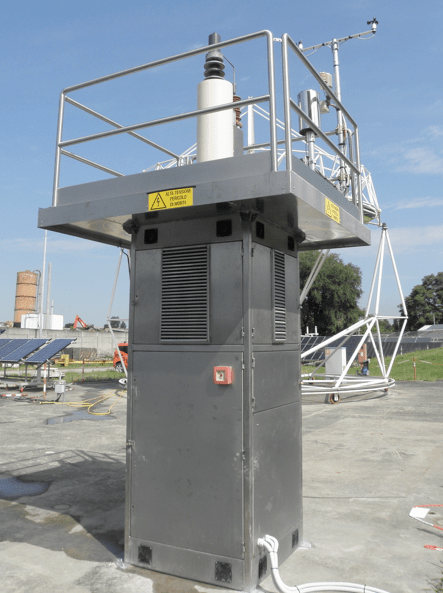 The new AMICO system with DC voltage generator allows reproducing pollution accumulation which, unlike for AC, is significantly influenced by the static electric field generated by the line as well as lower dielectric strengths of insulators under DC. This system has been installed for several months in Milan in order to test performance and carry out final calibration following tests in a pollution chamber. It will then be moved to an insulator test station on Sardinia that Terna has set up, in collaboration with RSE, to verify performance of different insulators under naturally polluted conditions. The results will also contribute to the European Project 'Best Paths' – in particular to Demo 3, which is related to refurbishing the Sardinia–Corse–Italy HVDC link.
ILMCS
Another way to monitor behavior of insulators is by the Insulator Leakage Current Monitoring System, developed to measure leakage currents on line and post insulators in service. These values are always correlated with meteorological parameters measured by the weather station. Two installation cases: the first is relevant to a HV line equipped with cap & pin insulators with RTV coatings. Two phases are monitored – one with fully-coated insulators and the other with partially coated insulators. The other example is relevant to a 400 kV substation where the ILMCS is used to monitor current on three busbar post insulators – one with RTV coating, one with silicone grease and one without any coating. The aim is to compare service performances of different solutions and also relevant ageing phenomena.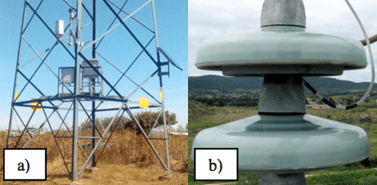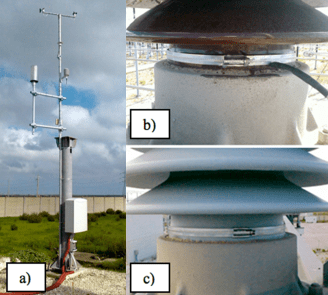 Advertisement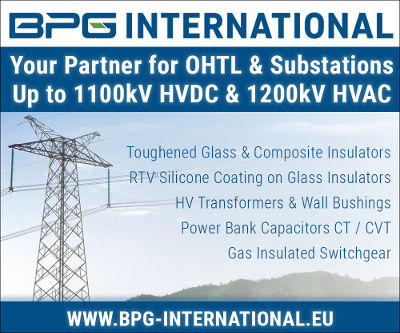 Current data are measured with a high sampling frequency (> 40 kHz), which allows not only detecting peaks but also acquiring the waveforms of signals monitored. The high frequency signal (see Fig. 1) is acquired only in the presence of significant increase in leakage current values. As in the case of the AMICO DC device, the system is controlled using a solid-state industrial device. The initial ILCMS made use of anti-inductive shunts to measure insulator leakage current but the more compact subsequent version uses digital modules for direct high frequency measurement of current. This solution is the one that will be adopted in the above-mentioned station for naturally polluted insulators, now under development in southern Sardinia.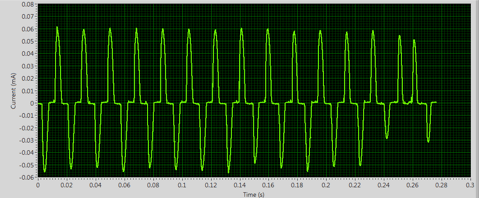 The above characteristics of the AMICO and ILCMS make the two complementary for characterizing the severity of a site as well as the behavior of different types of insulators.
Experimental Results
Conductance values measured by the AMICO systems are analyzed daily in order to characterize pollution severity of the different installation sites. For example, Fig. 2 shows a typical graph with values of conductance peaks recorded over months at one of the monitored sites.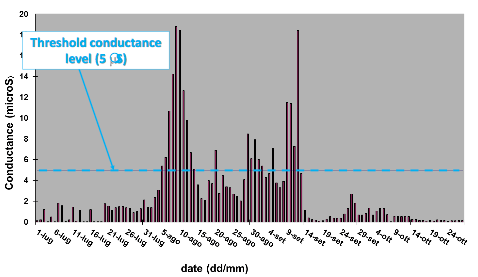 This graph shows a threshold conductance level of attention corresponding to 5 mS, established in a conservative manner based on measurements made in the field and in the laboratory. In particular, to help define threshold conductance levels, experimental tests were carried out in a pollution chamber on different types of line and post insulators. Conductance levels obtained on the AMICO system and on the different types of insulators were compared in the presence of the same ESDD. For each type of insulator, conservative withstand salinities levels were determined and associated with the relevant conductance levels as measured by the AMICO system (e.g. 53 mS for U120 cap & pin insulators and 18 mS for ceramic anti-fog post insulators). Similar work is in process and has also been partially carried out for the DC version of the system. In order to investigate the information provided by graphs of maximum conductance, data are also correlated by analysis of recorded site weather conditions. In this regard, one parameter of special importance is wind (i.e. in terms of direction, intensity and duration). Analysis of the data is made with reference to a subdivision of wind direction origin across 8 sectors of 45° and, for each sector, classification of winds is based on speed: 0-10 km/h, 10-20 km/h, 20-30 km/h, >30 km/h. With this type of analysis, it becomes possible to identify prevailing wind direction and intensities.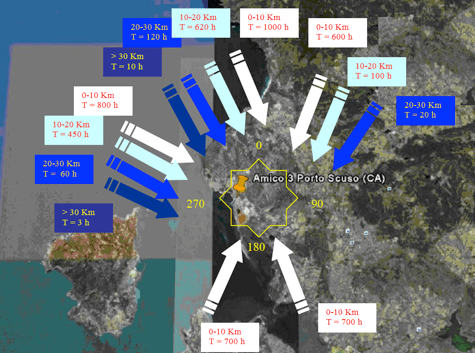 Examination of data has shown that, in most cases, phenomena of higher conductance are associated with elevated and persistent maritime winds. The typical case is the Mistral wind for sites in Sardinia and Martigues.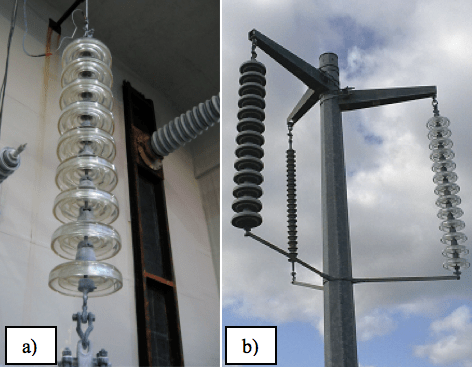 It should be noted that AMICO devices were not always positioned in the sites now under study. For example, they were first installed in Tuscany and Liguria but later moved after characterization of only low local site pollution severity – different from what was reported in the above map where they were classified as 'very heavy' according to IEC 60815 1st edition, (1986). Other sites also showed different real pollution severities than those reported on the map. A possible reasons of these differences is the major change that has occurred over the past 25 years in regard to industrial pollution (i.e. sites were close to large industrial areas that then underwent recent change). On the basis of these considerations, it has been decided to start new pollution mapping of Italy, with installation of cap & pin insulator strings in selected places, especially coastal, and periodic measurements of ESDD and NSDD. The data will also be elaborated taking into account meteorological conditions, failure rates due to pollution as well as numerical models to evaluate atmospheric dust circulation.
Important information for calibrating the AMICO system was also acquired by installing one device at a HV substation positioned close to cooling towers fed with seawater. These generate persistent saline mist that, depending on wind direction, causes elevated pollution deposits on insulators and registers conductance peaks in the monitoring system.
Another important test for the AMICO and ILCMS was the installation at EDF's R&D station for naturally polluted insulators in Martigues, France. This research started in 2008 with installation of the AMICO system and monitoring of 3 insulators chains (cap & pin glass, RTV coated and composite) by the ILCMS (3 chains of insulators under voltage as well as glass and RTV, without voltage, for measuring ESDD).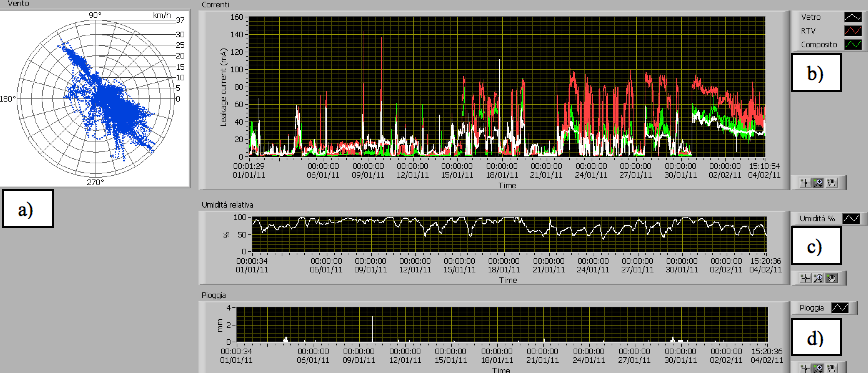 This activity lasted 4 years during which there was continuous monitoring of leakage current by the two systems, thus allowing comparison of measurements. USCD of the insulators was 48 mm/kV for cap & pin and 44 mm/kV for composite. The AMICO system, in particular, registered the highest values of conductance ever from all installation sites. Comparison revealed good correlation between the two data acquisition systems; values of current detected on the insulator probe were typically greater than those on insulator strings, due to the latter's higher specific creepage. Comparison also highlighted one of the main features of the AMICO system, namely anticipating information on pollution the accumulation. In fact, the process of humidifying the salt layer by means of cooling the insulator sample below the dew point allows a proper measure of conductive current – even in the absence of sufficient environmental moisture to make the pollution layer conductive. The leakage currents measured on the three different types of insulators during the first years did not show significant differences between glass, RTV-coated and composite insulators. Only during the last period of installation (see Figs. 3 & 4) was it possible to observe an average increase in the current of the RTV insulator chain.
Advertisement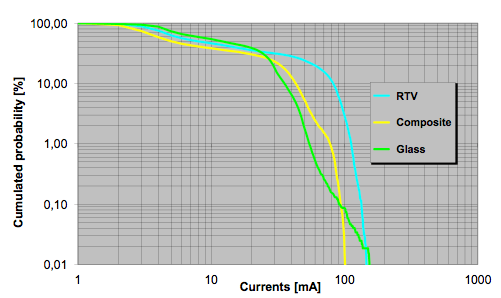 Analysis of Fig. 4, in particular, shows that the RTV-coated string experienced a current (maximum value measured over a 10 minute period) higher than 80 mA for 10 % of the time. Nevertheless, during the entire installation period, no flashovers occurred. After removal, visual analysis of the insulators revealed only superficial erosion close to the live end of composite and RTV insulator strings. In order to obtain a better evaluation of the actual condition of these insulators, a procedure was applied for assessing performance of polymeric insulators removed from service.
In particular, the following tests were carried out:
a) Hydrophobicity measurements;
b) ESDD & NSDD measurements;
c) Clean fog test (100 min);
d) Salt fog test at 56-80 kg/m3 (5 hours);
e) IEC 60507 56-80 kg/m3 (after cleaning with trisodium phosphate and after pre-conditioning discharges at 160 kg/m³);
f) CIGRE Artificial Pollution test for polymer Insulators (Standard Procedure and Rapid Flashover Procedure) (U50%);
g) Hydrophobicity recovery curves.

In regard to a), hydrophobicity levels were good on the composite insulator (about 2 on a scale from 1 to 7) but poorer on RTV-coated insulators (especially on the lower side). In test g), after washing the insulators and after flashover tests that made the insulators almost hydrophilic, composite insulators recovered to values between 1 and 2 in about 40 to 50 hours. RTV-coated insulators showed similar behavior but with much higher times, especially for the upper part (subject to higher environmental stresses). As regard test b), composite and RTV-coated insulators (lower side) had about 2.5 times the ESDD values and 4 times the NSDD values of glass insulators. Test e), i.e. the one for qualification of the component, was passed by both composite and RTV-coated insulators. It is worth mentioning that test f) produced significantly different results between rapid and standard procedure on RTV-coated insulators. This difference has already been noted in the literature (on the order of 10%) on composite insulators and has been confirmed but increased (up to 20%) for RTV-coated insulators: in this example, the rapid procedure produced a result for RTV-coated units very close to that for glass while the standard showed much better behavior.
Information gained by both field and laboratory tests allows for a framework of the behavior of insulators, especially those classified as HTM. In particular, the leakage current monitoring highlighted the tendency to accumulation of pollution deposits on the lower side of RTV-coated insulators (confirmed by ESDD & NSDD measurements); this also leads to reduction in hydrophobicity, which is not regained as it generally is in the case of composite insulators. This may also be due to the higher time needed for hydrophobicity to recover on RTV-coated insulators compared to composite types (due to geometry, thickness of polymeric material, thickness of pollution layer, etc.).
The above considerations, linked with daily AMICO measurements of pollution deposition, also highlight the importance of the lower side of RTV-coated insulator strings (especially in areas with high pollution accumulation rate), in order to better schedule insulator washing. The contribution of the RTV coating to the upper insulator surface also needs to be considered and the field- monitoring test now underway could yield interesting results.
Similar activities are also ongoing with reference to other types of insulator coatings (or better 'surface treatments'), whether hydrophobic, hydrophilic, anti-static, photo-catalytic, etc. Laboratory and field tests (as in the case of a naturally polluted test station) are of great value in assessing the relative behavior of different insulator solutions and selecting the most promising for deeper investigation (e.g. comprising selected ad hoc ageing tests).