Adapting Cable Accessories for Onshore & Offshore Substations
Dry type outdoor cable terminations and dry pluggable solutions for GIS and transformers have been developed now for over 25 years – driven by ease of installation as well as service stability and performance. In recent years, growing demand for such cable accessories at onshore and offshore substations has seen special adaptation of these for a wide range of applications. These include pluggable terminations for GIS and transformers with offshore certification, pluggable solid epoxy-joints, pluggable surge arresters as well as optimized dry outdoor terminations with the option of integrating a surge arrester along with the possibility to install these products onto ultra-bendable HV cables with EPR insulation. Adaptation of a high voltage component for any special application requires design verification, which is one of the most important steps during the development and qualification process. In the process, one of the main challenges for HV cable accessories is to be able to work with different cable constructions since these vary depending on manufacturer, customer requirements and operating conditions.
In order to verify accessory design, numerous internal tests as well as official qualifications witnessed by or in a third party HV laboratory must be performed. These are the topics of this edited article based on a contribution by Matthias Freilinger and Filippo Bionda of Pfisterer, Switzerland, from their presentation at the 2015 INMR WORLD CONGRESS.
---
Dry Outdoor Terminations Adapted for Substations
Adapting Mechanical Design
Dry type terminations are well known for many advantages:
• Dry design with no oil or gas insulation;
• Easy and safe installation;
• Reduced installation costs;
• Explosion proof behaviour.
These terminations can be divided into two groups: flexible or self-supported for various applications.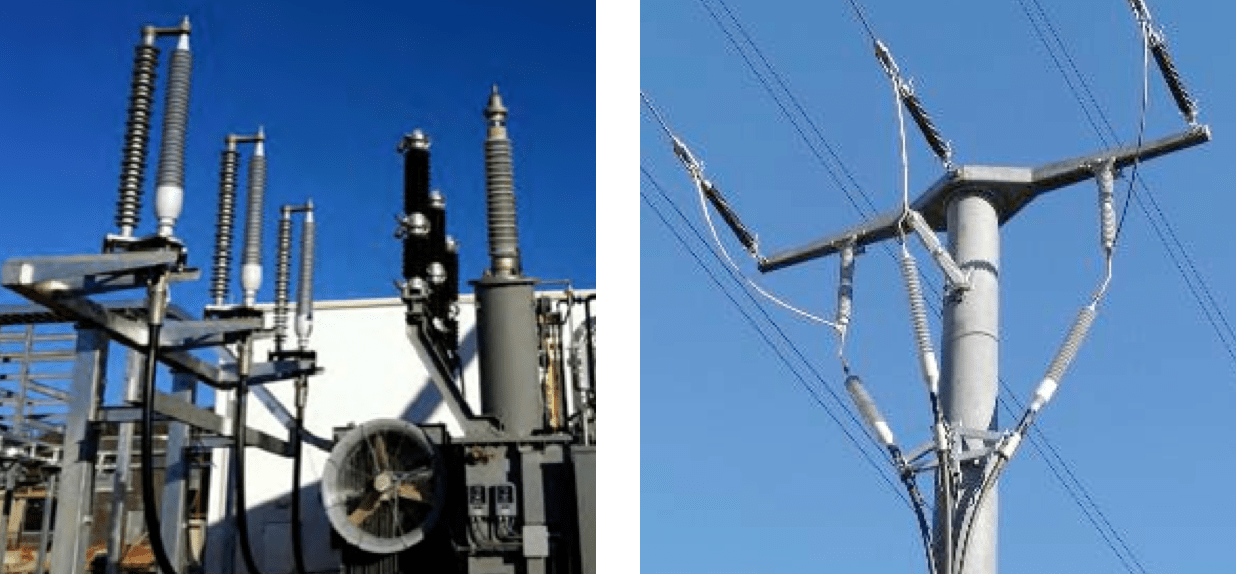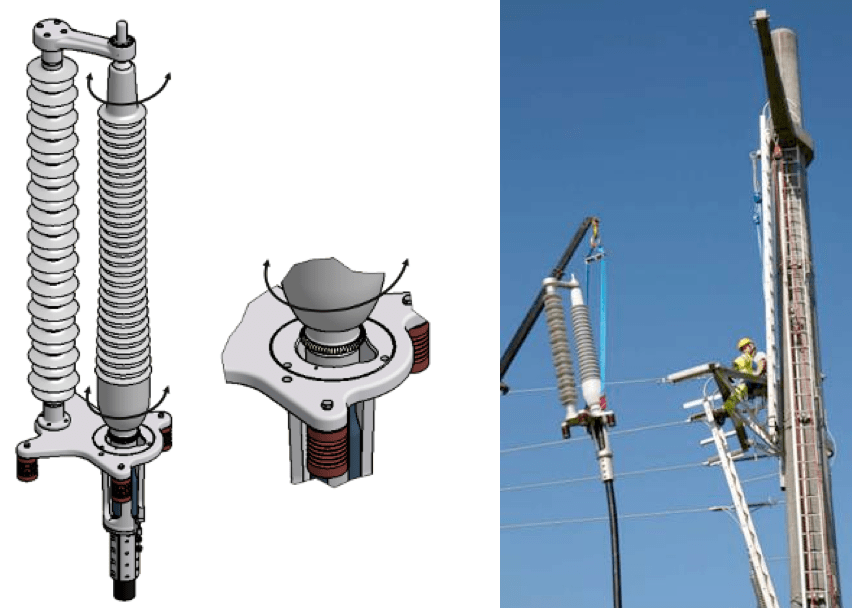 Both versions are well accepted on the market. While he flexible termination is one of the most cost effective solutions, the supported termination gives maximum mechanical stability – including a rotation system for lifting on overhead line towers.
The first step in adapting this design to substation applications is combining both advantages. The flexible termination can be installed onto the cable on the ground. Afterwards, it is lifted onto a prepared support with an open baseplate. With height limited to 6 m and less weight of the cable, an optimized solution is possible in regard to mechanical design, with easy installation and high cost effectiveness.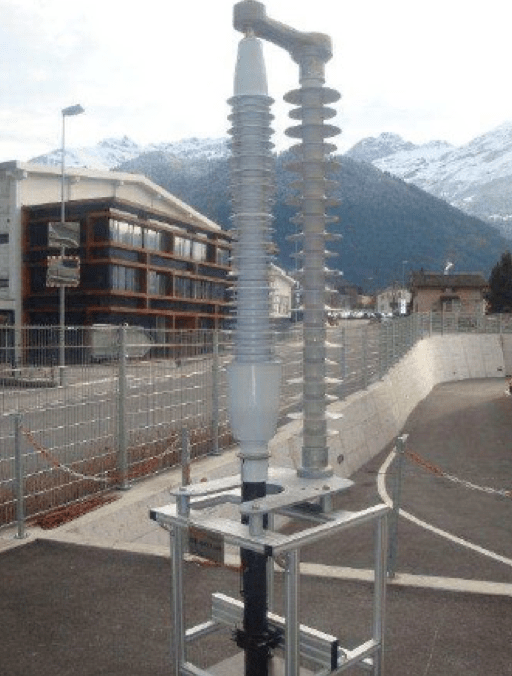 Integrated Surge Arrester
In a second step, an option has been created for a 'combination product' by replacing the post insulator by an integrated surge arrester. This solution offers significant potential for space and cost saving during substation design. The combination product requires the space as one conventional termination and is fixed onto the same support.
The cable screen is no longer connected to the base plate of such a combined product since a surge arrester needs a direct earthing point. Bonding of the cable screen can be applied at the bottom of the termination or via a link box.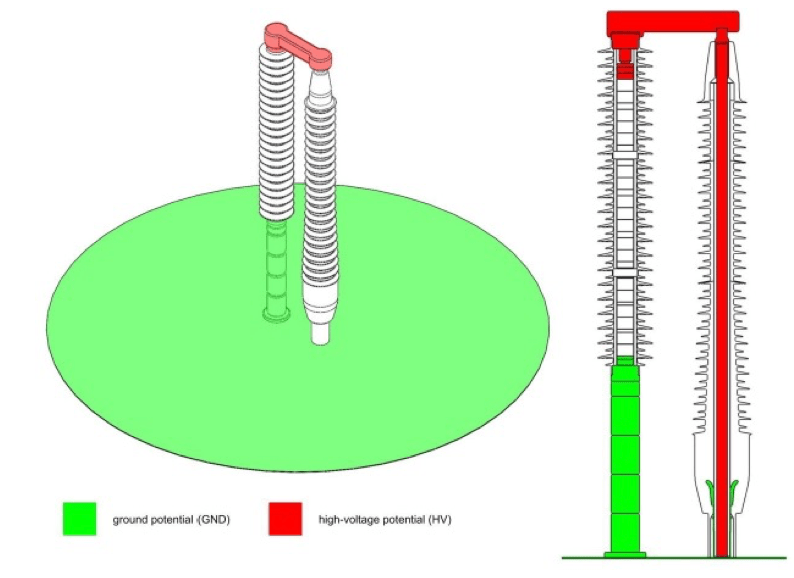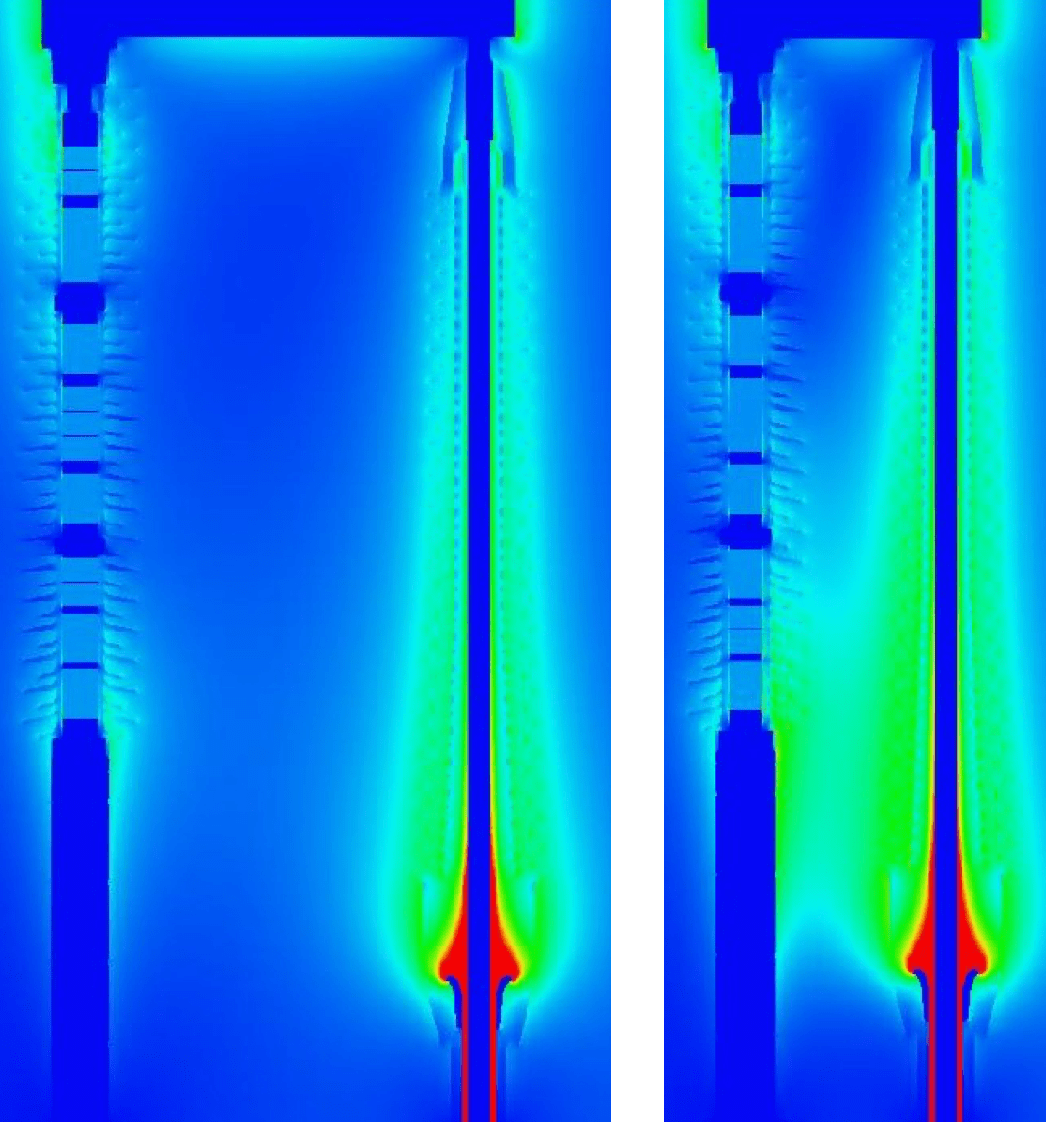 To evaluate the ideal arrangement for this combined product, an FEM calculation has been done using two different programs to limit calculation errors. The main findings were:
• distribution of the electric potential along the metal oxide discs of the surge arrester is more homogenous and the voltage along the upper discs is reduced due to the influence of the cable termination. This effect becomes stronger for shorter distances;
• electric field strength along the silicone sheds of the surge arrester is normally higher at the upper part next to the high voltage potential. Depending on smaller distances from the cable termination, this effect can be equalized or even inversed (i.e. higher electric field on the sheds at the bottom);
• with smaller distances between surge arrester and cable termination, electric field strength at the termination is forced from the upper part towards the lower part and is significantly higher in the area close to the arrester.
Advertisement
These findings suggest that there is an optimum distance for the arrangement of the combined product. Apart from influence of electric field distribution in such a combined product, consideration also has to be given to different customer requirements. Both solid earthed and coil-earthed systems are used in energy transmission and this leads to two different surge arrester solutions.
Apart from dealing with the two earthing systems, another issue is dealing with different philosophies among network operators. The "safety first and cost is not the main issue" opinion, for example, focuses on tube type surge arresters that offer explosion resistant design in case of failure. In addition, these offer a high cantilever force that supports the cable termination with a high mechanical strength. At the same time, these benefits mean a higher investment cost.
On the other hand, focusing mainly on cost effectiveness leads to using a cage type surge arrester. In the rare event of an incident, the worst case would see the function of the cable termination damaged, meaning that both products will need to be replaced. The cantilever forces of this option are lower compared to a tube type surge arrester but still high enough to ensure a combined product with sufficient mechanical strength.
Additional Tests on Dry Type Outdoor Terminations & Material
Standard testing of dry type outdoor terminations is normally performed according to IEC 60840 or IEC 62067. Due to increasing demand for this type of accessory, especially for substation projects, additional tests have been performed in order to satisfy special customer requirements. One of these is the salt fog withstand test according to UX LK 208 Rev. 01 and based on IEC 60507 (second edition 1991-04). This was successfully passed for the high voltage cable termination type shown in Fig. 6, confirming the required specified salinity of 112 kg/m3 at test voltage of 98.1 kV (170 kV/√3).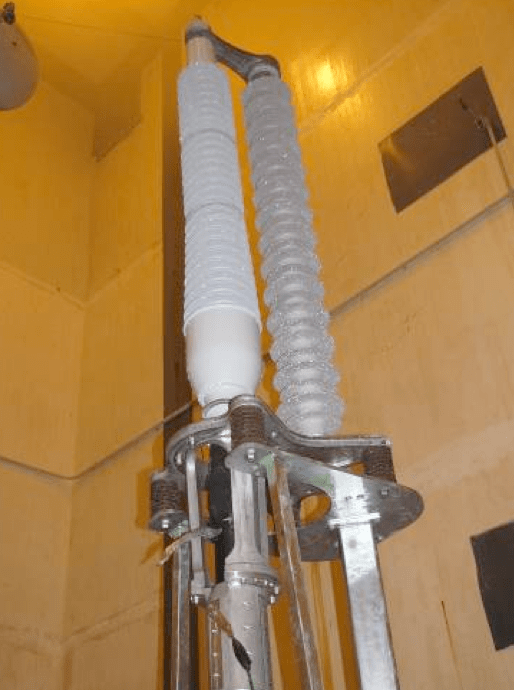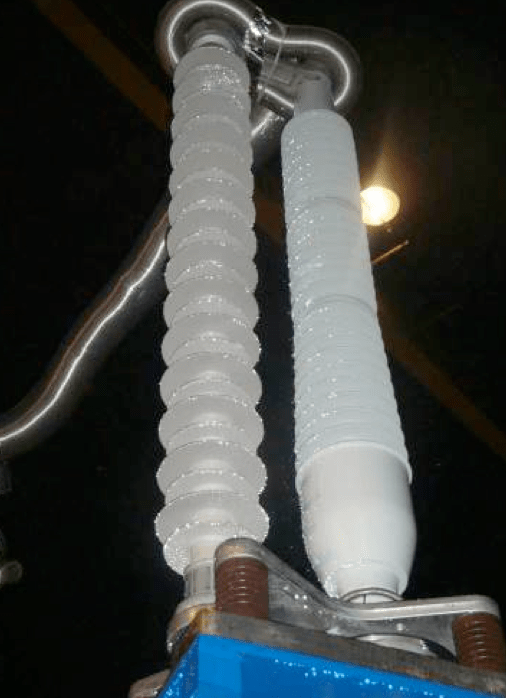 The same termination type has also been subjected to and successfully passed a wet power frequency withstand voltage test according to UX LK 208 Rev. 01, which consists of application of 2.5 U0 (218 kV) for 15 minutes while the test object is under artificial rain, as stated in IEC 60060-1.
Moreover, during the development stage, a test to evaluate resistance to tracking and erosion was performed according to IEC 60587 (third edition, 2007-05) and yielded giving satisfactory results.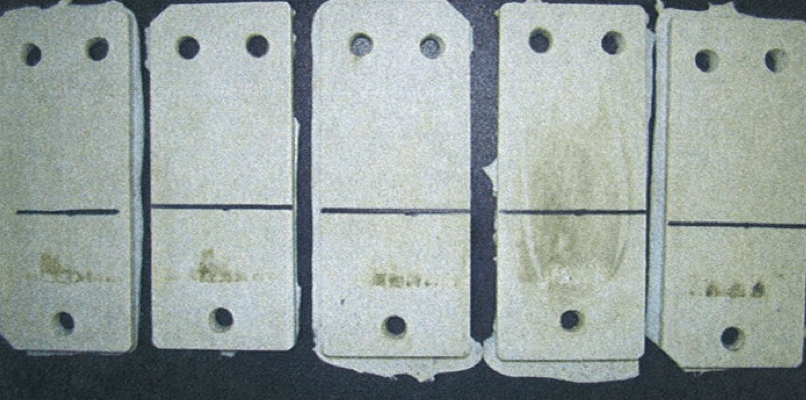 The mechanical behaviour of the self-supported termination was also verified several times by means of specific tests on the support insulator as well as on the complete termination.
Dry Type Pluggable Solutions for On & Offshore Applications
Pluggable Accessories
Pluggable terminations, bushings and more such accessories have been significantly used in high voltage cable accessories now for years. More recently, the product range has been enlarged for further applications and been driven towards highest voltage levels (designed up to 550 kV).
In order to best meet the needs of transformer manufacturers (testing IEC 60137, housing EN 50299), GIS manufacturers (testing IEC 62271‑203, housing IEC 62271‑209) and cable manufacturers (testing IEC 60840 and IEC 62067), it is necessary to understand all their needs as well as any differences between these. In order to combine and best meet all requirements a wide product range is needed:
• Pluggable termination (separable socked and plug);
• Pluggable surge arrester;
• Pluggable SF6 filled back to back joint;
• Pluggable dry cast resin joint;
• Covering disc for pollution protection of the socked;
• Protective cap for pollution protection of the plug;
• Dummy plug for voltage insulation;
• Earthing and short circuit device;
• Earthing cap;
• Current testing cap;
• Gas-insulated blind cover.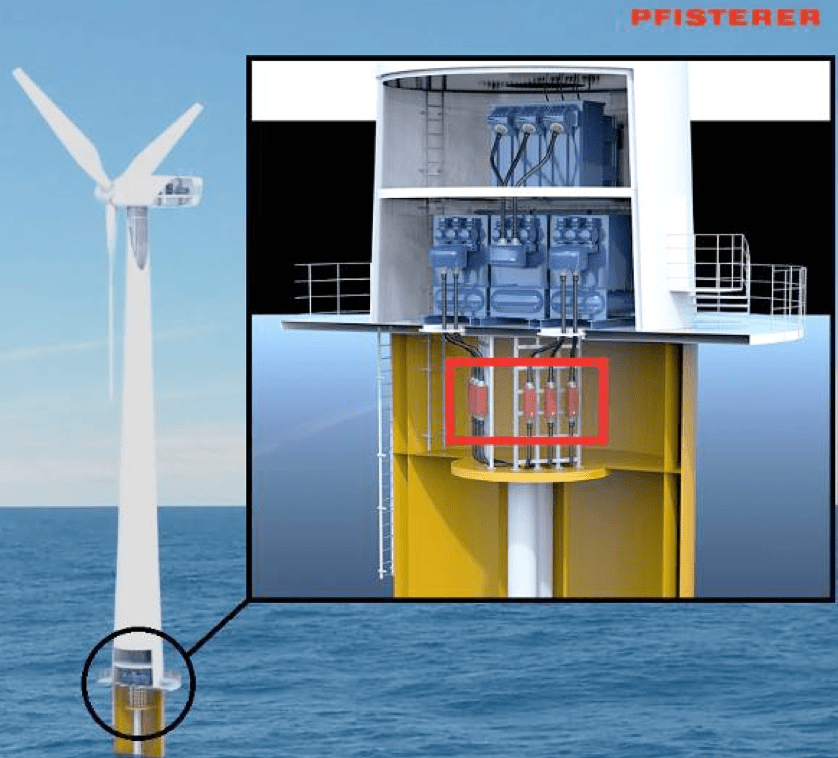 Dry Type Pluggable Cable Joints
Due to the increasing demand for offshore applications of HV cable accessories, a new dry type pluggable joint (back-to-back joint) has been developed. This kind of accessory combines the advantages of standard dry type pluggable terminations and joints while allowing easy connection between different cables. The main benefits include:
• Dry type design (no oil or gas insulation);
• Pluggable connection;
• Fast and easy installation with connectors;
• Compact design;
• Connection of two different types and sizes of cable;
• Resistance to salt water and UV radiation;
• Epoxy body fully 'offshore proven'.
Fig. 9 shows an example of exploiting the advantages of this type of accessory by using it for the connection between the sea and tower cable in an offshore wind generation application.

In order to fulfil the growing requirements placed on HV cable systems, the above advantages also allow use of a dry type, back-to-back joint for other applications, including:
• Refurbishing old HV cable system through connecting already installed and new cable;
• Temporary installation for construction sites;
• Back-up solution;
• Connection between test equipment and test objects (e.g. during commissioning).
Advertisement
The construction of this product has been successfully proven and certified for offshore use by several design tests as well as by additional type tests according to IEC 60840 for voltage levels up to Um=100 kV and conductor cross-sections up to 1600 mm2. Moreover, this same product for Um=170 kV has seen on-going development.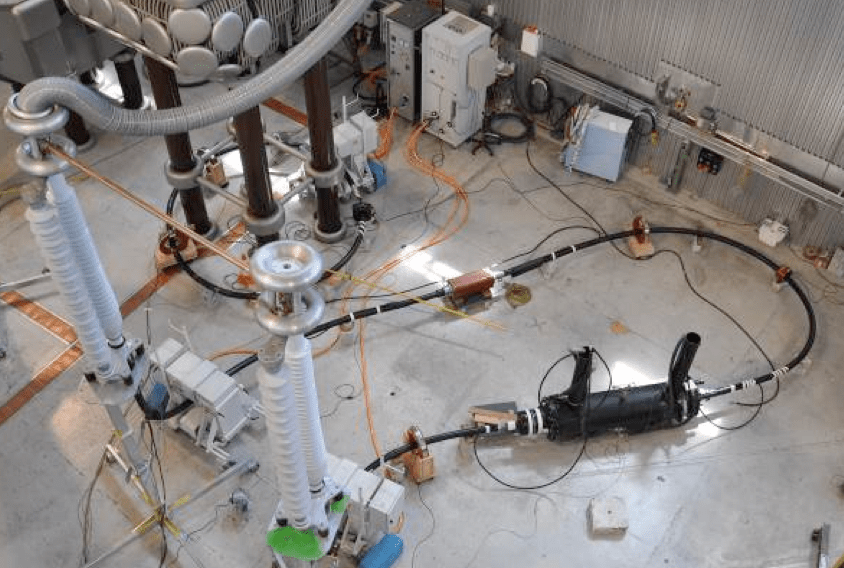 Offshore Certification & Installation
In the case of offshore substations, environmental conditions as well as special applications during project handling have to be considered. Apart from saltwater conditions and high UV radiation, there is limited space available. The entire substation has to be installed and fully tested onshore and later is transferred offshore where the sea cable part is finally connected. A full product family of pluggable systems on medium and high voltage level is mandatory.

Pluggable cable accessories offer a fully encapsulated solution for offshore substations. The outer part has to be touch proof and at ground potential. All metal as well as heat shrink parts have to withstand harsh salt fog conditions (DIN 81243) and high UV radiation. An offshore certification for encapsulated pluggable systems requires not only the design and classification of materials but also includes salt fog tests and ageing tests under UV radiation.
Pluggable cable accessories require less space and also offer the possibility of separating parts of the system from transformers to gas insulated switchgear to cable system. Installation and testing of these items can be done individually and connection of the sea cable can finally be accomplished with minimum effort, leading to a fully tested substation.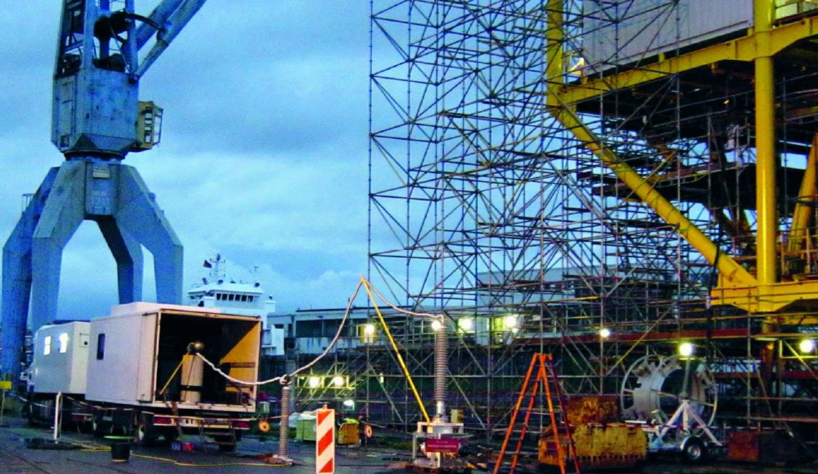 Dry HV Cable Accessories for Ultra-Bendable EPR Cable
Ultra-Bendable HV cables
Ultra-bendable high voltage cables are suitable especially for offshore applications, where high flexibility, very small bending radii and mobile or fixed installation are all required. Moreover, due to their features as discussed above, this cable type can be used for onshore substations as well as other applications where available space is limited.
Adaptation of Dry Type Cable Accessories for Ultra-Bendable HV Cables
In order to guarantee proper jointing and termination of ultra-bendable HV cables, it was necessary to develop a new type of mechanical torque connector, specially suited for highly flexible copper conductors. The behaviour and design of this product have been successfully verified with a test based on IEC 61238-1 (second edition, 2003-05) for 800 mm2 conductor cross-section (Fig. 14).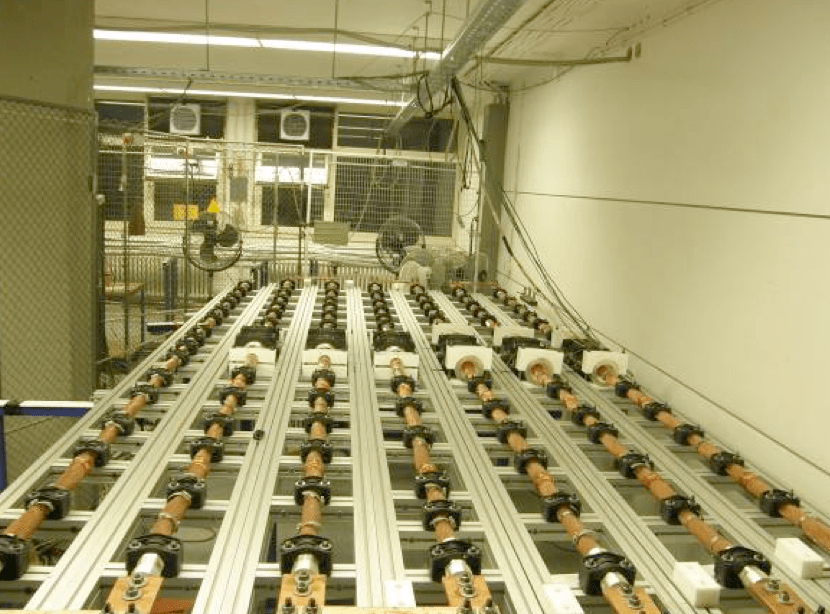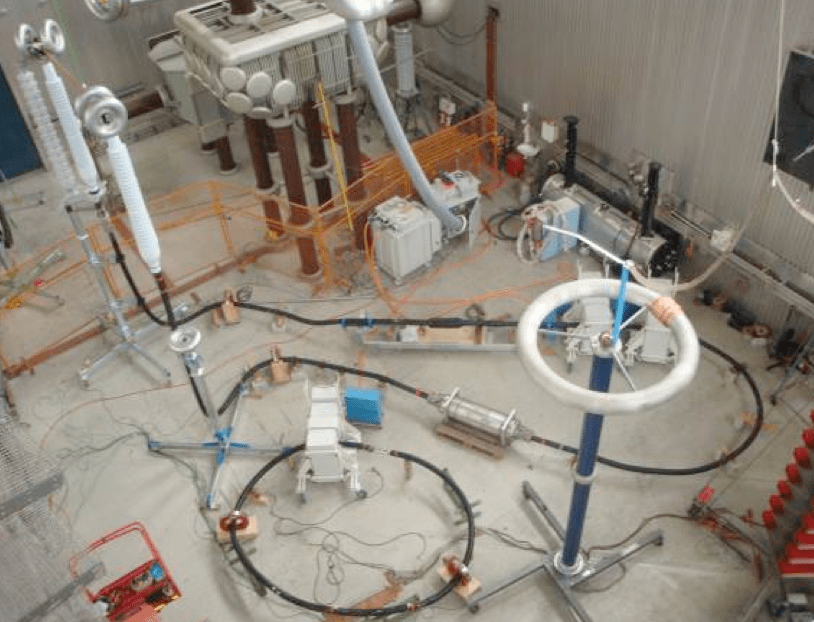 In addition, the performance of HV cable joints, outdoor terminations and dry type pluggable connectors installed on ultra-bendable HV cable has been verified through design and type tests according to IEC 60840 for Um=170 kV and conductor cross-section up to 800 mm2.
Special Applications of Dry Type Cable Accessories for Ultra-Bendable HV Cables
Ultra-bendable high voltage cables and dry type pluggable terminations combine the advantages of compact and flexible design and are therefore also suitable for:
• Temporary installation on construction sites;
• Back-up solution;
• Connection between test equipment and test objects (e.g. during commissioning).
An example of exploiting these benefits are cable links equipped with dry type pluggable connectors or outdoor terminations, allowing transport on a drum mounted on a trailer (see Fig. 16).