500 kV Line Allowed U.S. Utility to Compare Performance of Glass Insulators & Hardware
Salt River Project, based in Phoenix, Arizona, was among the world's first utilities to employ composite insulators along the entire route of a major transmission line. Insulation on this line – the 500 kV Mead-Phoenix Project, commissioned in the early 1990s – was designed so that, if necessary, it could one day be converted easily to HVDC for greater power transfer (although this has not yet happened). Silicone composite type insulators were selected at the time since they offered the most economical acquisition cost in relation to equivalent DC versions of glass or porcelain strings. Notwithstanding this long experience with composite insulators, in 2013 SRP decided in favor of using only glass and porcelain insulators for the 500 kV Palo Verde-Browning Line
---

With expanding need for electricity in several counties surrounding the city of Phoenix, Salt River Project (SRP) has strengthened its network by adding an important new 500/230 kV transmission line serving its key Browning Substation.
Planned to be energized in May, the final section of this mainly double circuit line will allow power to be transmitted here from the Palo Verde Hub – a wholesale electricity market serving Arizona and southern California – and will finally complete a loop that has involved sequential stages and nearly a decade of public hearings and construction. For example, the eastern portion of this line, running between Browning and Dinosaur Substations, was completed two years ago.

Although the new line bears striking similarities to other 500/230 kV lines in the region surrounding Phoenix, there are some important differences. One of these lies in the type of insulators selected. Unlike many other local lines that employ composite insulators, the new line is being equipped with only glass and porcelain strings.
According to Michael Voda, Project Engineer for the Palo Verde-Browning Line, the single major factor influencing selection of insulators for the new line was comparative ease when it comes to live-line working. "We do live line maintenance on most of our 500 kV lines," says Voda, "so we decided to limit ourselves in this case to glass and porcelain. We consider the two basically equivalent but are not yet comfortable with polymeric insulators for this requirement."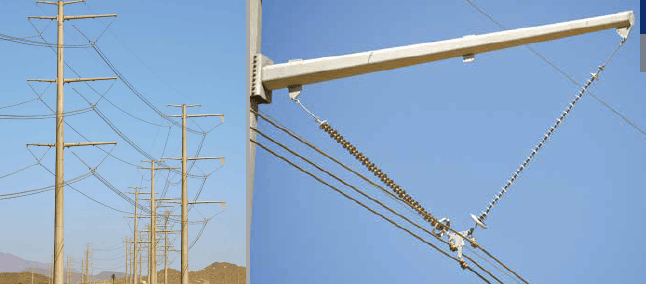 To illustrate, Voda points to the 500 kV Palo Verde-Rudd Line, which was built about 10 years ago by Arizona Public Service but is now operated by SRP. This line is equipped with polymeric insulators and, while he says that there have not yet been any reported problems, current work practices require that any change-out of an insulator on this line must wait for a scheduled outage.
Advertisement
Another difference of the new project lies in the line hardware selected For example, 50 miles (80 km) of the line route will see use of rods and clamps while there will be 100 miles (160 km) using armor grip suspension assemblies.
Voda and Sr. Project Manager for Transmission, Dan Hawkins, explain that the new line was seen as an opportunity to compare the long-term behavior of equivalent insulators and other line accessories. Says Voda, "we purposely mixed up the insulators on this new line and also the supports and dampers so that we could start to accumulate comparative experience with them under the same operating conditions."
One of the biggest challenges for SRP they say relates to replacing components on old lines that have been in operation for at least 30 years. The new line will therefore allow them to evaluate different materials within the scope of the same project but without taking on any new risks or overspending on construction and testing.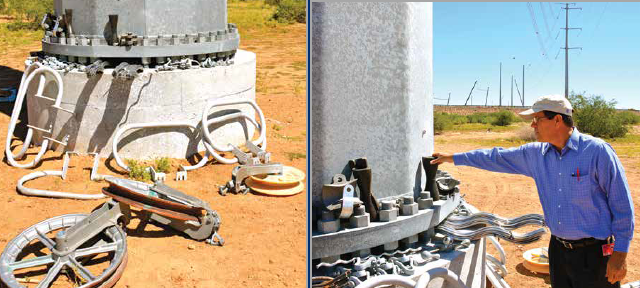 Sr. Principal Engineer, James Hunt, notes that, apart from the opportunity to assess how glass and porcelain insulators will behave in the desert environment around Phoenix, SRP is now focusing on long life expectancy of every line component, sometimes on the order of even 80 to 100 years. "Expecting such a service life," he remarks, "is not unreasonable in our type of dry, non-corrosive climate." To illustrate, he points to certain lattice towers in the area, built as long ago as 1924 but that are only now starting to be selectively replaced.

Adds Voda, "if you have a choice between two equivalent technologies with about the same construction costs, why not go with the alternative that lasts longer. It's as simple as that." He goes on to state that one of his concerns when it comes to polymeric insulators made of organic materials is how these might degrade over the decades under high UV and also under threat of pecking by local birdlife. Indeed, he points to how persistent UV has negatively impacted paint on some tubular structures, which have a shown a tendency to chalk in the Phoenix desert-like climate.
Hunt emphasizes that reliability is regarded as having a premium and, with this in mind, glass or porcelain strings are both regarded as especially good choices. "All this," he says, "is driven by the fact that it is increasingly difficult for us to schedule an outage for maintenance." Another factor, he notes is ease of inspection when it comes to glass, which typically involves nothing more than a helicopter flyby to search for any failed units.

Most of the new Palo Verde to Browning Line consists of tubular steel poles, including a mix of single-circuit 500 kV and double-circuit 500/230 kV structures. According to Hunt, these types of structures are commonly used for lines passing through urban and suburban areas and are part of the requirements of obtaining public approvals, which he says in this case proved an especially long and arduous process. Another issue, he says, when it came to obtaining the required Certificate of Environmental Compatibility involved use of de-glared (also known as non-specular) conductor. "In our type of environment," he points out, "getting the conductor to take on a dull appearance would normally take 2 to 3 years."
Advertisement

On the work site of the project completing connection of the Palo Verde Hub with Browning, SRP's Supervisor of Construction Inspection, Jim Green, compares polymeric insulators with the toughened glass, already installed on some poles in that line section. "One factor favoring polymers," he remarks, "is that, unlike strings of glass discs, these do not need to be stretched." He estimates that some 50-75 percent more time is needed to complete this operation for glass compared to polymeric insulators. Another factor is weight. For example, he notes that a typical string of glass insulators can weigh between 800 and 900 lbs (ca. 400 kg), meaning a heavy hoist is required. In the case of polymeric insulators, he states, lighter duty equipment would probably suffice.
Still, on balance, he claims that the cost savings in time and equipment for polymeric insulators are not great and together probably do not offset the construction advantages of glass, which he mentions include easier handling.
Says Green, "I see risk of mishandling as one of the downsides of polymeric insulators since this can lead to permanent damage. Also, my experience is that glass can also be handled rougher than porcelain. In fact, we have had no issues with broken glass insulators in over 100 miles of towers that I inspected. Moreover, based on my experience, when it comes to maintenance, I prefer to work with glass."